Xinyuan Real Estate Co., Ltd. (NYSE:XIN) just had its first huge jump after suffering defeat after defeat after defeat in the stock market. Fortunately, companies aren't always evaluated correctly by Wall Street and it opens up huge opportunities to get into cheap companies and make Warren Buffetts out of ourselves.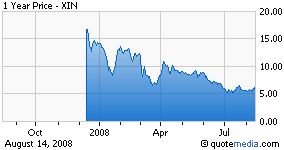 The stock's volume surged, finally catching up with its revenues and earnings per share. It's about time if you ask me. This company recently IPOd and has been falling every since, probably cause of it's negative EPS that shows up on the company message boards.
Great for me, I think, as I look for the cause of this horrendously fatal problem and I discover that it's indeed because there was a one-time charge to pay off existing shareholders as they became public. Great! I thought. This company is growing in the fastest growing Chinese real estate sector (Tier II) and is growing fast. We're talking huge numbers. Bigger than big. Michael Phelps is afraid of these numbers they are so big. Tiger Woods wishes he could put numbers up this big and still seem a nobody to avoid media attention. This company is like Michael Jordan being cut from his high school basketball team.
Enough silly analogies. You can tell I'm bullish. But when you're putting points on the board and setting a record pace and you're trading at a price-to-earnings of half that compared to the market, you know there's an exciting future.
Today was the beginning of that exciting future. It's up over 12%. I picked this one and wrote an article about it last night and was on the money. Only expect more.
Disclosure: I proudly own XIN.