Back in August 25, I wrote my article "A Bullish Thesis For Dry Bulkers." In this article I exposed a thesis which could be positive for dry bulkers: The iron ore price drop could shut down China's domestic production, lead to more iron ore imports and thus to increased demand and increased pricing for dry bulkers.
Since then a lot has happened. Iron ore recovered somewhat but remains below the levels ($120/ton) which are considered a threshold for a lot of Chinese iron ore production.
Also, in the last few weeks we've seen a considerable improvement in dry bulk pricing, as represented by the Baltic Dry Index.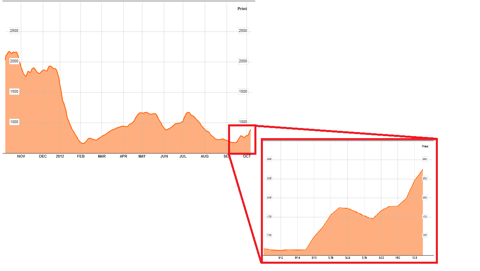 Since DryShips (NASDAQ:DRYS), a very speculative name, has not yet reacted to the improved pricing. And since Ocean Rig UDW (NASDAQ:ORIG) - a DryShips subsidiary - continues to trade at lofty levels, there seems to be a speculative opportunity brewing here, conductive to rapid share price increases on DryShips as the market recognizes the pricing improvement. As such, I've taken a speculative long position in it today.
This speculative setup could probably also be played with other dry shipping names, such as Eagle Bulk Shipping (NASDAQ:EGLE) or Excel Maritime Carriers (NYSE:EXM). It's just that given the speculative nature of this endeavor, I find it better to go with one of the better known names.
Risky
Any long position in this sector at this point is quite risky, as these companies have been under distress for a year and many show large indebtedness (including DRYS) and severe solvency risk.
Conclusion
Very recent and rapid pricing improvement in the dry bulk sector has not yet been reflected in the share prices. There might be a speculative long opportunity in the market as the recognition of improvement hits. I took a long position in DRYS today under this logic.
Disclosure: I am long DRYS. I wrote this article myself, and it expresses my own opinions. I am not receiving compensation for it (other than from Seeking Alpha). I have no business relationship with any company whose stock is mentioned in this article.