In Greek mythology, the Phoenix is a mythical golden bird that burns itself and then rises anew from its own ashes to become an immortal creature. With recent news from Greece and action in its ETF, the troubled country could become like the Phoenix studied by Greek philosopher and historian, Herodotus.
After the ongoing "Greek Tragedy" of the last two years, today's news takes a decidedly more positive turn regarding the outlook for the country.
European finance ministers are expected to say today that Greece is making good progress on its task of implementing austerity measures required for the next payment of its bailout funds by the European Union.
Ollie Rehn, European Commissioner for Economic and Monetary affairs says that he expects support for Greece to continue even as negotiations between the government and the country's lenders continue over conditions for the next payment of more than 30 billion euro dollars.
Greek bond yields have been falling since June, however, the country remains in the grip of a severe recession.
If you believe that Greece is indeed the Phoenix of 2012, a focused ETF allows exposure to the country's equity market.
Global X FTSE Greece ETF (NYSEARCA:GREK) is designed to track the FTSE/Athex 20 Capped Index which invests 80% of total assets in equities whose revenues are primarily from Greece. Major holdings include Coca Cola Hellenic Bottling Company, National Bank of Greece ADR and Hellenic Telecommunication Organization.
With assets of approximately $18 million and daily average volume in the 40,000 range, is a small, highly focused offering, and over the last five days, it's up approximately 13% and 22% over the past month.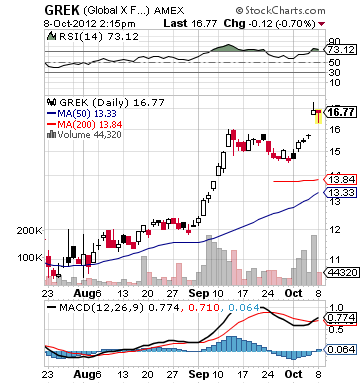 Chart courtesy of StockCharts.com
In the chart of we can see how the ETF has been on an upward vector since August and has taken a significant pop higher in recent days. Momentum has swung to positive and the 50 day moving average is moving towards the 200 and could soon form a "golden cross" buying signal.
For investors who are true value investors and contrarians, Greece could be the contrarian play of the year as the country battles back and tries to become like the Phoenix of yore.
Disclosure: I have no positions in any stocks mentioned, and no plans to initiate any positions within the next 72 hours. I wrote this article myself, and it expresses my own opinions. I am not receiving compensation for it (other than from Seeking Alpha). I have no business relationship with any company whose stock is mentioned in this article.