Much has been published over the last few days about the impact of Mitt Romney's statements on coal, and his debate win last Wednesday, on coal stocks. In particular there has been a lot of focus on the following statement I have excerpted from the debate transcript:
And by the way, I like coal. I'm going to make sure we continue to burn clean coal. People in the coal industry feel like it's getting crushed by your policies. I want to get America and North America energy independent, so we can create those jobs.
While this statement was delivered enthusiastically (or with as much enthusiasm as one can expect from any candidate), it is the qualifier "clean" that should give investors pause. Central Appalachian coal has a fairly low sulfur content, but there are a couple of reasons, mentioned previously for which it is not clean: one being high heavy metals content and another that it feeds some of the oldest coal generators in the country. Mr. Romney's statement is not actually inconsistent with new EPA regulations.
There is another angle from which to view last Thursday's modest bounce, though: the improvement of Mr. Romney's election chances as a result of a generally strong debate performance. The Republican party has a reputation, deserved or not, of favoring business over environmental interests in appointments to the EPA. So I have a chart of select coal equities, including Arch Coal (ACI), Alpha Natural Resources (ANR), Peabody (BTU), Cloud Peak Energy (NYSE:CLD), and James River (JRCC), all normalized from June 1st (Source: Yahoo! Finance). I picked this date because it is shortly after Mr. Romney secured the necessary number of delegates for the Republican nomination. Below these I have charted the predicted probability of Mr. Romney's election (Source: Intrade).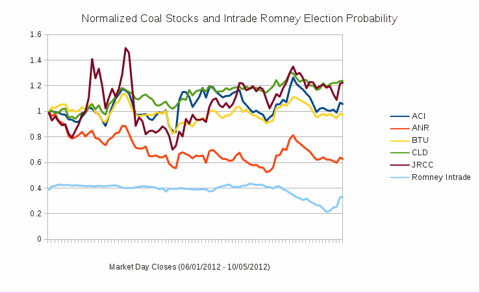 As shown the presidential race was mundane through early September, allowing us to see the baseline trend for the equities. At that point, Mr. Romney's chances were perceived to diminish steadily in the wake of several gaffes. That was not all that happened in September: the effect of QEfinity on the coal equities is seen in a bounce that appeared to fizzle out late in the month.
It is noteworthy that most of the equities are, on balance, flat to slightly up from trend during the Romney gaffe-fest. If over the next week or two the Intrade prediction returns to the long-run estimate of slightly above 40%, and we do not see a substantial spike in coal stocks, it suggests unhelpfully that Mr. Bernanke wields much more clout over their prices than Mr. Romney.
If on the other hand we see a spike in some of these stocks toward the tops of their extensive ranges, this suggests that there was an improvement in outlook in September, which was masked by events. In that case, the fallout from a Romney loss in November (still seen as the likelihood at the moment) could be a profitable entry point.
Disclosure: I am long ACI. I wrote this article myself, and it expresses my own opinions. I am not receiving compensation for it (other than from Seeking Alpha). I have no business relationship with any company whose stock is mentioned in this article.
Additional disclosure: I have no plans to change position in any related stocks for the next 72 hours.
Disclaimer: This is not investment advice, please do your due diligence and consider your unique circumstances before making any investments.