Jacobs Engineering (NYSE:JEC) is up to $78 range on an upgrade. I am cutting my position here as this is an out of favor group, and the stock has held up well. Frankly, when the fund is up and running I'd put a short on this type of chart to hedge and help us make some money.
This is an easy trade - short here near $78, and put stop loss over $81ish. (in fact we'd go long north of $83 on "strength" and a new higher level than the previous high) I think it heads to $70 and if I'm correct we make an easy 10% to hedge against the portfolio in the "global growth side". But I can't do that (now). So we sell, and get this down from a 0.9% stake to a 0.2% - effectively a holding stake for us (i.e. selling out of a position without literally removing it from the portfolio)

Look at the trend line from May - a series of lower highs (I count 6!). If I had any computer skills I'd draw a beautiful line on this chart connecting all the highs and showing you where you can short it on each spike up. Until that trend breaks, it's a stock with no hope on the long side other than oversold rallies after it gets pummeled.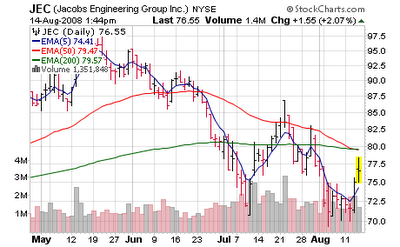 I like this name and group fundamentally, but this is not a place money is flowing to at this time. We sold out of McDermott (NYSE:MDR) yesterday and it's being hammered to the tune of 8% down today, as case in point. We'll continue this same pattern of behavior we've been doing lately until these sectors begin to attract real buying interest - sell on any lifts up into resistance. At this point there is no difference between these and banks or airlines or retailers or housing stocks.

We're playing with one arm tied behind our back since we can't do the 2nd half of these trades and that is (after selling down) shorting them down from the resistance areas, so we're losing a lot of profit opportunities from the dark side but that is the vehicle we have for now, so can't do much about it.

Long Jacobs Engineering Group in fund; no personal position