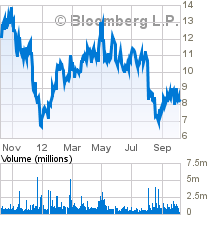 ZAGG (NASDAQ:ZAGG) provides protective coverings for various consumer electronics under the brand name InvisibleSHIELD. Its products are particularly popular with Apple users seeking to protect their iPods, iPhones and iPads from damage. This company has always been one of my favorite stock picks due to its rapid growth and high profitability. Investors looking for high rewards (admittedly at high risk) might be interested in purchasing this stock.
Why buy ZAGG?
ZAGG's share price is currently very depressed due to a sudden drop at the end of July.
A new bull has entered the mix. JP Morgan (NYSE:JPM) initiated ZAGG coverage at overweight with a price target of $13.50 (here). The JPM analysts wrote, "We expect ZAGG to emerge as a leading brand for accessories and peripherals in the era of mobile consumer electronics. We expect ZAGG to post strong growth over the next two years, owing to channel and geographic expansion, product line extension, and robust attach-rates to underlying growth in smartphones and tablet shipments. Solid execution should shake off recent controversy and buoy the multiple for this heavily-shorted stock."
ZAGG's revenue growth (3 yr average) is 108.4% annually and its EPS growth (3 yr average) is 78.9% annually. The revenue growth rate is ten times the industry average while the EPS growth is three times the industry average.
Its P/E TTM ratio is at just 11.3. Meaning if we value it along the same lines as Facebook (NASDAQ:FB) is now, the share price should be in excess of $80. However, this is not fair to ZAGG as it is growing a lot faster than Facebook, so in reality it should have a higher P/E than Facebook. Even if we value ZAGG by the industry average P/E ratio of 32.4, it should have a share price of around $24. However, again this is unfair to ZAGG as it is growing much faster than the industry as a whole.
ZAGG also has a higher ROE TTM (22.5%) than the industry average (13.9%) and a lower Debt/Equity (0.4 vs 1.1).
Consequently, ZAGG is a bargain for growth investors at the share price of $8.17. It is a fairly low risk option because it is already very depressed and should rebound well after the next earnings report. Its next quarterly report should be very healthy due to the success and growth of Apple's products.
Disclosure: I am long ZAGG. I wrote this article myself, and it expresses my own opinions. I am not receiving compensation for it (other than from Seeking Alpha). I have no business relationship with any company whose stock is mentioned in this article.
Additional disclosure: I have initiated two positions. One at $10.30, and the other at $7.10