Quick service restaurant operator Yum Brands (NYSE:YUM) will report its third quarter earnings on October 9. The company's performance may outpace the industry trend. However the weakening Chinese economy will have its unfavorable impact since the region is contributing nearly half of the overall revenues.
The second largest economy in the world witnessed slower growth after consistently recording above 9 percent growth during the last few years. Slower growth limits consumer spending and this affects retailers, including restaurant operators. Here, Yum Brand has been facing pressures of higher costs and the company has been unable to pass on the higher costs due to the economic situation prevailing in China. As a result, this has dented its restaurant and operating margin in the last two quarters.
Revenues in the last four quarters
Revenue in Billion $

Q2

% on overall rev.

Q1

% on overall rev.

Q4

% on overall rev.

Q3

% on overall rev.

Worldwide

3.17

2.74

4.11

3.27

China

1.56

49.12%

1.22

44.40%

1.88

45.73%

1.60

48.87%

International

0.77

24.31%

0.71

25.81%

1.05

25.64%

0.80

24.47%

U.S.

0.82

25.82%

0.80

29.17%

1.18

28.63%

0.87

26.66%
Source: Yum Brands
Region

Restaurant Margin

Operating Margin

Same Store Sales Growth / De-Growth

Q2

Q1

Q4

Q3

Q2

Q1

Q4

Q3

Q2

Q1

Q4

Q3

China

15.6%

23.6%

15.8%

21.3%

11.6%

21.0%

11.2%

18.9%

10.0%

14.0%

21.0%

19.0%

Intl.

11.8%

12.2%

11.6%

12.3%

19.5%

23.7%

19.7%

20.3%

4.0%

5.0%

3.0%

3.0%

U.S.

17.5%

14.4%

13.4%

12.1%

20.4%

19.7%

16.1%

16.3%

7.0%

5.0%

1.0%

-3.0%
Source: Yum Brands
The above tables show the importance of China for Yum Brands. The contribution from China to the overall revenue is nearly 50 percent in the second quarter. The company had planned to open 700 units in 2012. Of this, 168 stores were opened in the first quarter and 160 stores were added in the second quarter. A similar number of stores would have been added in the third quarter. Currently, Yum Brands had 4,790 stores in China.
The company is facing margin pressure in China. In the first quarter, restaurant and operating margin were 23.6 percent and 21.0 percent respectively in China. This has come down to 15.6 percent and 11.6 percent respectively in the second quarter. There could be some pressure on this front for the third quarter because of the sluggishness in the economic activities.
On the other hand, restaurant and operating margin in the U.S. increased to 17.5 percent and 20.4 percent respectively from 14.4 percent and 19.7 percent respectively in the first quarter. The Pizza Hut operator's improvement is partly due to progress in reinvigorating its business in the U.S. The company benefited from the launch of Cantina Bell, including high quality ingredients like whole black beans and cilantro. In a research note issued earlier, S&P Capital IQ commented that this will broaden the brand appeal for more affluent consumers. The quality of the food items and services, especially at Taco Bell, contributed to Yum Brands' better performance.
Since the U.S. division contributes a little over one-fourth of revenues, it will not be sufficient to offset the weakness in the Chinese market, where the restaurant and operating margins are on the downside.
For the third quarter, Street analysts are expecting the company to earn EPS of 97 cents and revenues of $3.64 billion. Analysts have reduced their EPS estimate by a penny from 98 cents predicted three months back.
Though China's performance could indicate weakness, there is nothing to be alarmed as the region will be the growth driver in the years to come. The optimistic view is due to the company's focus on the entire country and not just tier I and II cities. S&P Capital IQ analyst Jim Yin estimate 300 million potential consumers and this will be doubled by the year 2020 as a result of population growth. The analyst has a 12-month price target of $76, while the point and figure chart projects a bullish price target of $78.00.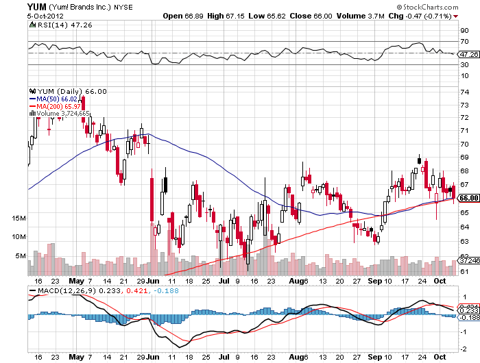 The stock is trading above 50-day moving average of $65.87 but slightly below the 200-day moving average of $67.47. For the third quarter, the stock gained 2.7 percent and for the year advanced nearly 12 percent based on the closing price of $66 on October 5. Except the second quarter, the company's EPS had topped analysts' estimate in the preceding three quarters. The counter may be a safe bet for the long term.
Disclosure: I have no positions in any stocks mentioned, and no plans to initiate any positions within the next 72 hours. I wrote this article myself, and it expresses my own opinions. I am not receiving compensation for it (other than from Seeking Alpha). I have no business relationship with any company whose stock is mentioned in this article.