Market Recap
The market was lackluster for the majority of the day and held in the red for the whole day as the market approaches a volatile period in the market with elections, earnings, Europe, and economic data all creating a bit of worry for the market. Without market leadership today, things broke down early and stayed relatively weak for the whole day. Earnings season kicks off this week, and there is definitely some fear surrounding those reports that were weighing on the markets. European fears are starting to creep back to the surface as German President Angela Merkel is slated to visit Greece and see how the situation is developing there.
Here are some stocks we like moving into next week and beyond:
Stocks To Trade
Today, we are looking at an earnings trade in Cisco (NASDAQ:CSCO), longs in Dunkin' Donuts (NASDAQ:DNKN) and Amazon.com (NASDAQ:AMZN), and shorts in Under Armour (NYSE:UA) and Shutterfly (NASDAQ:SFLY).
For an earnings trade, we are looking at Cisco today. Where is this tech giant headed this earnings season? CSCO has improved just slightly since it gapped up on its last report of strength, but we believe that strength is interesting for an earnings play. Additionally, CSCO does not report until near the end of earnings season, close to November options expiration. That means options will have lots of time to decay from now until the report, while the earnings report will be able to keep a nice floor on the stock. This report is supposed to show another round of solid revenue growth around 5%, and earnings are expected to improve 8-10%. That consistent growth will allow CSCO to remain pretty strong into earnings, and the stock has not failed 18 since its last earnings report. We like using that strength to write some premium.
Trade: CSCO, 18/17 Bull Put Spread
Max Gain: 28%
Click to enlarge
For longs, we like the looks of Dunkin' Brands and Amazon.com. Both of these stocks have been very strong as of late, and we believe that DNKN looks ready for a breakout to the upside. The stock broke out of a downward wedge and has all its MAs below it currently as support. The stock seems coiled to breakout. The catalyst? The company's comments at the beginning of last week from the company's CEO were strong as they see same-store sales up 4-5% and good sales on its K-cups. Further, the company should see a nice run into earnings as they are expected to see 7% growth in sales with around 25% growth in earnings. We believe the company has put in a nice bottom at 29-30 and looks ready to go. The company is growing well in a tough market. AMZN continues to amaze us with its strength despite very high valuations, but the company is building a brand that many investors love. What started as an online store is now a logistics giant, online streaming movie store, and has plans for much more. With such strong expectations, we believe the stock will remain very strong into earnings, which come after October expiration. The stock has amazing support at $250 and its 50-day MA above $245, which is an interesting level to write some premium. That level looks very safe but still lucrative.
Stock Trade: Long, DNKN
Breakout Point: 31.25
Options Trade: AMZN, Oct20, 57.50/55 Bull Put Spread
Max Gain: 7.5%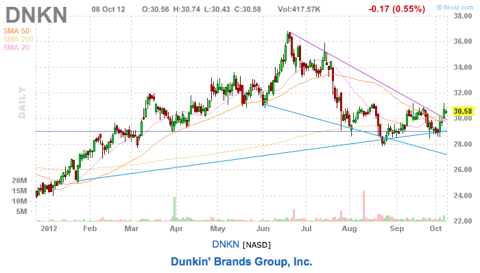 Click to enlarge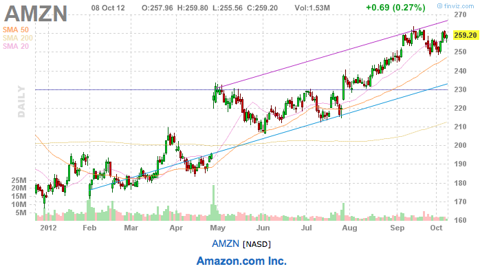 Click to enlarge
For shorts, we like the looks of Under Armour and Shutterfly. UA continues to be one of our top Sell-rated stocks. We believe that UA has drastically overvalued itself and will correct at some point in the next 3-6 months. The issue for us with UA is that the company is building a solid business line, but they have infiltrated most markets successfully and could start to see lower growth rates that will curb "momentum investors" that have helped raise the PE to 60. The stock right now is struggling to get back over its 50-day and 20-day MA, and we believe it could be ready for a break to the downside. Weighing on the stock in the short-term is a lack of catalyst. To maintain a 60 PE, you need a constant growth/catalyst. With earnings expected to be released with less than 10% growth in EPS, its not enough to maintain such a high PE. We would be careful with this one right now if the market rolls over a bit. SFLY, additionally, is looking weak. The PE at 227 and future PE over 40 screams overvaluation, and the stock broke out of an upward wedge it was in. It looks primed to test its 200-day MA, and if it breaks that, it will be in bad shape. Earnings are coming in late October with earnings expected to dip around 45%, and we believe that the continued lack of profitability will hold the stock in check into earnings.
Stock Trade: UA, Short
Breakout point: Failure of 55.50
Options Trade: SFLY, Oct20, 30/32.50 Bear Call Spread
Max Gain: 28%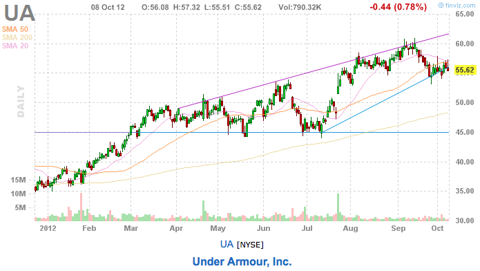 Click to enlarge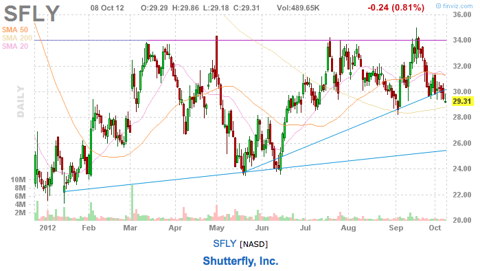 Click to enlarge
Tomorrow's Outlook:
The market should be careful headed into tomorrow. Things could definitely get out of hand if Europe has a pretty weak tape tomorrow as news should break about the finance ministers meetings as well as Greece. If those come out overly bearish, it would weigh on the market. Additionally, we have earnings starting with Alcoa (NYSE:AA) and Yum Brands (NYSE:YUM) tomorrow. Those two reports are pretty crucial to the markets. Expectations could keep things up, but if they are bad, it would be detrimental to Wednesday's movement. Other than that, we have no economic data here in the states. The only other important news will be Great Britain's GDP estimate.
Our Moves/Holdings:
We had a mixed day in the market as we were able to take some gains and losses off the table. We took the final 1/2 of our long Freeport-McMoRan (NYSE:FCX) position off the table for 1.5% gain. We took 1/2 of our Panera (NASDAQ:PNRA) long off for a 3.5% loss. At the same time, we hit our second target on our Assurant (NYSE:AIZ) long from the Goldman portfolio for a 3% gain. We closed a long in Aruba Networks (NASDAQ:ARUN) from that portfolio for an averaged 1% gain. We added a long in Alkermes (NASDAQ:ALKS) and short in Centene (NYSE:CNC). We added a bull put spread in Discover Financial (NYSE:DFS) and Starbucks (NASDAQ:SBUX).
We have the following positions:
In our Short-Term Equity Portfolio we are long Panera Bread and Alkermes. We are short Centene.
In our Options Portfolio, we are long Discover, Amazon.com, Intuit (NASDAQ:INTU), Williams-Sonoma (NYSE:WSM), Apple (NASDAQ:AAPL). We are short iShares Russell (NYSEARCA:IWM).
In our Earnings Alpha Portfolio, we are long Starbucks, Disney (NYSE:DIS), Travelers (NYSE:TRV), Goldman Sachs (NYSE:GS), Alexion (NASDAQ:ALXN), Costco (NASDAQ:COST), Polaris (NYSE:PII), Crocs (NASDAQ:CROX). We are short SPDR S&P (NYSEARCA:SPY).
In our Goldman Sachs Up/Down Paper Portfolio, we are long MeadWestVaco (MWV), Apple, Travelers and Netsuite (NYSE:N).
Chart courtesy of finviz.com.
Disclosure: I have no positions in any stocks mentioned, and no plans to initiate any positions within the next 72 hours.
Business relationship disclosure: The Oxen Group is a team of analysts. This article was written by David Ristau, one of our writers. We did not receive compensation for this article (other than from Seeking Alpha), and we have no business relationship with any company whose stock is mentioned in this article.