JPMorgan (NYSE:JPM) reports third quarter 2012 financial results before the bell on Friday morning, October 12, with current analyst consensus expecting $1.22 in earnings per share and $24.5 billion in revenue, for expected year-over-year growth of 19% and 1%, respectively.
Although we were disappointed to hear this last quarter that JPM has delayed the restart of the stock repurchase program until Q1 2013, (it was supposed to restart in October 2012), it is our opinion that the London Whale issue continues to fade into the rear-view mirror. In addition, Q3 2012 capital markets -- particularly debt issuance -- should be very supportive of the quarter's financial results, and the mortgage business should be healthy in Q3 2012 as well.
The DVA for JPM in the third quarter is expected to be a loss of $200 million (or what Street analysts refer to as a negative mark, due to credit default swap spreads improving), which is the smallest of all the expected DVA's for major US banks in Q3 2012.
Credit improvement (for assets like credit cards and home mortgages and other consumer debt), which has been a tailwind for all banks since the March 2009 market bottom, should begin to fade as a material contributor to earnings, as loan loss reserves should be all freed up by now, and from watching credit card data, it looks loss and delinquency data has returned to normal levels.
The fact is, JPM is a beneficiary of healthy capital market activity, and with record corporate debt issuance volume in Q3 2012 -- thanks to the record low yield of 1.38% on the 10-year Treasury in late July -- debt underwriting results should be healthy. Credit Suisse, in a report dated 10/5/12, expects JPM to see a 52% increase in debt underwriting sequentially, and 99% year-over-year. (You have to remember, it was Q3 2011 that was horrid for investment-grade and high yield debt markets, given the watch-listing of the U.S. credit rating, along with Greece, etc. Q3 2011 was really bad for stock and bond market performance last year -- Treasuries was the only asset class that worked.)
JPM's investment bank is 30% of net revenues and 37% of JPM's pre-tax, pre-provision operating income (PTPPOP) last quarter, which I would imagine would drift up to almost 50% of operating profit with strong markets.
Given the volatility of 2010 and 2011, we haven't seen a year where JPM could really get an earnings boost from the markets like it is capable of doing.
Here are JPM's seven divisions as a percentage of total operating revenues and profits as of June 30, 2012:
Revenues:
* Investment Bank: 30%
* Retail Financial: 35%
* Card Services: 20%
* Commercial Bnk: 7%
* Treasury (SS): 9%
* Asset Management: 10%
* Corporate: -11%
Total: 100%
Operating Profit:
* Investment Bank: 37%
* Retail Financial: 40%
* Card Services: 31%
* Commercial Bank: 14%
* Treasury (SS): 8%
* Asset Management: 8%
* Corporate: -39%
Total: 100%
Source - internal spreadsheet
The reason we listed these numbers by segment is that most of JPM's operating segments are "leverageable" in that small increases in revenues can generate higher operating profit, particularly the investment bank, retail financial and asset management. Although some of the shine is off the cape for CEO Jamie Dimon after the London Whale debacle, the fact is JPM is still arguably the best big bank left standing, certainly in the U.S., if not the world.
We think JPM is capable of generating at least $5 per share, and thus, the stock should be worth at least $50 in a normal economy and normal markets.(Yes, Dodd-Frank is an issue, and the election will have an impact surely on how much of the legislation is fully implemented.)
Nothing has been normal the last 10-12 years, so we still think JPM is trading at a discount to fair value.
The chart is range-bound this year between the March/April highs and the London Whale lows. A pullback to $35 would be readily bought, as would a breakout above $52.
Financials just started to outperform in August, and it could be an election tell, or an economic tell, or a combination of both. JPM is our largest financial holding, and we'll continue to hang with it for now.
(click image to enlarge)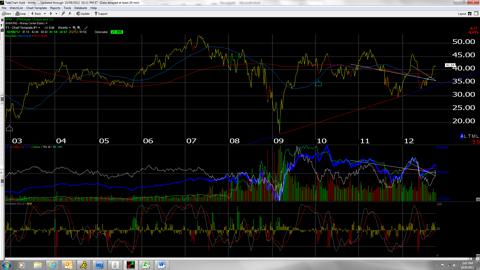 Click to enlarge
Disclosure: I am long JPM. I wrote this article myself, and it expresses my own opinions. I am not receiving compensation for it (other than from Seeking Alpha). I have no business relationship with any company whose stock is mentioned in this article.