Apple (NASDAQ:AAPL) has already pulled back more than 10% from its intra-day trading record. It finished out Columbus Day roughly -9.1% below its all-time closing peak of $702.10 per share.
The culture-changer stock's importance to the direction of the market cannot be overstated. For example, during the last 12 months, shares of the "i-everything" maker have moved in the same direction as the S&P 500 SPDR Trust (NYSEARCA:SPY) 93% of the time.
It follows that keeping tabs on investor exuberance for AAPL can be particularly instructive. In fact, if the world's largest company by market capitalization loses favor with the public for a long period, the uninformed ETF enthusiast might get bitten.
Keep in mind, there have only been 13 trading sessions since Apple's $702.1 finish on 9/21/12. Since then, a variety of popular ETFs have declined as well.
Are You Biting Apple, Or Is Apple Biting You?
% Weighting
% Decline Since 9/21 Adjusted Close
iShares DJ Technology (NYSEARCA:IYW)
24.2%
-4.3%
PowerShares NASDAQ 100 (NASDAQ:QQQ)
19.8%
-2.6%
Morningstar Large-Cap Growth (NYSEARCA:JKE)
15.6%
-1.8%
Vanguard Mega-Cap Growth (NYSEARCA:MGK)
10.0%
-1.3%
iShares Large-Cap Growth (NYSEARCA:IWF)
8.5%
-1.0%
S&P 100 Index Fund (NYSEARCA:OEF)
7.4%
-0.2%
S&P 500 SPDR Trust (SPY)
4.8%
-0.1%
Considering Apple's monstrous weighting in funds like PowerShares NASDAQ 100 (QQQ) and Morningstar Large Cap Growth (JKE), it is surprising that the impact is relatively modest. With regard to the broader market ETFs like the S&P 100 (OEF) and the S&P 500 SPDR Trust (SPY), the impact is negligible.
There are several ways to view the results in the table above. One might be encouraged to see that other holdings in these ETFs have been able to do their job as "diversifiers," holding their ground in spite of Apple's recent heartache. On the other hand, a more pessimistic outlook would simply suggest that Apple has been a front-runner for the market's soul -- it led the way higher, and it will lead the way lower.
I am neither bullish nor bearish on AAPL. I will note that the last time the relative strength for AAPL was this weak, its share price catapulted nearly 23% higher shortly thereafter. I should also point out that Apple's previous correction didn't stop at 10% -- rather it shed nearly -16% in the May-June gloom.
(click image to enlarge)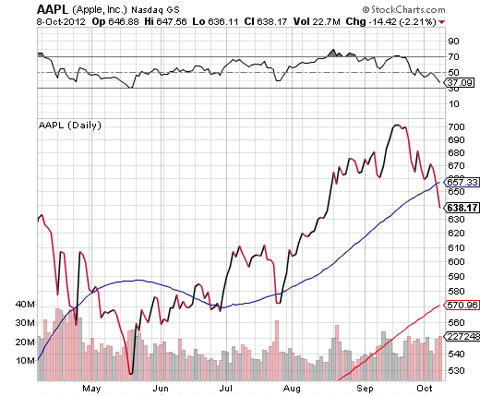 Click to enlarge
If you've stayed with the plain vanilla of a Vanguard Total Market (NYSEARCA:VTI) or a SPDR S&P 500 Trust, you have a fair amount of room before a significant trendline breach or a stop-limit execution. On the other hand, if you "prepped" for a seasonal Q4 rally with the Rocky Road of a SPDR Select Technology (NYSEARCA:XLK) or a iShares DJ Technology (IYW), you may want to pay particular attention to your stop-limits and your moving averages. Instead of getting "teched out," you may find it necessary to "lighten up."
Disclosure: Gary Gordon, MS, CFP is the president of Pacific Park Financial, Inc., a Registered Investment Adviser with the SEC. Gary Gordon, Pacific Park Financial, Inc, and/or its clients may hold positions in the ETFs, mutual funds, and/or any investment asset mentioned above. The commentary does not constitute individualized investment advice. The opinions offered herein are not personalized recommendations to buy, sell or hold securities. At times, issuers of exchange-traded products compensate Pacific Park Financial, Inc. or its subsidiaries for advertising at the ETF Expert web site. ETF Expert content is created independently of any advertising relationships.