Parkland Fuel Corp. (OTCPK:PKIUF) is Canada's largest independent fuel distributor and marketer. It is a defensive stock with a sustainable dividend (5.92% or $0.085 per share per month). Lately it has been growing well, and it has plans to continue that growth for many years with a plan of growth through 2016. Parkland calls its plan the Parkland Penny Plan. It plans to grow fuel sales to 7B liters by 2016. Simultaneously it plans to increase its EBITDA/liter margin by one penny. It generally seems to be making great progress on this plan. The following chart shows Parkland's rapid and steady progress.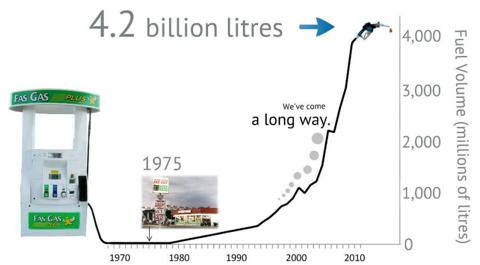 Click to enlarge
The breakout of these fuel sales is 1.7B liters of commercial fuels, 1.8B liters of retail sales (through 700+ gas stations -- many with convenience stores), and 0.8B liters of wholesale, supply, and distribution sales for a total of 4.3B liters of sales. The above chart is slightly dated, and the 4.2B liters figure in error now. Parkland intends to grow sales further through both organic growth and acquisitions. As a backdrop to this, Canadian refined petroleum demand has shown a steady CAGR of 1.6% since the mid 1990's. There was a blip downward for the 2008-2009 recession, but it was minor. Parkland should be able to be highly profitable even in trying times. Downstream margins have been relatively stable over those years.
Parkland has grown its commercial business by a 48% CAGR since 2007. It is hard to beat that. PKIUF has had an 11% CAGR since 2007 in its retail business. PKIUF has had a 21% CAGR in its wholesale, supply, and distribution business since 2007. PKIUF has also been making progress in efficiency with a 35% year over year reduction in net unit operating costs due to business mix and cost initiatives in Q2 2012. Its operating costs have been 3.83 cpl (cents per liter) in 2012 versus 3.93 cpl in FY2011. Its administration costs have been 1.89 cpl in 2012 versus 1.92 cpl in FY2011. It has cut down its employee time lost due to injury in 2012 versus 2011. It managed a 22% increase in retail fuel volumes. It has signed 105 liters of annualized new business since January 1, 2012. Plus the Bowden Terminal, a 200,000 barrel fuel storage facility in Bowden, Alberta, will be online in Q4 2012. This should help earnings. With this continued growth model PKIUF plans to grow its EBITDA from $125 million in 2011 to $250 million in 2016.
In sum, PKIUF looks solid for some time to come. Its costs savings programs have been highly effective. It participates in refiners' spreads in most cases. It could have a tough time in another recession, but its 52% payout ratio for 1H 2012 shows it should be able to weather such a circumstance. It is a buy even in this tough market. It should perform in much the same way as many of the refiners. Refiners profits are not tied directly to oil costs but only indirectly through the crack spreads. These are currently proving to be resilient as North American refining capacity is in relatively tight supply. Little new refining capacity has been built recently, and some of the old capacity has been retired. PKIUF is a buy on fundamentals.
The two year chart below of PKIUF gives some technical direction to this trade.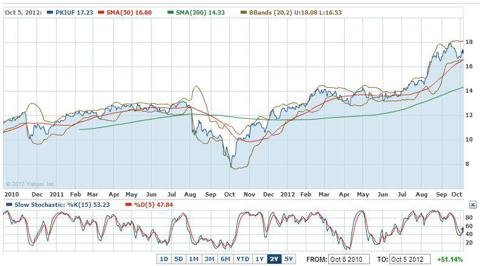 Click to enlarge
The slow stochastic sub chart shows that PKIUF is neither overbought nor oversold. The main chart shows that PKIUF is in a strong uptrend. It is not overextended, but it is approaching overextended territory. The chart indicates that PKIUF is a buy. However, the overall market is overbought. The SPY is up over 32% since its October 3, 2011 low. This has been accomplished without a large expansion in revenues and earnings. Rather a good part seems to be QE induced. This means it may fall at any time. Given that the US is imminently facing the fiscal cliff, this outcome is even more likely. With this in mind it is a good idea to average into this stock around the fiscal cliff.
Even compared to good refiners, PKIUF looks good. It grew EBITDA to $54.2 million from $25.3 million year over year in Q2 2012. That's 114% growth. For 1H 2012 the growth was more modest at 35%. However, that still compares well to Valero's (NYSE:VLO) FY2012 predicted growth of 29.90%, Holly Frontier Corp.'s (NYSE:HFC) FY2012 predicted growth of 9.00%, and Marathon Petroleum Corp.'s (NYSE:MPC) FY2012 predicted growth of 26.90%. Plus PKIUF does seem more likely to continue its growth than many others. Further many of the analysts like the refining space currently versus the more oil price dependent oil producing companies.
NOTE: Some of the fundamental fiscal data above is from Yahoo Finance.
Good Luck Trading.
Disclosure: I have no positions in any stocks mentioned, but may initiate a long position in OTCPK:PKIUF over the next 72 hours. I wrote this article myself, and it expresses my own opinions. I am not receiving compensation for it (other than from Seeking Alpha). I have no business relationship with any company whose stock is mentioned in this article.