Kinder Morgan, Inc. (NYSE:KMI) is my favorite dividend growth stock in the midstream space. Kinder Morgan's General Partner role includes the Incentive Distribution Rights (IDR) over the fourth largest energy company in the US with a market value of about $100 billion. The General Partner's dividend increases twice as fast as the Kinder Morgan Partners, L.P. (NYSE:KMP). Today's current 3.9% dividend yield should increase at a rapid rate due to acquisitions and General Partner IDR benefits. I believe Kinder Morgan is a buy today at current prices.
General Partner Incentive Distribution Rights

Kinder Morgan is the largest midstream energy company, and the parent benefits from 3 publicly traded entities, including Kinder Morgan Energy Partners, L.P. ; El Paso Pipeline Partners (NYSE:EPB); and Kinder Morgan Management, LLC. (NYSE:KMR).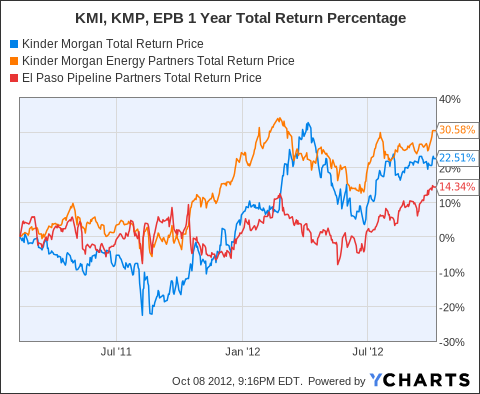 KMI Total Return Price data by YCharts
Kinder Morgan, Inc. Dividend Growth
Kinder Morgan has increased its dividend four out of five quarters. This continued increase should continue for future quarters. The acquisition of El Paso Pipeline Partners will provide cash flow to increase the General Partner's quarterly dividends.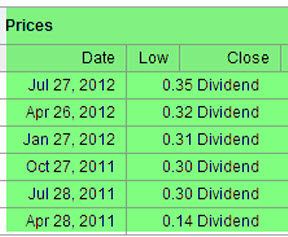 As Kinder Morgan Partners, L.P. distribution increases, Kinder Morgan, Inc.'s dividend will increase at a faster rate.

As Kinder Morgan Partners, L.P. 2011 distribution increased by 4.5%, Kinder Morgan's General Partner's dividend increased by 9.7%.
Dividend Policy: Kinder Morgan's stated dividend policy calls for quarterly cash dividends. KMI's first dividend was prorated based on its February 16, 2011 IPO date. In 2011, Kinder Morgan paid its first prorated quarterly dividend of $0.14 followed by $0.30 in the second and third quarters and $0.31 in the fourth quarter, for a total of $1.05 in 2011.
More recently, in July 2012, Kinder Morgan announced that it planned to pay out $307 million in 2nd quarter 2012 dividends, 83% higher than the $168 million paid in 2nd quarter 2011. And for the first two quarters of 2012, Kinder Morgan reported cash of $610 million available for dividends, 40% more than for the same period in 2011. This increase was driven by higher than expected cash flow from Kinder Morgan Partners and El Paso Pipeline Partners.
Accordingly, Kinder Morgan's Board raised the 2nd quarter 2012 quarterly dividend, by 17% over 2011, to $0.35 per share for an annualized dividend of $1.40 and a dividend yield of 4% with shares trading at approximately $35.56 as of October 8th, 2012. This increase ups the dividend from $0.32 per share in 1st quarter 2012.
Kinder Morgan expects to increase dividends 12.5% annually through 2015.
Kinder Morgan, Inc. Leadership Positions
As a midstream energy player, Kinder Morgan has leadership in many areas.
Largest Natural Gas Pipelines Network: Kinder Morgan owns and/or operates over 75,000 miles of natural gas pipelines that connect North America's major gas producing regions - including Barnett, Eagle Ford, Fayetteville, Haynesville, Marcellus and Utica - with major distribution, storage and processing centers.
Largest Independent Transporter of Petroleum Products: In the US, through over 8,000 pipeline-miles, Kinder Morgan transports about 1.9 million barrels per day (MMBbl/d) of petroleum products such as crude oil, diesel, gasoline, jet fuel and natural gas liquids.
Largest Transporter of Carbon Dioxide: In the US, Kinder Morgan transports about 1.3 billion cubic-feet of carbon dioxide (CO2) per day (Bcf/d) for enhanced oil recovery projects.
Largest Independent Terminal Operations: In the US, Kinder Morgan owns and/or operates about 180 liquids / dry-bulk terminals with 111 million barrels (MMBbls) domestic liquids capacity and 108 million tons (MMtons) of dry bulk capacity.
Second Largest Oil Producer in Texas: In addition to its midstream operations, Kinder Morgan produces about 51,000 barrels per day (Bbl/d) of crude oil in Texas.
Only Oil Sands Pipeline Serving the West Coast: Kinder Morgan has the only pipeline (its Trans Mountain pipeline) that serves the Vancouver / Washington State area with a capacity to transport 300,000 barrels per day.
Management
Kinder Morgan's CEO: Richard D. Kinder founded Kinder Morgan in 1996 with headquarters in Houston, Texas, and is currently its Chairman and CEO. Mr. Kinder draws an annual salary of $1 with no bonuses or stock options. He owns 23% of Kinder Morgan Inc. and is dedicated to growing shareholder value. He is a strong believer in corporate transparency - Kinder Morgan is one of the few companies that publishes its annual budget, safety statistics and environmental performance on its website. The company attempts to stay out of distractions and does not make any political contributions.
Kinder Morgan Catalysts
Kinder Morgan, Inc. is known for making acquisitions which are financially rewarding for shareholders.
NGPL Stake: Kinder Morgan, Inc. owns a 20% stake in NGPL PipeCo LLC and operates their pipelines and storage systems, primarily for interstate natural gas transport.
El Paso Acquisition: In October 2011, Kinder Morgan announced its agreement to acquire El Paso Corporation for an approximate cost of $38 billion including outstanding debt. El Paso is a major independent exploration and production (E&P) company, owns the largest interstate natural gas pipeline network in North America (44,000 miles) and has a 42% stake in Kinder Morgan's El Paso Pipeline Partners entity.
More recently, in the 2nd quarter 2012, Kinder Morgan sold El Paso's exploration and production business for $7.15 billion and used the proceeds to write down debt taken on for the El Paso acquisition. Kinder Morgan offset taxes from the sale with El Paso's net operating loss carry forward. The sale was mandated by the Federal Trade Commission under approval terms of the El Paso acquisition.
Kinder Morgan IPO: On February 16, 2011, Kinder Morgan conducted its initial public offering. Its IPO was a liquidation event for prior investors in Kinder Morgan, Inc. - the Carlyle Group, Goldman Sachs, Highstar Capital LP and Riverstone Holdings. KMI did not release any Treasury shares, nor did any of KMI's founders or management sell shares - as a result, KMI received no money from the IPO. KMI's founders, management and original stockholders subsequently sold shares in a follow on public offering.
Business Strategy: Kinder Morgan has a strong focus on growing its fee based midstream business - growing its transport and storage pipeline network and terminal assets where KMI is largely unaffected by changing commodity prices. While KMI is a major midstream energy player in North America, it continuously looks for acquisitions to expand its network and to connect with its high production and distribution growth assets, and in doing so, takes advantage of economies of scale.
Kinder Morgan is also committed to running a tight operation and continuously seeking ways to increase the utilization efficiency, safety and cost effectiveness of its existing assets so it can incrementally grow earnings and cash flow.
Finally, Kinder Morgan is very committed to its shareholders, including its management team that has a major equity stake in the business, and seeks to leverage its financial structure to enhance shareholder returns.
Business Segments: Kinder Morgan operates six reporting business segments, five under its Kinder Morgan Energy Partners subsidiary and one under NGPL PipeCo LLC where it has a 20% stake.
1. Products Pipelines : 8,400 miles of pipelines for the transport of diesel, gasoline, jet fuel and natural gas liquids (NGLS). This segment also reports results from about 60 associated storage and processing terminals across the US.
2. Natural Gas Pipelines : 16,200 miles of pipelines for natural gas gathering, storage, transport, treatment and processing.
3. Carbon Dioxide : 2,000 miles of pipelines for the transport of carbon dioxide to increase oil yields at production fields. This segment also reports results from its oil field operations and its 450 miles of crude pipelines in Texas (which were successfully sold in May 2012 and will not be a part of Q3 results except for charges and expenses).
4. Terminals : 115 liquid and bulk facilities that are either owned or operated by KMI. This segment also reports results from about 35 associated rail loading and material handling facilities across the US and parts of Canada.
5. Kinder Morgan Canada : 2,500 miles of pipelines from Alberta, Canada to refineries and terminals in the Central US, Rocky Mountains, Washington state and British Columbia, Canada.
6. NGPL PipeCo LLC: KMI's 20% ownership with interstate pipelines and natural gas storage that KMI operates.
As the table below shows, in 2011, CO2 contributed 34.1% to earnings followed by Natural Gas Pipelines at 23.6%, Terminals at 21.5% and Products Pipelines at 14.1%. Kinder Morgan Canada brought in 6.2% of earnings and the NGPL PipeCo segment brought in 0.6%.

Kinder Morgan Competitors: Kinder Morgan selectively competes with other independent and affiliated midstream energy services providers - owners and operators of natural gas, petroleum and petroleum products transport and storage facilities - in the US and parts of Canada.
Kinder Morgan Customers: Over the past three full fiscal periods (ending 2009, 2010 and 2011), no single customer accounted for more than 10% of Kinder Morgan's total revenue.
Regulatory Oversight: Kinder Morgan's business is regulated for tariffs, safety and interstate transportation by agencies such as the Federal Energy Regulatory Commission (FERC) under the Interstate Commerce Act (ICA), the California Public Utilities Commission, the Texas Railroad Commission, the Department of Transportation and Canada's National Energy Board (NEB). Its business also needs to comply with restrictions imposed by environmental, hazardous waste, air pollution and water pollution regulating agencies in the US and Canada.
Business Risk Factors: As stated above, Kinder Morgan's business is impacted by various regulatory agencies that could, with moderate probability, impose onerous tariff, environmental or operational compliance burdens on KMI.
Kinder Morgan obtains rights, from landowners, to build and operate pipelines and such land use costs or restrictions could always increase making business and profits harder to generate.
Kinder Morgan operates with sizable debt, so poor cash flows in an operating period or tight credit markets could restrict the company's ability to undertake expansion, acquisition or growth projects, and increase its overall borrowing costs.
Kinder Morgan's fee-based business depends on healthy supply and demand of natural gas and petroleum products, which in turn are linked to the health of the US economy. And physical disruptions (due to acts of nature or terrorism) of its pipeline and storage assets could result in losses and potentially expensive environmental and collateral expenses.
Kinder Morgan Financials
Business Model: Kinder Morgan generates its revenues through contracts that are tied to the volume of products that it transports, stores or otherwise handles, and the prices it receives. Shipment volumes are tied to demand which is driven by regional economics and demographics, which tend to be fairly stable barring periods of high growth or recession. Tariff increases are regulated and generally linked to changes in the Producer Price Index published by the government.
Kinder Morgan typically enters into long-term contracts that are structured around making transport and storage capacity available, irrespective of whether that capacity is actually utilized by the customer. Contracts on average cover about an eight-year span for natural gas transport and about four years for CO2 transport, and vary for the storage and terminals business but are weighted to longer terms with minimum volume commitments.
For Kinder Morgan's limited crude oil and gas producing operations in Texas, revenues are tied to market prices and influenced by Kinder Morgan's commodity hedging activities in the short-term. This business was sold in May 2012.
Kinder Morgan funds its dividends from cash it receives from its share of Kinder Morgan Partners and NGPL after paying off administrative, operational, interest and tax expenses and principal amounts due.
Kinder Morgan will hopefully follow its parent Kinder Morgan Partners' example (see charts below) and consistently raise distributions to shareholders over time.

Click to enlarge
Historical Financials: The table below shows historical financials. While revenue grew consistently from 2009 to 2011, 2010 featured a net loss of $41.3 million compared to a net profit of $495 million in 2009. This loss was a result of a $128 million litigation settlement, a $107 million reduction due to a Kinder Morgan Partners cash distribution and $275 million in investment impairment charges in the 1st quarter of 2010.

The following table shows other selected financial data, such as capital expenditures in excess of a billion dollars, net hard assets of almost $18 billion and total debt of over $13 billion in 2011. The Kinder Morgan Partners entity has also consistently taken on more debt to support investments and expansion.

Long-Term Business Outlook: For all of its segments, future prospects appear to be fairly strong.
Natural gas is cheap, clean, abundant and domestically available in the US, and KMI has an unparalleled natural gas pipelines network that is connected to every major demand center in the US.
Kinder Morgan's petroleum products pipelines originate in major refineries and ports / hubs and connect to major population and demographically growing regions, and should benefit from the development of shale plays and the new Parkway Pipeline that goes into service in 2013.
Kinder Morgan's terminals are well located and poised to grow segment revenue from $1.2 billion in approved expansion projects. In parallel, KMI is also actively acquiring terminals from smaller and larger players.
Kinder Morgan's CO2 business should benefit from ongoing and future production activities with billions of barrels yet to be extracted from locations within Texas and recently executed long-term contracts.
Long-term growth at Kinder Morgan Canada will be driven by its oil sands export capacity to the west coast and Asia and expanded dock capabilities in Vancouver.
Kinder Morgan also has a very significant pipeline of projects in development or waiting government approval, and these new projects should contribute significantly to revenue in the years ahead.
Recent News and Developments:
In July 2012, Kinder Morgan entered into a long-term agreement with BP to provide condensate processing services and storage at Kinder Morgan terminals in Texas, with a minimum commitment from BP of 40,000 bpd. In addition, BP agreed to lease 750,000 barrels of storage at Kinder Morgan's Galena Park terminal.
In July 2012, Kinder Morgan entered into a long-term agreement which gives Peabody Energy access to additional coal storage facilities at Kinder Morgan's Gulf Coast export terminals.
In June 2012, Kinder Morgan acquired the remaining 50% equity stake in the 1,100 mile Altamont pipelines system for $300 million, giving Kinder Morgan 100% ownership of these midstream assets.
In May 2012, Kinder Morgan completed the acquisition of El Paso Corporation, including the sale of El Paso's exploration and production assets for $7.15 billion to a consortium headed by Apollo Global Management LLC. With this acquisition, Kinder Morgan is the largest natural gas pipeline operator in North America.
Latest Financial Results - 2nd Quarter 2012
With El Paso under its belt, KMI's results accrue from its ownership of general partner interests in Kinder Morgan Energy Partners and El Paso Pipeline Partners. As a result, Kinder Morgan received $393 million in distributions from Kinder Morgan Partners and $82 million from El Paso Pipeline Partners, less $4 million related to NGPL, for a total cash generation of $471 million compared to $350 million in Q2 2011 primarily because of the El Paso accretion.
In the quarter, Kinder Morgan also received $38 million from El Paso's E&P operations, which the company successfully divested in May 2012, and which will not contribute to earnings in 3rd quarter.
On a per share basis, Kinder Morgan received $0.36 as cash of which it distributed $0.35 in 2nd quarter 2012 (compared to available cash of $0.24 and dividends of $0.30 in 2nd quarter 2011).
On a consolidated basis, with results from Kinder Morgan, Inc.; Kinder Morgan Energy Partners, L.P.; El Paso Pipeline Partners ; and Kinder Morgan Management, LLC reported revenue of $2.17 billion, up 11% from a year ago (see table below). Revenue from all segments grew, except for Products Pipeline which faced lower rates due to tariff regulations. Volume on refined products transport was marginally down, 0.9% but Natural Gas Liquids (NGL) volume was 27% higher, natural gas volumes were 6% higher (but below projections), as were volumes on CO2, biofuels and coal, where higher export volumes compensated for decreased domestic transport.
In Canada, Kinder Morgan saw strong project development with a backlog of $10 billion, with many of these new projects backed by shipping contracts over the long-term that will provide return-on-investment over time. Overall, including terminals and other facilities, Kinder Morgan has a very strong pipeline of projects that should benefit shareholders in the years ahead.
Earnings were substantially impacted by a sizable increase in interest income in the quarter as a result of debt taken on for the El Paso acquisition. Interest expense in the quarter rose to $291 million from $168 million a year ago. Net income was also significantly impacted by a $327 million loss tied to fair value adjustments of assets from discontinued operations. As a result, KMI swung to a consolidated net loss of $241 million in 2nd quarter 2012 from earnings of $82 million in Q2 2011. After accounting for non-controlling interests, net loss attributable to Kinder Morgan was $125 million, down significantly from a net profit of $132 million in 2nd quarter 2011.
On a fully diluted per share basis, Kinder Morgan's Class P shares suffered a net loss of $0.15 compared to a net profit of $0.19 a year ago, and its Class A shares suffered a net loss of $0.17 compared to a net profit of $0.17 a year ago.

Click to enlarge
On a consolidated basis, Kinder Morgan and its subsidiaries had total cash of $675 million, up from $411 million at the end of 2011. Total assets increased considerably due to the El Paso acquisition, to $69.5 billion from $30.7 billion at the end of 2011.
The company also took on more debt to finance the acquisition and related expenses. Total long-term debt rose to $31 billion from $13.1 billion. And total equity attributable to Kinder Morgan rose to $14.2 billion from $3.3 billion at year end, giving the entity an almost 1 to 1 debt to equity ratio.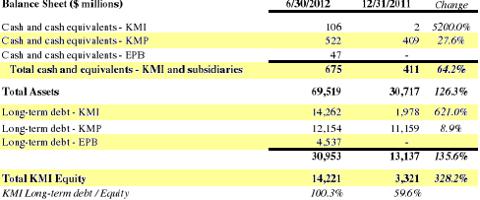 Click to enlarge
Shares: Since their IPO debut at about $30 in February 2011, Kinder Morgan shares have ranged from a low of about $23.51 in August 2011 to a high of $40.25 in April 2012, and are down to about $35.50 as of October 8th, 2012, with a market capitalization of $29.4 billion (roughly two times Book Value). Shares were hit recently by 2nd quarter 2012 results coming in below Wall Street expectations.
Summary: With the El Paso acquisition, Kinder Morgan has become the largest natural gas pipeline operator in the US and consolidated its dominance as a top-tier midstream energy services provider. Kinder Morgan's general partner holding structure is such that its earnings and cash for distribution to shareholders come from its Kinder Morgan Partners and El Paso subsidiaries which have solid, multi-year, long-term contracts with its customers. Kinder Morgan continues to successfully expand its customer base, has stable revenues and a growing asset portfolio that kicks in economies of scale. Revenues are impacted by and dependent upon the price of crude oil and natural gas, along with macroeconomic supply and demand trends.
While 2nd quarter 2012 results were impacted by one-time write downs, Kinder Morgan has a significantly high debt burden which has led to a sharp increase in borrowing costs. At the same time, its expanded portfolio, strong history of dividend payouts by its parent, dominant industry position and alignment with America's growing energy needs offer a significant moat that investors should take comfort from.
Disclosure: I am long KMI. I wrote this article myself, and it expresses my own opinions. I am not receiving compensation for it (other than from Seeking Alpha). I have no business relationship with any company whose stock is mentioned in this article.