It is rare to see a company fall from grace as quickly as Hewlett-Packard (NYSE:HPQ) has over the past several years. The company that essentially created Silicon Valley is now a shadow of its former self. The collapse of its stock price has destroyed billions in value built over decades. HP has lost over 70% of its value in just the last 5 years, as the company's leadership position in its various markets withers away.

Click to enlargePerhaps more alarming is the fact that HP is no longer seen as the Valley's innovation leader. That torch has been passed to smaller, more nimble companies, as well as other technology giants such as Apple (NASDAQ:AAPL) and Google (NASDAQ:GOOG). While CEO Meg Whitman is devoting all her energy to turning the company around, many investors are starting to wonder if it is enough. That is why UBS's call to break HP apart generated such buzz in the markets. But is it the right course of action for the venerable technology company? In this article, we explore whether or not a breakup is what HP should pursue, and we will discuss the company's valuation, its financial state, and its market position.
UBS's Call: Breaking Up Unleashes HP's Potential
On October 8, UBS analyst Steve Milunovich issued an updated note on HP, arguing that the company needs to break itself apart. Milunovich argues that HP's various divisions are "whales packed into the same pond," and that they are choking each other's potential. Milunovich, who has a sell rating on HP, calculates that HP's various divisions are worth $20 per share when broken apart into independent companies. That valuation represents upside of 38.31%, based on HP's closing price of $14.46 on October 8.
Milunovich refutes the argument that HP needs to keep its divisions integrated in order to preserve purchasing power, saying that even if the company loses it, the upside of increased focus and brand equity would more than offset reduced purchasing power. Furthermore, UBS argues that HP's dysfunctional corporate governance is choking off the potential of the company's stronger divisions, writing that, "Unlocking the value of $20 means breaking the notion that the various parts of HP - printers, PCs, services - operate independently. In fact, the problem is they are dependent - somewhat on each other but mostly on corporate management...They reside within one company, sharing management, systems, and overhead while competing for resources at the same trough." Furthermore, UBS believes that HP is "in denial" about the growth prospects of its PC and printer business, and that the company's debt level (which we will discuss later) is one among primary things that are choking off HP's ability to resolve its issues.
UBS believes that the best way to restructure HP is to split the PC and printer business off from the company's enterprise business, an approach that was pursued by former CEO Leo Apotheker, and UBS argues that HP founders Bill Hewlett and Dave Packard would support the company's split. HP has split itself apart before, when it spun off Agilent (NYSE:A) in 1999 to focus on computers, imaging, and networking, with every other business line folded into the newly public Agilent. With that in mind, is a restructuring of HP the best course of action? We believe it is, and that it will happen unless HP can quickly turn itself around and show its investors tangible proof that revenues and earnings can recover, and that the company's balance sheet can be healed.
HP's Valuation and the Likelihood of Shareholder Activism
HP's latest woes stemmed from its reduced fiscal 2013 outlook. On a non-GAAP basis, HP is calling for EPS of $3.40 to $3.60. GAAP EPS, which includes HP's various restructuring charges, is projected to come in at $2.10 to $2.30. When using the low-end of these estimates, HP now trades at 6.89x 2013 GAAP earnings, and just 4.25x 2013 non-GAAP earnings. HP shares are trading near their cheapest levels ever, as investors have chosen to sell first and ask questions later. HP's current P/E ratio (based on non-GAAP earnings) is sitting at levels not seen in well over a decade.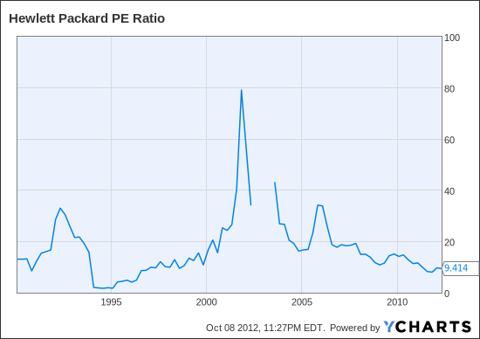 Click to enlarge
Even UBS, which has a sell rating on HP, believes that there is value, writing that "we are more convinced than ever there is value at HP and that its full realization requires a breakup of the Silicon Valley icon."
With its P/E ratios sitting in the single digits, UBS believes that HP may not have a choice in breaking itself apart. With its market capitalization now under $29 billion, HP is no longer able to use its size as a shield against shareholder activism. Ralph Whitworth, the head of Relational Investors, is already on HP's board (he was appointed in November 2011), and has a track record of agitating for change at the companies he holds stakes in. His targets have included ITT, which has already broken itself apart, and L-3 Communication (NYSE:LLL). Whitworth is obligated to support HP's board until November 2013 (per his agreement with HP), but HP's investors may not have to wait that long for change. HP 's valuations have reached levels where it is vulnerable to activist investors. And with no dual-class stock structure or large to defend the company, HP has little in the way of defending itself against activism. While UBS does note that private equity buyers may also begin agitating for change at HP (signaling some sort of deal for the company), we think that such an outcome is unlikely. HP's debt profile is not suited for private equity transactions. HP needs to pay down the billions of debt it already has, not leverage itself even more. In our view, whether or not HP should be broken up is becoming more and more irrelevant. Unless HP can show tangible results in the next several quarters, we believe that activists will begin to pressure HP's board to make structural changes to the company.
HP's Debt and Cash Flows: Solving the Issues via a Split
HP's issues go beyond operational and competitive problems. HP's finances have also deteriorated, and UBS argues that this is another aspect that is holding the company back. An analysis of HP's debt, its cash flows, and its positioning in PCs and printers shows that the company can potentially solve several of its issues by splitting itself apart. HP is one of the only major technology companies in the United States to be awash in debt. While IBM (NYSE:IBM) also holds billions in net debt ($21.061 billion, to be exact), that company's cash flows are not in doubt, and its market position has never been stronger.
As of the end of Q3 2012 (fiscal), HP had $20.235 billion in net debt ($9.509 billion in cash & equivalents and $29.744 billion in debt). While the company's net debt may have fallen by 10.43% from Q3 2011 (net debt stood at $22.591 billion in Q3 2011), HP's operating cash flow has fallen by 11.26% over the same period. Worse, the company's operating cash flow for the first 9 months of 2012 has fallen by 36.4%, to $6.512 billion, from $10.239 billion. Given the fact that HP continues to send cash out the door buybacks and dividends (HP spent $926 million in its last quarter on buybacks and dividends), the company's balance sheet is slowly but surely deteriorating, lower net debt aside. One saving grace of HP's plunging stock price is that the company's shares now yield 3.65% (as of this writing), giving HP one of the highest yields in the entire technology sector.
Splitting HP apart could go a long way in solving HP's financial issues, in our view. Part of HP's problems stem from the fact that the company is unlikely to be able to use its balance sheet to buy its way out of its issues at this point, which is the tactic that Dell (NASDAQ:DELL) is using to move away from PCs. Dell ended its latest quarter with $6.188 billion in net cash, giving the company ample room to continue buying companies to strengthen its product portfolio, something that HP can no longer do in a meaningful way. But, splitting the PC and printer divisions would, in our view, go a long way in solving this issue. UBS notes that the PC and printer divisions still have sizeable cash flows, and that the PC division, HP's weakest, will still be profitable for several more years, buying the company time to deal with its issues. HP is the clear leader in printing, and UBS is confident that division's cash flows will be sustained for many years to come. While HP's overall operating cash flows have dropped during the first 9 months of 2012, this is due to the company's operational weaknesses, which can be solved via a split. If HP can revitalize its performance, then the company's cash flows will rebound. HP could repair its balance sheet by splitting off its PC and printing division from the rest of the company, and housing the majority of its existing debt within that new division. The stronger cash flows of the combined PC and printing divisions would be used to pay off the company's debt, freeing HP to concentrate its R&D spending onto its networking, services, and enterprise divisions, where it is most needed. While these divisions, on balance, contribute less to HP's overall cash flows than its combined PC and printing divisions, this issue will be mitigated by the fact that HP's debt would be housed outside of those divisions, resulting in a far cleaner balance sheet for this new, and leaner HP.
Can Meg Whitman Turn Things Around?
Meg Whitman became HP's newest CEO on September 22, 2011, and has been in charge for just over a year. To her credit, Whitman has been quick to articulate the need for change, and is not sitting still. She is taking necessary writedowns, streamlining the company's cost structure, and perhaps most importantly, bringing about needed change to HP's culture. HP's top executives, from Meg Whitman on down, now work in cubicles alongside rank and file employees, and she is turning HP's focus back to R&D. While she is working to minimize costs, the kind of obsession with costs that was present during Mark Hurd's tenure is gone. Meg Whitman understands that some forms of spending are necessary, and she is taking incremental steps to boost spending where it counts. In Q3 2012, HP's R&D spending rose by 0.47% to $854 million, while SG&A expenses fell by 4.92% to $3.366 billion. While this increase in R&D is small in absolute terms, we believe that it bodes well for the future. Meg Whitman has been explicit that HP will re-invest its cost savings into new R&D spending, which is essential in HP's quest to return itself to a true leadership position in the technology sector.
We have written positively about Meg Whitman as HP's CEO before, and we continue to believe that Meg Whitman is not the issue at hand. She has been the company's CEO for just over a year, and the issues that HP faces today are rooted in policies and executive decisions over the past decade. Whitman cannot be blamed for not fixing HP in one year. A company of this size cannot be fixed in such a short time frame. However, Meg Whitman is already giving investors at least some hope. UBS, which is critical of HP's corporate governance, believes that there is value in HP, and writes that, "Enterprise Systems is being revitalized with leadership in Intel servers, a more competitive storage offering, and an early bet on software-defined networking. HP owns the sixth largest software company. Enterprise Services is a mess, but there is value if the unit can get anywhere close to its long-term financial model of 3-5% revenue growth and a 7-9% operating margin. Moreover, many of HP's ills are self-inflicted."
If Meg Whitman can undo the damage that her predecessors have caused, then HP can be healed. But, Meg Whitman needs to deliver real and tangible results to investors soon, or else she may lose the chance to repair HP in its present form. Ralph Whitworth's agreement with HP expires in November 2013, and it is likely that other activist investors will begin pressuring the company before this agreement expires. Unless Meg Whitman can show investors that HP is on the road to recover, the company may not be able to keep itself in its present form. HP has said that its restructuring and cost savings targets will be complete by the end of fiscal 2014, and that by 2016, HP's revenues should be growing at a rate equal to global GDP. Operating margins are set to rise faster than revenues by 2016, due to a leaner cost structure. The problem for HP is that investors may be unwilling to wait that long for a turnaround. The situation at HP is exactly what activist investors thrive on, and we believe that HP may simply be unable to fend them off.
Conclusions
In our view, a breakup of HP could help solve several of the company's issues. By breaking itself apart, HP could fix its balance sheet, raise its valuation, unlock value for shareholders, and give its divisions increased focus. We have never held HP shares, but the company's valuation is approaching levels that are making its shares too tempting to pass up. For long-term investors who believe that HP will survive and eventually revive itself, this is a buying opportunity. The pessimism surrounding HP has never been higher, and the valuations have rarely been lower. This combination means that a buying opportunity may be at hand. In our view, HP shares may be reaching a bottom. We believe that for new investors in HP, an investment in the company will be a profitable one in the long-term. Either HP recovers on its own over the course of several years, or activists push the company to break itself apart, likely resulting in a much more rapid realization of value. We maintain no illusions that HP, in its present form, is a growth company. Investors looking for growth in the technology sector should look elsewhere. But, like UBS, we believe that there is value in HP, and that in the long run, it will emerge from this period of turmoil as a stronger company (or several companies). Meg Whitman and HP may be in the process of writing off billions in goodwill from the past, but we think it is too early for investors to write off HP.
Disclosure: I am long AAPL, GOOG, IBM. I wrote this article myself, and it expresses my own opinions. I am not receiving compensation for it (other than from Seeking Alpha). I have no business relationship with any company whose stock is mentioned in this article.
Additional disclosure: We may initiate a long position in HPQ over the next several trading sessions. We hold shares of GOOG and IBM via the Fidelity Growth Company Fund.