When I woke up Monday morning and the first thing I saw on CNBC was that Netflix (NASDAQ:NFLX) shares were up more than $4 to the $71 level, I couldn't help but laugh. Last week, I published an article about how Netflix has returned to predictability due to another huge rally, on mostly insignificant news. An analyst upgrade combined with another bullish statement from Whitney Tilson pushed shares up more than 20% in just a few days. On Monday, shares spike higher still after an upgrade from Morgan Stanley. Netflix shares ended up nearly $7 on the day. From their low on September 26th to Monday's high, shares are up 40%. Yes, 40%. Investors looking to get into Netflix should take a step back. They've missed the rally, and don't want to be the ones holding shares on the next fall. Here's why.
The problem with both analyst notes is that they are saying buy the stock on valuation. Neither analyst note, from what I've seen, is changing their revenue or earnings forecasts. They are just basically saying Netflix is cheap. Also, the Morgan Stanley call on Monday says that fears of "Netflix being crushed by Amazon's (NASDAQ:AMZN) Prime" are not really warranted. However, Morgan Stanley misses the point, one that Netflix has missed as well. It's not about one particular competitor that can take down Netflix, it's about a number of them that eat away Netflix in various areas. More on that later.
First, I put together a chart that shows the overall financial issue Netflix is dealing with. The table shows the contribution profit (in millions) and users/subscribers (in millions), along with the actual contribution profit in that quarter, per user. Subscriber numbers are total number, not just paying subscribers.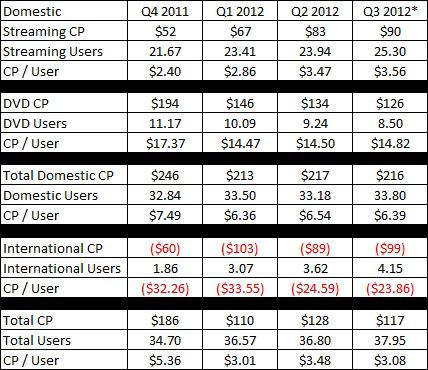 *Q3 2012 numbers based on midpoint of given guidance.
What are the key takeaways? Here's just a few:
While contribution profit per user is expected to rise in each domestic segment in Q3, the total contribution profit is expected to decline. Likewise, the total domestic contribution profit is forecast to be lower than Q2.
Netflix expects to gain roughly 0.53 million international users, but contribution is expected to drop by $10 million.
Despite gaining more than one million total subscribers worldwide, contribution profit is forecast to decline by 11 million. More customers, less profits. That's not a winning strategy.
The Q3 forecast is based on the midpoint of the given guidance from the company. These numbers could easily be beaten, or missed. In the past few quarters, Netflix has come in at the upper end of its guidance range, but that hasn't helped the stock.
Why am I making these numbers seem so important? Well, the first reason is the Domestic DVD/Streaming issue. As Netflix continues to lose DVD customers and shift them to streaming customers, there is basically a contribution profit wash there. What it gains in streaming, it loses in DVD. Also, based on the given guidance, the company is telling us that for every DVD customer it loses, it needs to pick up more than one streaming subscriber. Just look at the Q3 guidance. Netflix is saying that it will drop $8 million in DVD contribution profit by losing about 750,000 subscribers. But by gaining 1.35 million streaming subs, it will increase contribution profit by just $7 million.
With the domestic area being a wash, that means it all comes down to international. Again, for Q3, the company is expecting to gain about half a million subs, but see contribution profit decline by $10 million. Part of this probably has to do with its new expansion into Scandinavia, scheduled for Q4. Netflix is expanding into four new European countries. That sounds like a huge move, doesn't it? Well, considering that those four countries have a population roughly equal to the state of Texas, are you really thrilled? If Netflix announced it was now available in Texas, would that be big?
The issue is that international profits are only going to get worse in Q4, thanks to this expansion. Netflix told us so during the Q2 report, stating that it will again return to an overall loss in Q4. So while it continues to pile up expenses internationally, the pattern must continue. For Netflix to improve profitability internationally, it must stop expanding. If it stops expanding, subscriber growth will level off. Do you want top line growth or bottom line growth? For now, Netflix (in a similar way to Amazon) is choosing top line.
So now back to the Morgan Stanley note. This is what they said about Amazon and the Prime offering.
We originally thought Amazon.com was in the process of building up a full-scale content portfolio in order to manage the transition from physical video to digital video products / services. As Amazon.com's business model evolves, our analysis leads us to conclude that the company is being very deliberate with its investment in video content. Amazon.com seeks to keep the monetization on its own platform. To that end, the company is effectively providing enough content to subsidize the viewing experience for the consumer and providing a platform for the consumer to supplement her viewing experience by offering Amazon Instant Video rentals.
When you initially hear that Prime costs $79 per year compared to about $96 for Netflix, Netflix makes sense because estimates say that Netflix has about 3 times as many titles available. But Prime is more than just video and content. You also get free 2-day shipping, a monthly free book for Kindle, and other benefits. For people that order a lot off Amazon, the Prime Instant Video cost is virtually nothing.
So why do I think Amazon is a bigger competitor than Morgan Stanley thinks? Here are a few reasons:
The value play as above, it's not just about watching TV shows and movies. You get other benefits.
Amazon is gaining content as fast as Netflix is shredding some. As the Morgan Stanley note describes, Netflix is becoming choosier when it comes to content. That's another way of saying that it is not getting as much as it used to. Netflix just lost Epix exclusivity, allowing Amazon to gain access to Epix content. Netflix also lost the History Channel and A&E content.
Amazon is a much larger company. They have a much better balance sheet and more financial flexibility. This allows the acquisition of more content. Also, because this isn't Amazon's primary business, they don't have to rely on it for money. If Amazon loses money on content forever, but gains revenues, they can offset those losses elsewhere. Netflix doesn't have that flexibility.
But even as Morgan Stanley says that Netflix won't be killed by Amazon, they miss the point. Netflix won't be killed by one large competitor that steals away 5 million subscribers. Netflix will be killed by five to ten competitors that steal away 5 million collectively. Think that is not possible? Look at all of the competition Netflix faces here and in other markets. Also, notice how the competition appeared.
United States: Amazon Prime Instant Video, Hulu Plus, Time Warner's (NYSE:TWX) HBO GO, Toys 'R Us (TOYS), which just launched a new service - see my most recent Netflix article for details of that one. Verizon (NYSE:VZ) - Coinstar (NASDAQ:CSTR) Redbox partnership, launching soon.
United Kingdom: Amazon's Lovefilms subsidiary, which has both DVD and streaming segments. Also, BSkyB, which launched a service that has movies, television, and live sports.
Scandinavia: Not long after Netflix announced its plans to enter the region, Time Warner's HBO stated that it would be launching a streaming service there too.
There probably are even more competitors out there than I mentioned, including movie channel packages you can add on to your cable package. Also, Verizon's FiOS and Comcast's (NASDAQ:CMCSA) XFinity allow you to buy single movies and watch them as you wish. But the problem is that every time Netflix launches a new market, someone else jumps too. Right after Netflix launched in the UK, BSkyB announced its plans. The same is true with HBO in Scandinavia.
The key to watch in Q4 will be the Coinstar - Verizon partnership. The Redbox streaming service will launch sometime during the quarter. Netflix has said that this service will have a hard time breaking into the top tier of this space, but so what? How is Coinstar's Redbox doing? Quite well. If you look at Coinstar's Q2 report, Redbox revenues increased from $363.9 million in last year's period to $458 million. That's a rise of nearly 26%, and operating income also increased by 31.5%. Coinstar is thanking Netflix for killing off the DVD segment, because subscribers have jumped to Coinstar. With the addition of the streaming service, Coinstar will become a lot more competitive in this space. Just remember, Coinstar doesn't need to steal 5 million customers to hurt Netflix, a few hundred thousand does the trick because it slows Netflix's growth. It also pushes up content prices, which forces Netflix to either pay more for content, or abandon content.
So back to the valuation argument. At Monday's close, Netflix now trades for more than 80 times expected 2013 earnings per share. Don't forget, Netflix's 2013 expected earnings are just $0.91. The company earned $4.26 per share in 2011. So despite revenues being expected to rise about 30% over two years, earnings per share are expected to fall by almost 80%. How does that make a company cheap?
Morgan Stanley's upgrade on Monday reinforces the laughable situation regarding Netflix. They upgraded the stock with a price target of $85. If they really think the company is so good, shouldn't the price target be $100 or more, and where were they last week? A price target of $85 seems rather high, but it's not that much upside when Netflix spent all day above $70 and closed at $73.52. Those that now want to buy into Netflix have less than 16% upside to the Morgan Stanley target. Why did Morgan Stanley wait until Netflix got back into the high $60s to make this call? Where were they at $60 or $65? Better yet, where were they at $53?
It's rallies like this that hurt the little guy who is late to the party. The regular investor that buys at $73 now sells to the guy who bought $20 lower. When Netflix gets taken down again, the one that came in at $73 becomes the new loser. Netflix is becoming a very interesting short candidate again. But while there still could be more upside (especially if we get more upgrades), I would not buy Netflix after a 40% rally, and neither should you.
Disclosure: I have no positions in any stocks mentioned, but may initiate a short position in NFLX over the next 72 hours. I wrote this article myself, and it expresses my own opinions. I am not receiving compensation for it (other than from Seeking Alpha). I have no business relationship with any company whose stock is mentioned in this article.