On October 4th, we got your attention with an article titled "10 Low-Risk Investing Ideas". Today we want to focus on one of these names: AT&T (NYSE:T). We've talked a lot about investors looking for household names, in which they find a business easier to understand. In those terms, AT&T was an easy find for us. We will keep it plain and simple and just focus on a few positive catalysts building into the stock, and the valuation versus its peer Verizon Communications (NYSE:VZ).
Lets first look at valuation: AT&T trades at $37.76 versus its 52-week range of $27.41-$38.58. Also trading at a trailing twelve month trailing P/E multiple of 16.5x and a forward P/E of 14.5x. This is versus its closest competitor Verizon, which trades at a trailing twelve month P/E multiple of 20x and a forward P/E of 17x. The bigger attraction here is the dividend yield of both AT&T and Verizon, which are 4.6%, and 4.3%, respectively. Only in terms of valuation, AT&T stock does not look like an important short-term trade, but the 4.6% dividend yield on AT&T will be attractive to investors that are looking to boost income in a low-interest rate environment. Lets now discuss some positive catalysts that make AT&T an attractive long-term investment idea.
Long-term positive catalysts for the stock are:
New products such as the Nokia Lumia 920, Nokia Lumia 820, Samsung Galaxy Express, Samsung Rugby Pro, Samsung Note II, and the Samsung Tablet will be introduced in 2012,
For the iPhone5, AT&T has been a winner in terms of connectivity, with Verizon coming in second, and Sprint Nextel (NYSE:S) third. When the iPhone 4S was introduced, Verizon was the leader with AT&T coming in second and then Sprint. One big benefit that consumers recognize is that by using AT&T, the iPhone user is able to surf the web and download apps along with making calls,
A strong balance sheet and robust free cash flow supports the 4.6% dividend yield, and
AT&T's continued efforts to upgrade its 3G network and catch up with Verizon's 4G network improves its competitive standing.
We would also like to note that according to www.att.com, the company is expected to report earnings on October 24th at 9am. Conference call dial in number is 866.232.4457
The chart below compares share performance over the past year. "E"s mark earnings reports (click to enlarge image):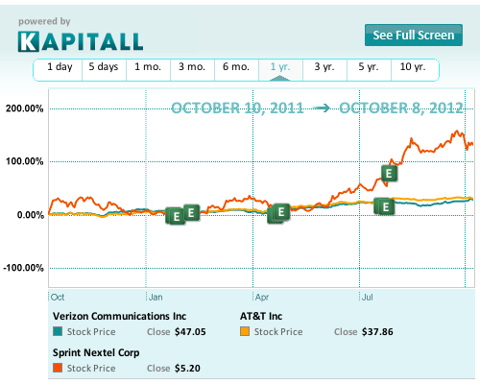 Conclusion: Although the positive catalysts mentioned here are not movers and shakers for the stock in the short-term, the dividend yield provides stable income to your portfolio.
Risks: The two biggest risks to the fundamentals of AT&T are the competitive landscape, and the increase in capital spending as the company upgrades its network. We would keep a close eye on both these issues.
Written by Kapitall's Sabina Bhatia. Tool provided by Kapitall.
Disclosure: I have no positions in any stocks mentioned, and no plans to initiate any positions within the next 72 hours. I wrote this article myself, and it expresses my own opinions. I am not receiving compensation for it (other than from Seeking Alpha). I have no business relationship with any company whose stock is mentioned in this article.