Western Union (NYSE:WU) is an interesting play for an upcoming potential recession, thanks to its status as the world's largest money transfer organization throughout the world with over 150,000 locations.
It still looks promising even if there's a 2013 fiscal cliff drop off. Here's why: a few days ago Western Union announced that they'll be introducing 'mobile money' across all their global locations. This enables local mobile phone network users to receive funds through their phone from around the world. (They can also use the funds received through this service to recharge their mobile phones.)
As you can imagine, this is a boon for all global workers needing to transfer money as they migrate from workplace the workplace outside their home country.
One distinctive example is El Salvador where Western Union is the marketplace leader:
Mobile payments are gaining momentum due to its convenience and round-the-clock accessibility, so this is a trend likely to remain strong into the future.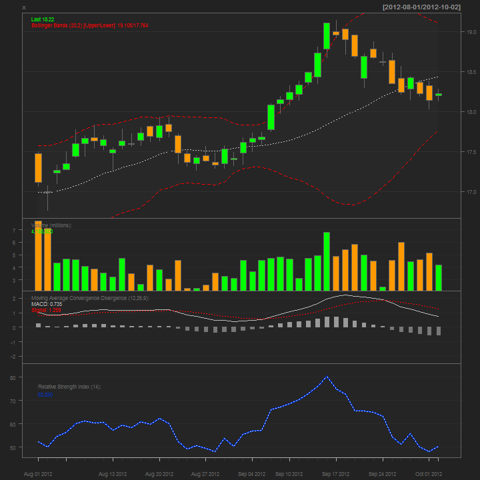 Click to enlarge
As you can see from the current low reading of the Relative Strength Index, there appears to be a potential buying opportunity for WU. This should lead to a near short-term rally.
The same plot also shows the Bollinger band range is near perfect for a well-balanced stock. This suggests a long-term upward swing, which is supported fundamentally by the recent partnership announcements for mobile money transfers. Tigo Money is already serving over 13 markets served within Latin America and Africa. And it appears Western Union is planning for long-term future prosperity with this partnership.
Disclosure: I have no positions in any stocks mentioned, and no plans to initiate any positions within the next 72 hours. I wrote this article myself, and it expresses my own opinions. I am not receiving compensation for it (other than from Seeking Alpha). I have no business relationship with any company whose stock is mentioned in this article.