The market started the week on a down note with all three indexes giving up ground. My personal feeling is the market is at an inflection point and that the next major move is down after months of rally. As such, I have a shopping list of stocks that should be able to continue to grow even with the continued slowdown in worldwide growth that I will action with the next pullback.
I also have raised significant amounts of cash over the past two months ready to redeploy at these lower entry points. Prudent investors should also put together a "buy" list should the market experience any sort of substantial selloff. It also probably is not a bad time to sell covered calls on existing positions.
10 Things to watch for early this week:
How Apple's (NASDAQ:AAPL) stock performs. After accounting for 70% of the Nasdaq 100's performance in the third quarter along with Google (NASDAQ:GOOG), Apple is significantly underperforming so far to start the fourth quarter (See Chart). A breakdown in leadership from Apple could provide a headwind to the overall market performance.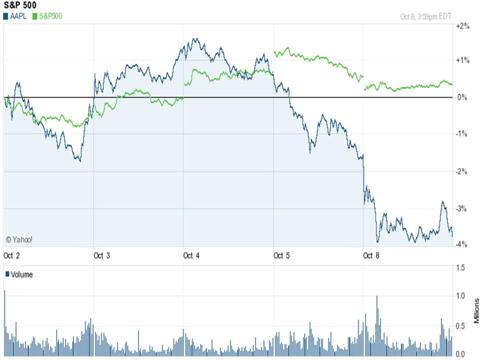 The Shanghai Index. The Chinese market was down another .6% Monday after being off for Golden Week. This brings its YTD performance to a negative 13%. Over the two year bear market, the index has fallen 34%.
Speaking of Asia, the World Bank just reduced its forecast for growth in East Asia. How will commodity based stocks react to this downgrade?
How the market reacts to the start of earnings seasons. Third quarter earnings for the S&P are set to have the worst performance since late in 2009. I will be watching intently on how companies report and guidance on various conference calls.
The reaction to Hugo Chavez winning six more years of rule in Venezuela. Definitely removes one of the catalysts for lower oil prices in the near term.
Will money managers to continue to buy any dip? The fiscal end for many mutual and other institutional funds ends on October 31st. Will dips still be bought through October or will managers give up on catching up to their benchmarks as time to do so grows dear and get ready for 2013?
The negative political cycle. After president Obama's debate debacle, the negatively in the campaign is going to accelerate. Will this have more investors questioning the resolution of the fiscal cliff, given the worsening political discourse?
Other than from a political lens, will Friday's job report have any overall impact in the market or will the consensus remain we are stuck in an anemic economy with lackluster jobs growth?
Will the talks between Greece and the "Troika" yield any substantial progress or just more empty promises?
Will Europe be able to contain the impact of the problems in Spain when their finance ministers meet this week?
Disclosure: I am long AAPL. I wrote this article myself, and it expresses my own opinions. I am not receiving compensation for it (other than from Seeking Alpha). I have no business relationship with any company whose stock is mentioned in this article.