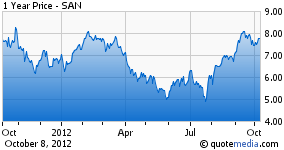 Banco Santander (NYSE:SAN) is the largest bank in Europe and one of the largest banks in the world. Its closest competitors include Banco Bilbao (NYSE:BBVA), and HSBC (HBC). I originally recommended this stock when the price was at $6.00 a share.
Why buy Banco Santander?
The Spanish debt crisis played havoc with Banco Santander. The bank lost more than two thirds of its value dropping to a low of $4.88 per share before recovering to its current level. Spain is responsible for just 14% of Banco Santander's profits but investors have been judging the stock based on the situation in Spain. This makes little or no sense to me.
Santander's earning power and fairly solid credit rating put it in a good position against its rival banks in Europe and the cajas in Spain. Therefore, the bank might actually benefit from the crisis in Spain, and the European Union as many of its rivals are struggling to stay above break even sales.
The bank also offers a very nice dividend with a projected yield of 7.45%. It pays a large dividend in April usually followed by three smaller payments distributed throughout the year.
Banco Santander's financials are still very healthy. It has practically zero debt with a debt to equity of 0.3. It made EUR 5.351 billion in profit last year, admittedly a significant decrease on the 2010 profit of EUR 8.181 billion. However, this is not very

surprising

because it spent EUR 4.464 more on investing activities, a 150% increase in its investing activities.
Santander's geographic diversity is also paying off. Latin America represents more than 40% of its profits now with Brazil alone contributing 26%. These markets are growing rapidly so this will fuel Santander's long term growth.
However Banco Santander does face some short term problems,
Although the crisis in Spain will have very little effect on Santander's profit margins it will cut into its revenue stream as more than 30% of Santander's revenue come from Spain.
Santander's credit quality on an international level has worsened. In Spain and Latin America the non-performing loan ratio has got worse.
Therefore, Banco Santander is a great option for both dividend and growth investors. However, perhaps at $7.75 per share it is too much of a risk due to the continued uncertainty around the Spanish debt crisis and the future of Europe. After the next fiscal quarterly results, we will have more of an idea about where it stands. Till then if it drops below $6.50 per share, I definitely think it is worth picking up.
All my data is from morningstar.com and google.com/finance.
Disclosure: I have no positions in any stocks mentioned, and no plans to initiate any positions within the next 72 hours. I wrote this article myself, and it expresses my own opinions. I am not receiving compensation for it (other than from Seeking Alpha). I have no business relationship with any company whose stock is mentioned in this article.