Shares of Macy's (NYSE:M) have returned 46.98% over the past 12 months. At $39.30 per share, the stock is trading close to its 52-week high of $42.17 attained in May. M's stock performance since a year ago has been the best compared to other competitors such as Kohl's (NYSE:KSS) and J.C. Penney (NYSE:JCP) in the department store sector (see chart below).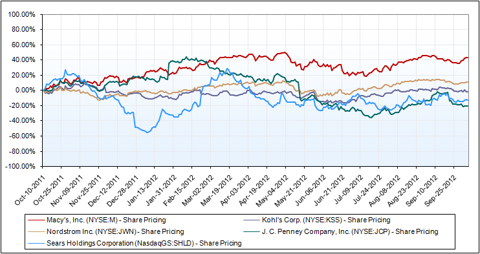 Will the leading price momentum continue? I have performed the following valuation and dividend analysis to help draw my conclusion:
1. Despite the strong 1-year upward price action, the stock remains cheap relative to the company's robust financial performance (see table below). Analysts in average predict M's revenue, EBITDA, and EPS to rise by 2-year CAGR of 3.6%, 5.2%, and 13.4% over the current and next fiscal years. The estimates are much better than the average rates of -1.6%, 5.4%, and 9.2% for the department store peer group. M's EBITDA margin is forecasted to expand by 0.4% over the next 2 fiscal years, compared to the peer average estimate of just 0.3%. In addition, M also enjoys a superior profitability as suggested by the company's robust margin and capital return measures which are substantially higher than the peer averages. M's leverage is in line with the peers as reflected by the firm's higher debt to capitalization ratio but lower debt to EBITDA rate. In terms of liquidity, M has been able to maintain a healthy free cash flow margin of 5.0%, higher than the peer average at 3.5%. However, the firm's interest coverage ratio and current ratio are below the peer average.

In summary of the financial comparisons, M's above-average growth prospects and profitability should warrant a stock valuation premium (i.e. 10% to 15%) over its peer valuations. Nonetheless, M's current valuations at 6.0x LTM EV/EBITDA, 12.5x LTM P/E, and 13.2x LTM EV/FCF represent an average valuation discount of 30% to the peer-average EV/EBITDA, P/E, and EV/FCF multiples (see table above), suggesting an undervaluation.
2. Accounting for M's earnings growth potential, the stock trades at 0.88x PEG, which is 15.4% below the peer average of 1.04x and 50.6% below the S&P 500 average of 1.74x according to Capital IQ. It should also be noted that M's PEG ratio has decreased by 36% from 1.40x in exactly a year ago to the current level (see chart below).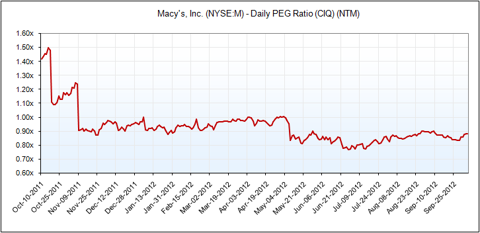 3. M's LTM EV/EBITDA multiple is trading just slightly above the 3-year average at 5.8x while the stock's LTM P/E ratio is currently below the 3-year average of 14.8x (see charts below). The valuation level is almost unchanged over the 3-year period despite the fact that M's top line growth has recovered and the company's EBITDA margin has expanded (i.e. revenue growth and EBITDA margin have increased from -5.6% and 11.3% in FY2009 to 4.3% and 13.3%, respectively as of July 2012 on a LTM basis).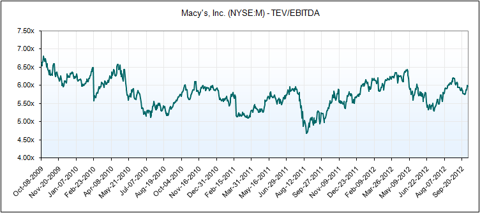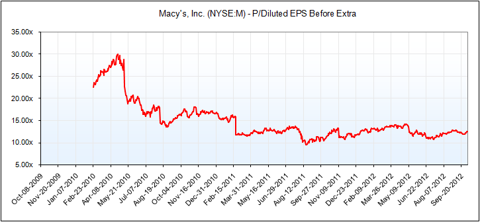 4. Although the share price has appreciated 46.98% over the past 12 months, the stock's NTM EV/EBITDA and NTM P/E multiples have only expanded by 9% and 10%, respectively, over the same period (see charts below). I believe the valuation multiples' expansion of 8% to 10% is completely justified by the multiple upward revisions of M's financial estimates (i.e. revenue, EBITDA, and EPS) over the similar horizon (see table below).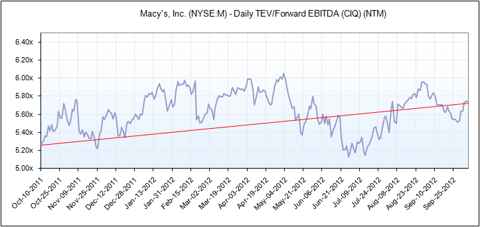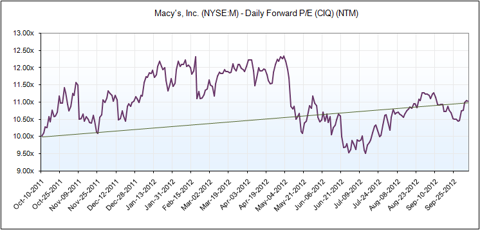 5. Moreover, M's P/E valuation has been trending similarly to that of the S&P 500 and trading at an average discount of 19% (see chart below) over the past 12 months. It is noted that M's average long-term earnings growth is 12.53%, which is significant higher than S&P 500's average at only 7.85%.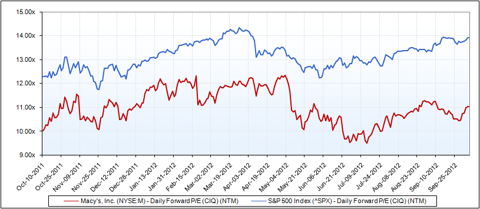 6. The stock currently offers a decent 2% dividend yield. I believe the company is well positioned to raise the current dividend level down the road. According to the charts shown below, M's annual dividend paid represented only a small portion of the company's annual free cash flow over the past few years. Additionally, M's LTM dividend payout ratios on both the earnings and free cash flow basis are below its peer averages. The two facts suggest that there is an ample room and high probability for substantial dividend hikes in the future.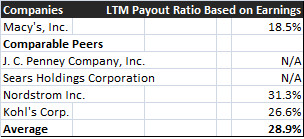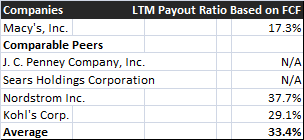 7. From a technical perspective, the stock's 250-day simple moving average has been a solid price support for the upward price trend since 3 years ago (see chart below), and there is no sign of reversal at present.

Bottom line, M's cheap valuations and safe dividend yield provide a solid margin of safety for the investment. As such, I believe the stock will continue outperform the department store sector and recommend acquiring the shares at the current price.
Comparable analysis table is created by author, all other charts are sourced from Capital IQ, and all financial data is sourced from Morningstar and Capital IQ.
Disclosure: I am long M. I wrote this article myself, and it expresses my own opinions. I am not receiving compensation for it (other than from Seeking Alpha). I have no business relationship with any company whose stock is mentioned in this article.