Prescription plan administrator, Express Scripts (NASDAQ:ESRX), might just be the most powerful force in the healthcare industry. Drugstore giant, Walgreen (WAG), found that out the hard way when it got into a brawl over pricing with Express Scripts. But with Obamacare scheduled to go into full effect in 2014, should companies like Express Scripts be considered as value plays?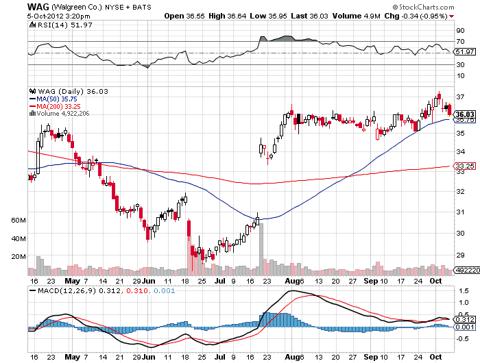 First, lets take a look at at Walgreen. The company's fourth quarter profit dropped by 55%, or $353 million, after it stopped filing Express Scripts prescriptions in June. This caused Walgreen's stock to drop with a thud just as the market was recovering. Walgreen's net income in 2012 fell by 22% without Express Scripts' customers using its pharmacies. Among other things, Walgreen's Earnings per Share Growth fell by 55.17%, and its August sales fell by 8.2%. Not surprisingly, Walgreen ended up crawling back to Express Scripts and begging to rejoin its network on September 15.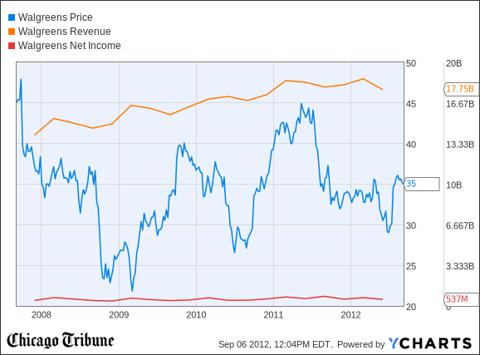 Not surprisingly, this affair has gotten many people thinking about Express Scripts. Just how powerful is this company? More importantly, does that power actually generate cash for investors? Is Express Scripts a category killer and a value buy?
Express Scripts' revenue grew by an astounding 143.7% between 2011 and 2012. Its closest competitor, CVS Caremark (NYSE:CVS), showed a revenue growth rate of 16.28% for the same period. In addition to revenue, Express Scripts also generated a lot of cash; its free cash flow on June 30, 2012, was $678.2 million. That was actually down from September 2011, when Express Scripts had a free cash flow of $912.8 million.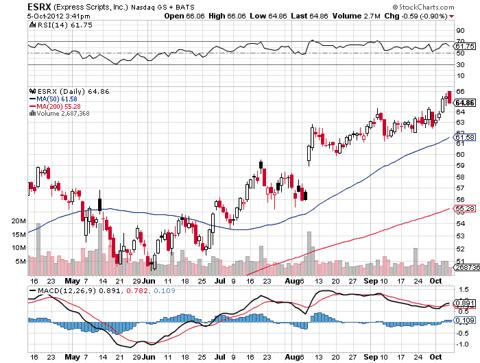 The market seems to have noticed this stock and rewarded it with a higher share price.
Although all is not so rosy in the world of Express Scripts, the company has a net profit margin of just 1.66% even though it generates earnings per share of $2.01. Such a low profit margin is not unusual in the healthcare sector. CVS Caremark had a net profit margin of 3.18% even though it had sales growth of 11.8% and 2% income growth. That created an earnings per share figure of $2.80. United Healthcare (NYSE:UNH) had a net profit margin of 4.97% with sales growth of 8.2% and income growth of 11%. United Healthcare also offered an earnings per share figure of $4.93.
So what does all this prove? Mainly that the healthcare sector is getting a lot more volatile. This volatility seems to be what's behind the low profit margin in the sector and the high income and sales growth. The business is changing as customers move along, and that volatility is about to increase.
Obamacare Threat and Opportunity
Obamacare is scheduled to go into full effect in 2014. Among other things, the law is designed to add 37 million customers to the health insurance rolls. Theoretically that will create more customers for Express Scripts and increase its revenue. Obamacare will completely change the price structure for prescriptions and lead to more disputes like the one between Express Scripts and Walgreen.
Obamacare may help Express Scripts because it will offer more Americans plans similar to those offered through employers. Express Scripts manages the prescription benefits for many of those plans. The potential problem is that Express Scripts may not have the resources to deal with all those additional customers Obamacare might generate. The company has just $1.08 billion in cash and ST investments. It also has $17 billion in long-term debt.
The question comes up-how are managed care companies like Express Scripts going to deal with all the new business that Obamacare is supposed to send their way? How are they supposed to finance the infrastructure they will need to fill all those additional prescriptions? Yes, revenue will increase, but it won't increase overnight like business will.
Managed care and drug store companies may bleed cash for a while because of Obamacare. New customers will pour in the door, but their business won't automatically generate more revenue.
Express Scripts is going to have to burn through a lot of cash and quite possibly take on a lot of additional debt just to stay in business. Investors looking for exposure to the healthcare sectors should avoid Express Scripts and look for other opportunities instead.
Yes, Express Scripts has a lot of power, but that power is more limited than you might think. The company is in a position to push drug store operators around, but it may not be in a position to deal with a radically changing market.
Disclosure: I have no positions in any stocks mentioned, and no plans to initiate any positions within the next 72 hours. I wrote this article myself, and it expresses my own opinions. I am not receiving compensation for it (other than from Seeking Alpha). I have no business relationship with any company whose stock is mentioned in this article.