Most of my portfolio is in conservative investments with a good portion in high yielding equities. I also have a good deal of cash on hand as well as a few short positions. I do allocate 5% to 10% of my portfolio to aggressive high risk/high reward plays. My newest purchase within this allocation is a $1.30 a share speculative pick from the energy sector, Cal Dive International (NYSE:DVR). The company has fallen on hard times and the stock that traded in the double digits as recently as three years ago has a 1 handle. However, it appears the company is slowly turning around and is well placed if offshore drilling activity continues to accelerate. Given it is trading at a low level of book value, I love the risk/reward proposition at these levels.
Cal Dive International is a marine contracting company that provides manned diving, pipelay and pipe burial, platform installation, and platform salvage services to the offshore oil and natural gas industry. The company owns and operates a fleet of 29 vessels comprising 19 surface and saturation diving support vessels, 6 pipelay/pipebury barges, 1 dedicated pipebury barge, 1 combination derrick/pipelay barge, and 2 derrick barges.
10 reasons DVR is still is a solid speculative play at $1.30 a share:
DVR is a play on the continuing ramping up of offshore drilling activity worldwide. Global offshore spending is expected to go from approximately $50B this fiscal year to $70B in 2016.
The company has huge operating leverage as its vessels are running at approximately 40% of utilization. Even getting to 50% would have huge positive impact on the bottom line.
Insiders were net buyers in the stock in the second quarter and at higher than the current stock price.
The stock is ridiculously cheap at just 40% of book value and 28% of annual revenues.
Backlog has grown from $178mm at end of 4Q2011 to $238mm at end of 2Q2012.
The company has done a good job of reducing debt over the past five years. Debt stood at $314mm in FY2007 and was down to $134mm at end of 2011.
Gulf of Mexico offshore is recovering after the gulf oil spill. DVR is the largest supplier of diving services in the gulf.
2013 is the transition year. DVR is expected to post a 35 cent loss for FY2012 but analysts believe it will be 7 cents a share in the black in FY2013. They also project an almost 30% rise in revenues in 2013.
The mean analysts' price target by the five analysts that cover the stock is $3 a share, more than double its current stock price.
DVR is at 5 year lows and was at over $14 a share in that time span. The stock looks like it is trying to put in a bottom here. (See Chart)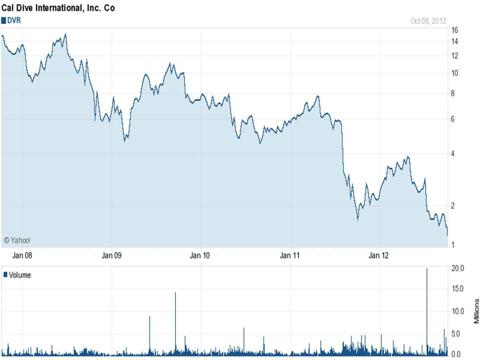 Click to enlarge
Disclosure: I am long DVR. I wrote this article myself, and it expresses my own opinions. I am not receiving compensation for it (other than from Seeking Alpha). I have no business relationship with any company whose stock is mentioned in this article.