OCZ Technology (NASDAQ:OCZ) has had its fair share of problems lately ranging from the CFO's announcing his intent to retire to the CEO resigning. Trouble also ensued this quarter when NAND flash did not arrive in the quantities needed by OCZ (covered here and here).
Light At The End Of The Tunnel
For all the negativity and mayhem, recent developments reflect a light at the end of the OCZ tunnel.
OCZ is depending on its newest controller chip to allow it to escape the recent NAND flash supply crisis. This new chip, Barefoot 3, will allow the company to use .19/.20 nanometer NAND as opposed to the .25 supply-constrained NAND. As several authors have pointed out, Barefoot 3 will give OCZ the ability to license the controller chip out (much like LSIs (NASDAQ:LSI-OLD) sandforce) to 3rd parties that lack the means to design a controller chip. For example, Micron (NASDAQ:MU) could be a potential customer in the short term until they get their own controller chip out. This would provide OCZ with an additional revenue stream while providing huge gross margins on the controller chips.
The OCZ/Indilinx Barefoot 3 controller utilizes internally designed - the first time for OCZ - Aragon 400MHz 32-bit processor. The Aragon core supports an SSD specific RISC instruction set, allowing most instructions and branches to be executed in a single cycle, OCZ claims. The chip is set to be made using 65nm process technology at Taiwan Semiconductor Manufacturing Co. OCZ believes that the new Barefoot 3 SoC will significantly boost performance of its SSDs
Barefoot 3 Samples -- A New SSD Named Vector.
It appears that OCZ is moving on from the "Vertex" brand name and utilizing "Vector" for its new SSD.
(click to enlarge) - Source Engaget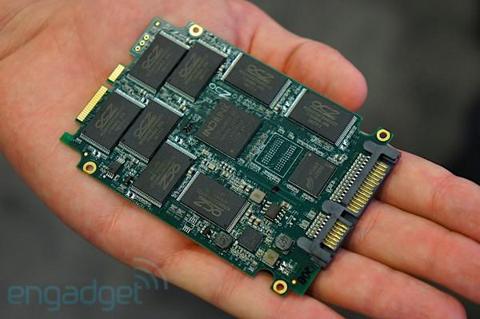 Click to enlarge
This suggests that rather than an evolutionary change as Vertex 3 to 4 was, we might instead see a jump: Thus the new name. Jessica Luken, global marketing director at OCZ, posted the following photo on twitter and captioned the photo: "I wonder what these are for?" Clearly this is an indicator that Vector with OCZs new Barefoot 3 controller chip has or is about to go out to review sites but under an non-disclosure agreement (NDA). This suggests that Barefoot 3 is working and that Vector is not far off from shipping out to retail.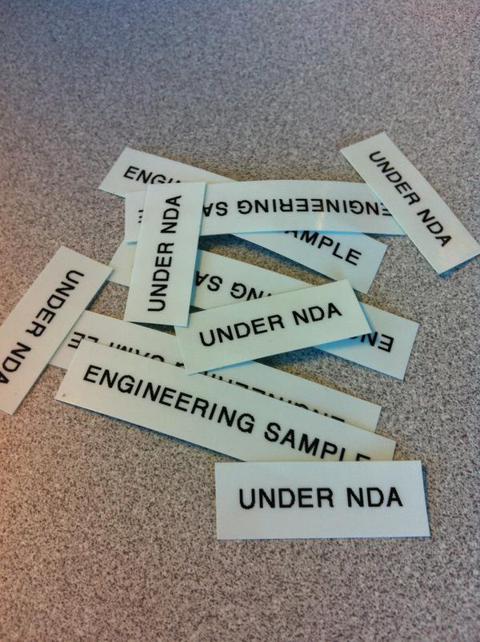 Click to enlarge
(Jessica Luken NDA picture from Twitter)
Earnings
OCZ earnings are due after market close on October 10th. The stock is priced for a blood bath but -- is it possibly oversold? Certainly gross margins will be down a lot this quarter but Vector and Barefoot 3 will improve gross margins going forward once it ships. Yet too many unknowns exist and the stock could go either way.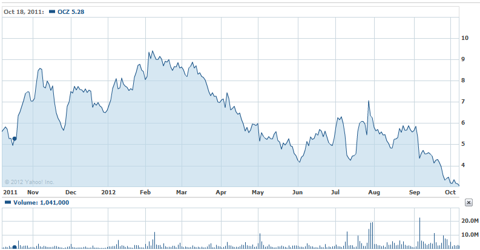 Click to enlarge
Rolling the Dice
The best way to roll the dice at the OCZ craps table is to buy the calls (or puts) ahead of earnings or just take a wait-and-see approach. If you buy the calls/puts your making a risky bet that could pay off while limiting your potential losses to a small amount. If you take a wait and see approach you can digest the news on the 10th and make an informed decision at a higher or lower price.
Bottom line: It is encouraging to see OCZ making progress via Barefoot 3 and the new SSD Vector.
Disclosure: I am long OCZ. I wrote this article myself, and it expresses my own opinions. I am not receiving compensation for it (other than from Seeking Alpha). I have no business relationship with any company whose stock is mentioned in this article.