Introduction:
In September of 2011, I wrote an article titled: "A Country Dog: 7 Dividend Yield Plays." This was a fun article, contrasting my dog Ringo's fascination with chasing cars and some investors fascination with chasing yields.
Now, before anyone gets upset with me, let me say this. How you choose to invest your money is your business. How I choose to invest my money is my business. However, one of the things I would hope that each of us can gain from SA is a different perspective on investing strategies.
While I believe that every investor has to define his or her own goals in investing and then create a strategy to achieve those goals, one of the best parts of SA is reading articles and commentary from others that allow us to have challenge moments to our own way of thinking.
In my own primary investment strategy I am interested in owning companies that are Dividend Growth companies. What I am trying to find are companies that:
Have a history of paying and increasing dividends for at least 5 years in a row.
Have a dividend growth rate that is greater than inflation.
Have the earnings power moving forward to continue increasing those dividends.
Are priced at a value relative to their intrinsic worth.
While each of these metrics is important to me, buying companies at a value price is just as important as are the dividend components. Some of the companies that I currently own would not be on my buy list today if I were initiating a new position, however.
But, in my own portfolio, because many of my holdings have a very low cost basis to the current market price, I will often add to my positions at a higher price because the lower cost basis allows me to do that.
What You Should Know:
In the earlier article that I referenced, the companies that were discussed were:
1. Century Link (CTL)
2. Old Republic International (ORI)
3. Pitney Bowes (PBI)
4. Cincinnati Financial (CINF)
5. Frontier Communications (FTR)
6. Windstream Corp (WIN)
7. RR Donnelly and Sons (RRD)
Toward the end of this article, I said this:
I tend to be more of a "sweet spot" dividend growth investor. I like companies that are in that 3%-5% yield range. As most dividend growth investors, I like to have companies that raise their dividends annually, and I like the increases in those dividends to be larger than the rate of inflation. Stocks that meet this metric for me are companies like KO, JNJ, KMB, MCD, MO, and ABT for example. Lower dividends that these examples, but with great dividend growth rates.
Since the original article highlighted three telecommunications companies, I suggested that Verizon (NYSE:VZ) or AT&T (NYSE:T) were both high-yielding companies, with what I believed to be less downside than WIN, FTR, or CTL.
What I wanted to do in this article is take a look a year later with how these stocks have performed.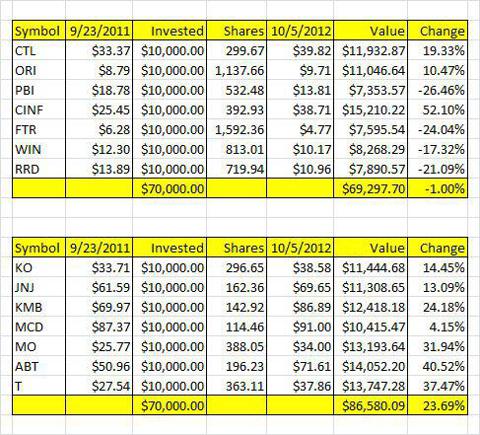 Click to enlarge
What I Know:
From a capital gain approach, the High Yield stock portfolio declined in value by $702.30 or right at 1%. Considering how the market performed over the last 12 months, however, this is disappointing, especially when you look at the DG portfolio. It has achieved a capital gain of $16580.09 or 23.69%.
In my opinion, this is directly related to the notion of stocks being bought at a value price, relative to intrinsic worth. The underachiever in this portfolio, in the last year is MCD with a 4.15% gain, but that is based largely on the timing of the purchase and again goes to point out the merit of buying stocks at a value price.
But, let's face it. The argument can be made that the High Yield portfolio actually delivered more income. And, it did. Let's look at the numbers relative to income from both portfolios.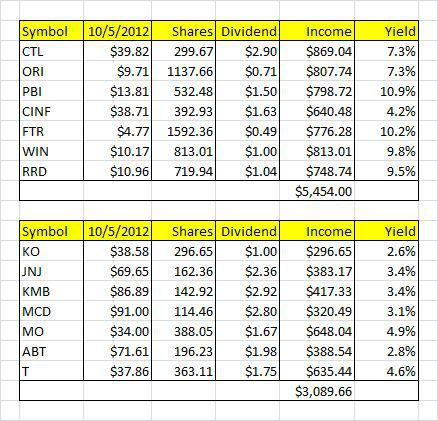 The High Yield portfolio did what it was supposed to, relative to income. The DG portfolio actually delivered $2365 less income. But here's the rub.
The High Yield portfolio, with the exception of PBI consists of stocks that are not Dividend Growth companies. FTR has in fact reduced its dividend from .1875 per share (quarterly) to .10 per share (quarterly).
The Dividend Growth portfolio, on the other hand, is made up of companies that have increased dividends year over year and at a rate that is larger than inflation, with the exception of T, which has slowed its dividend growth. Most recently, the increases in dividends have been: KO (8.5%), JNJ (7%), KMB (5.7%), MCD (10%), MO (7.3%), ABT (6.25%), and T (2.33).
Summary:
While High Yield has its place in an income portfolio, I believe that investors should always be concerned about value pricing relative to intrinsic worth. Just because a company has a high dividend does not always mean that it is a stock that you should own.
In this example, the High Yield portfolio underperformed the DG portfolio by $16580 dollars in capital appreciation and when you add the income back into the equation, the High Yield portfolio has a current value of $74,751.70 while the DG portfolio has a current value of $89669.75, a difference of $14,918.05 or 19.9%.
The other advantage to the income seeker is that the DG portfolio has the opportunity to continue delivering more income over time and could surpass the High Yield portfolio's income stream if the stocks in the High Yield portfolio do not grow their dividend payments in the near future.
Disclosure: I am long ABT, KMB, JNJ, MCD, KO, T, MO. I wrote this article myself, and it expresses my own opinions. I am not receiving compensation for it (other than from Seeking Alpha). I have no business relationship with any company whose stock is mentioned in this article.