We are bearish on Charter Communications Inc. (NASDAQ:CHTR) as it continues to suffer operationally from the wireless substitution. The company has consistently lost basic video customers over a number of years, and a further shrinkage in its customer base is expected. Moreover, CHTR has a very sizeable debt on its balance sheet, and its free cash flows are on a decline, which can hamper growth in times of tough competition. CHTR is trading at higher multiples, as compared to its peers, which indicates that the stock is overvalued.
CHTR is the fourth-largest cable operator in the U.S., providing cable TV, internet and telephone services to residential and business customers. Moreover, it is also engaged in selling local advertisements on cable networks and the internet. CHTR is an $8 billion enterprise, with its shares currently trading near $76, almost 8% off of its 52-week high.
As mentioned previously, the company operates in the cable industry; selling video programming, internet and other communication services. The company derives its revenues on a subscription basis from the various sources mentioned above, with the majority of the revenue coming from its cable TV business. As of the quarter ended June, 2012, CHTR's video business accounted for almost 50% of its revenues, while internet services generated 25%. The company's video revenues, which are obtained through provision of basic and digital video services to residential customers, have been on a consistent decline for a number of years now. The main reason for this drop in revenues is the consistent decrease in basic video customers. In one year, CHTR has lost almost 130,000 basic video customers, and on a quarterly basis, that has led to a loss in revenues of $22 million in Q2 2012. Weak economic conditions, including the stumbling housing market and higher unemployment levels, have adversely affected the company's basic video business. Moreover, the company has lost customers to its competitors over the years because, not only do the competitors offer more channels, including high definition ones, they also offer digital video services with a better picture quality compared to CHTR's analog product. Changing consumer preferences have also played their part in disturbing the company's major revenue source, as many customers have chosen to subscribe for videos over the internet, rather than the company's traditional pay per view services. Moreover, the rapid growth of wireless services has also had a major impact on the company's telephone business, which offers traditional landline services. As more and more consumers switch towards smartphones or basic mobile phones, one can expect the numbers of telephone customers of the company to go down further. Telephone companies like AT&T (NYSE:T) and Verizon (NYSE:VZ) are also a constant threat to cable companies like CHTR, as they also provide various competing video services. Verizon and AT&T's high speed data services offer speeds higher than what the company offers, and they continue to offer other wireline services as well, which is likely to hit the company's revenue stream in the future.
Overall, the second quarter was a disappointing one for CHTR, as it posted losses of $83 million on revenues of approximately $1.9 billion. Despite a modest growth in revenues, the company has consistently posted losses for a number of quarters due to a weaker demand for its services. Video service revenues are on a constant decline, and the company has suffered from fierce competition from other cable service providers. Average revenue per user is flat YoY, as well as on a quarterly basis. The same can be said about internet ARPU, which remained constant at $42 in the second quarter, with net customer additions being lower than the same quarter of the previous year.
Declining Margins:
The company generated modest 2007-11 revenue CAGR of 4.5%, which is lower than its rival, Comcast Corp's (NASDAQ:CMCSA) revenue growth of 16% over the same period. Gross margins for CHTR have historically been high, around 55%, and remained stable over the years; however, its operating margins have shrunk significantly, largely due to the factors mentioned above.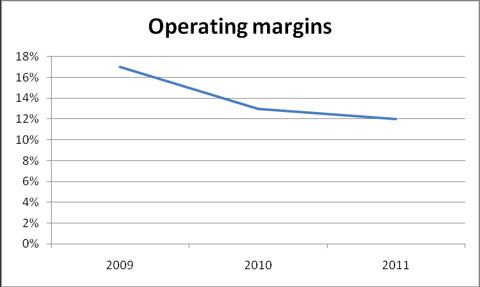 Financial Position:
CHTR has a significant amount of debt on its balance sheet. The major reason behind the company posting losses for a number of years is the sizeable interest payments it has had to make to its lenders. In the financial year ended 2011, CHTR's interest payments equaled $960 million, showing a 10% increase over FY2010. Moreover, at the end of FY2011, the company had a total debt of almost $13 billion, and a very high debt-to-equity of over 5,000%, as of the most recent quarter. Interest coverage of only 0.96% is significantly low, as compared to the industry's 25%. If the company's free cash flows are analyzed, a consistent downward trend is visible, which is largely due to the interest payments that CHTR makes. The high level of debt is a serious threat to the company, as a significant amount of its operating cash flows are directed towards debt payments rather than on capital expenditures for further growth.
Valuation:
The stock is trading at 1.1 times its sales, at a slight discount to CMCSA's 1.6x. In the absence of positive earnings for the company in the previous year, a comparison on forward P/E is more suitable. However, CHTR is trading at a very high forward P/E multiple of 102x, as compared to CMCSA's 17x. EV/EBITDA of 8x is also higher than CMCSA's 6.7, indicating that the stock is, currently, overvalued. In the last four quarters, CHTR has provided negative earnings surprises well over 100%, and earnings growth estimates of 5% over the next five years is well below the industry's 15%.
Disclosure: I have no positions in any stocks mentioned, and no plans to initiate any positions within the next 72 hours.
Business relationship disclosure: The article has been written by Qineqt's Telecom Analyst. Qineqt is not receiving compensation for it (other than from Seeking Alpha). Qineqt has no business relationship with any company whose stock is mentioned in this article.