By Martin Denholm
A high-growth retail play? Check.
The firm saw its quarterly revenue growth bounce by 19.7% (year-over-year), while quarterly earnings growth jumped 22.5%. Its users sold $927 million in goods during the second quarter, which dumped $35.7 million into the company's coffers in transaction fees. Not bad, given the sluggish state of the economy and inflation forcing consumers to cut back on purchases.
A recession-resistant retailer? Check.
The company is one of the most well-known and popular names throughout many parts of the world and has built a rock-solid brand. Ease of use, an extremely diverse range of products, and efforts to boost customer interaction translates to customer loyalty and a lot of repeat business.
Over the years, the company's robust business model has resulted in some outstanding gains for investors as a high-growth play on events like the Christmas shopping season and as a stock that offers protection during tougher times.
Its strong cash flow (almost $3 billion over the past 12 months) has provided security for shareholders, as has the management policy of consistently initiating large share buybacks in the event of downturns, returning this cash flow to investors. These buybacks prevented dilution from management stock option grants, but also supported the stock price.
The company is eBay (Nasdaq: EBAY). And while that's the upside part of the story, a new development could shave as much as 20% from its share price.
The Lowdown On Listings
The unique aspect of eBay's business model that has allowed it to consistently offer security to investors is a pricing model that relies on listing fees.
Listing fees are upfront commissions that a seller must pay in order to have his/her item appear on eBay's website. As a component of a single sale, listing fees typically account for 50% of the cost to a seller.
However, if an item doesn't sell on the first auction, online merchants must pay this fee a second time, making listing fees a much bigger factor in the calculation for eBay's cost.
In categories where eBay has a high sell-through rate, this has less of an impact on its profits. But in categories where the sell-through rates are low, it dramatically drives up the cost.
And a possible change to eBay's pricing model may force a 20% drop for its shares.
De-Duplication And The Buy.com Developments
Recently, two developments have exacerbated the pain of having to pay eBay multiple listing fees:
Searches now limit the number of items that can be seen by an individual seller.
Buy.com recently started marketing through eBay's platform and is not paying listing fees.
Let's look at each one…
Limited Exposure & Listing De-Duplication: eBay now limits the number of items visible in a search by a given seller to 10. This prevents one seller from flooding the market with his/her items and eroding his/her competitors' visibility. This category ownership is a strategy employed by eBay powersellers.
But the introduction of Buy.com to the platform forced a rule change, since Buy.com's business is considerably larger than the $5 million per month power seller who owns a niche category.
With de-duplication, eBay removes items from the same seller that it believes are duplicates. However, this can present confusion in instances when items are similar, but not exactly the same. While de-duplication represents less of an impact to online merchants, it has sellers scratching their heads, asking why they're paying listing fees for items that aren't getting immediate visibility.
Buy.com: eBay's agreement with Buy.com aims to dramatically increase the number of listings on the eBay platform.
This would be great if Buy.com was paying listing fees. But it isn't - and it's a fact that initially caused much concern. Since then, it's come to light that Buy.com is not the low cost provider of goods that results in limited impact on other sellers. In fact, I've heard estimates that its sell-through rate is as low as 2%.
This represents the first extremely large seller on the platform and likely also represents the first noticeable point of a change in strategy, where eBay uses one large vendor in a given category to act as an anchor tenant.
Even though Buy.com is not having a material impact on many merchants, the mom and pop sellers are asking themselves why the vendors who helped eBay build its business over the last 13 years are paying upfront listing fees while new large sellers don't seem to have to.
So what's the bottom line? Simple…
Could Investors Be Poised To Bid eBay's Share Price Down?
The days of listing fees on eBay could be numbered - a development that could result in a 20% share price correction.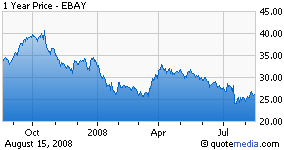 In fact, there's a growing rumor among the eBay Powerseller base that the company may well eliminate listing fees before the Christmas season.
Such a move doesn't mean that eBay will lose the revenue from listing fees entirely; it's more likely to shift the fees to the back end after a transaction takes place. This would align the interests of the merchant and the marketplace and improve the relationships with eBay's Powersellers.
What concerns me, though, is that eBay would have to dramatically increase its back-end fees in order to account for the revenue that would be lost from listing fees on items that are listed multiple times.
And that lost revenue translates directly into profits - which are incorporated into the company's current earnings guidance and Wall Street's consensus estimates. If the elimination of listing fees does occur - and there are many reasons for it to happen - there would likely either be a reduction in its guidance or an earnings miss that, in my estimation, could bring the stock price down 20%.
Something to consider if you're a current eBay shareholder. And if you're not, you could look to play it by taking a bearish position on the stock and/or put options.
Disclosure: None