The CBOE Volatility Index [.VIX] fell 0.76 to 19.58 Friday and closed below 20 for the first time since June 5. The market's "fear gauge" is now well below its mid-July highs above 30 percent. The decline in the VIX reflects the recent trend of falling risk perceptions and diminishing bearishness seen in the US equity market during the past month or so.
Other indicators confirm that bearishness is easing. Monday, the Nasdaq OMX Group (NASDAQ:NDAQ) reported that short interest on the NASDAQ fell to10.76 billion shares in 3,164 Nasdaq securities at the end of July 31, which compares to 11.18 billion shares in 3,143 securities at the end of July 15.
Fund investors seem a bit more optimistic. Over the past three weeks, equity funds have seen net inflows of $11.3 billion, according to AMG Data.
In the options market, the bullish trading is being seen in a number of indicators. For example, the ISE Sentiment Index [ISEE], which tracks call buying divided by put purchases on the International Securities Exchange [ISE], hit 123 Friday. It indicates that call buying outpaced put buying by 23 percent Friday. Moreover, the ten-day average is now 113 and at one-month highs.
Meanwhile, the total put to call ratio (for trading across all US options exchanges) has been falling. Friday, for example, approximately 7.7 million calls and 6.4 million puts traded on the day. The ratio fell to .83. While that number was probably distorted somewhat due to the options expiration, the ten-day average is now .84. The chart below shows the 10-day average over recent years, and the extreme low of .77 set on May 19 that corresponded with the last peak in the S&P 500 Index [.SPX].
click to enlarge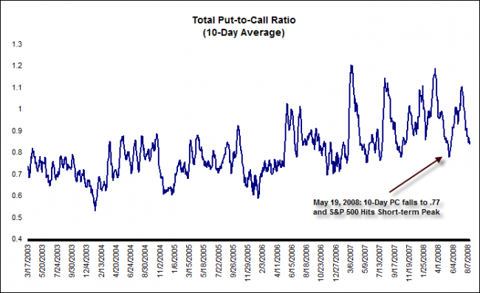 Figure 1: Total Put To Call Ratio (10-day Average)
Yet, while bullishness is back to levels not seen in more than a month, by other measures, it is probably too early to say that it has risen to a market-topping extreme. For example, the sentiment surveys are still mixed. Investors Intelligence reports that 31.8 percent are bullish and 45.5 percent bearish, which compares to 34 percent bullish and 43.6 percent bearish the week before. The American Association of Individual Investors [AAII] says bullish sentiment rose to 42.86 percent from 35.61 the week before. Bearishness fell to 38.96 percent from 42.42 percent.
So, taken together, the sentiment indicators continue to suggest that bullishness is rising after extreme pessimism and negativity forged a foundation for a market bottom in mid July. From a contrary view, the trend bodes well for higher stock prices because, as anxiety levels ease, more capital will flow to the equity markets and the trend can feed on itself--that is, until sentiment reaches the opposite extreme of bullishness, euphoria, and greed.
Disclosure: None