In isolation, neither technical nor fundamental analysis is helpful to investors. Looking at charts without knowing recent earnings and financial performance is nothing more than drawing lines and calling up fancy indicators like RSI or MACD, which have almost no predictive value. On the other hand, buying or selling shares based upon financial prospects without peeking at a chart to see if these prospects are already incorporated into the share price is a fool's errand, as well.
Combine the two, however, and you have a power investment tool at your disposal. In this article I combine price charts and financial comments about Intel (NASDAQ:INTC) to update some analysis I included in a previous article in late August.
At that time in late August I was concerned at recent price weakness in the company shares, despite claims by the company and followers that it was successfully navigating into the waters of mobile devices such as cell phones and tablets. I suggested that investors be cautiously optimistic and hedge their purchase with buying puts:
buy 1000 shares of Intel: $24.78 at the time
buy 10 October 23 puts at .36 at the time
What has the result been? The shares have fallen to $22.04 as i write this article; and the puts have risen to $1.08. Thus,
the $2.74 loss on the shares has been partially offset by
a .72 cent gain in the option, thus
reducing your loss by about 26% [.72/2.78] of what it would have been, unhedged.
Thus the strategy has been partially effective, but as I made clear in the August article, the overall performance of an married put or covered call is determined by the price of the underlying asset, Intel, in this case.
As Intel's earnings date nears, ongoing concerns about Notebooks, slow PC sales while we wait for Windows 8, and continued punky economic data from Europe and China have led to downgrades and faltering share price. Here is where some charts and technical analysis can help us answer a question: is recent price weakness overdone, or is there more than meets the eye to its recent selloff?
First, let me show you a long term chart for INTC shares going back to the beginning of 2009.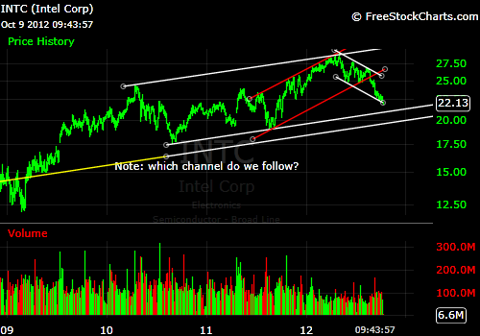 source: freestockcharts.com
Notice I draw a trendline across the summer 2010 and summer 2011 lows. A parallel line across the 2010 top picked the 2012 top, exactly. This trend channel reflects the economic recovery and bull market that began in 2009. [You'll notice by the way I did not use the 2009 bottom as a starting point for trend lines: extreme selloffs (and blowoff tops, in bull markets) are rarely useful starting points for trendline analysis.]
Fine and dandy that INTC recovered along with the rest of the market. We would expect an industry leader and Dow Industrials member to do so. But INTC bulls want more than that: they want the company to expand into mobile and tablets so that its growth rate will accelerate and its p/e ratio, stuck at 10 or even single digits during dreary times, would expand and give investors the pleasant returns that come from higher earnings, and higher multiples as well.
In my opinion, that is what the red parallel trend channel from fall of 2011 attempts to show. This trend channel is more clear on a daily chart: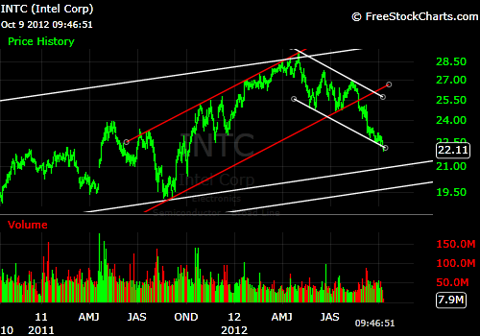 This solid rally took prices up by more than 50%. Furthermore, this surge occurred in large part because of PE expansion, showing that investors were, indeed, becoming more optimistic about Intel's growth prospects: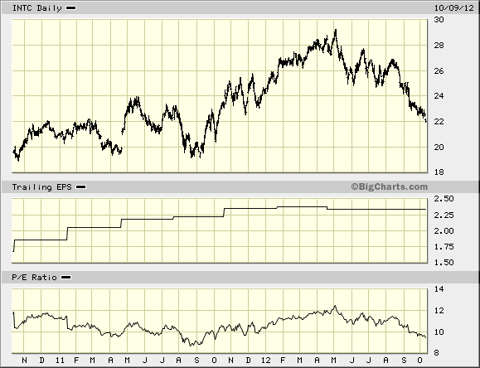 Thus the red channel and fundamental analysis suggest that investors were assuming CEO Otellini's company was expected to deliver on its promises of new markets and higher growth soon; or better yet, sooner.
When that red channel broke downside in August, I became concerned. Not only was the selloff exclusively due to lower P/E ratios (showing slower growth prospects, turning the above arguments around), but it occurred on higher volume as well. We are now in a descending channel: a chart pattern these shares like.
The recent breakdown below this lower channel prompted me to write this article.
A dog in a kennel while the rest of the market is running the Alaska sled race is no fun. Intel has had months to demonstrate its smaller and faster chips, servers, notebooks, and prospects for faster growth. The market looks forward and, as is clear so far from charts, does not like what it sees. What is an investor to do? Enjoy a 4% annual dividend that can be chopped off with a few days trading?
It is important not to let the tail wag the dog. (and Intel has been a dog, lately. Perhaps the company should make an appearance at the Westminster Show next February.) The market can be a guide, but you should not let it put a ring through your nose and tell you how to invest. In the final analysis, stock prices respond to fundamentals. I think the fundamentals on Intel are good enough that investors should be patient for just a little while longer. How long?
till this quarters earnings are released and digested, and/or
until the rising lower long term channel trendline (at about $21 a share) has been tested.
In the meantime, your October put at $23 is now 'in the money' and will protect you from any price weakness, which was its purpose all along. Hedged owners of Intel shares can afford to wait for earnings this October 16th; the options expire 4 days later. You have the time and protection which the option gives you: put it to your fullest advantage by doing your due diligence and digging into the meat of their earnings report next week. I'll do short 3rd follow up article then to reassess Intel and traders actions.
Disclosure: I am long INTC. I wrote this article myself, and it expresses my own opinions. I am not receiving compensation for it (other than from Seeking Alpha). I have no business relationship with any company whose stock is mentioned in this article.
Additional disclosure: I am long Intel as part of a larger holding of the QQQ ETF. If Intel holds at support I mention in the article, I will take a long position in the shaes themselves.