OptimizeRX (OTCQB:OPRX) offers a simple yet powerful software platform, called SampleMD, that allows pharmaceutical companies a way to offer discount coupons and sample vouchers of their products that fits seamlessly into doctor e-prescribing (electronic transmission of prescriptions) workflow. SampleMD is currently being integrated into several EHR (Electronic Health Records) systems so that when a doctor searches for a drug by brand name or in a specific category (i.e. High Blood Pressure) they easily and conveniently offer discount coupons to the patient. Additionally, the coupon information is then sent with the electronic prescription to the selected pharmacy to allow the pharmacist to process the savings when filling the prescription. It is incredibly simple and profitable for all parties involved.
SampleMD is much more advanced than the traditional coupon programs the drug companies have offered which have historically involved hiring a drug representative (at approximately $200,000 per year in costs per rep) to deliver coupons and/or samples to doctor's offices and market the company's product in their region. The problem with this methodology is that there is no way to easily verify that drug reps are indeed delivering the coupons/samples, it comes at a high cost, and the only time a pharmaceutical company can verify that the coupons have any effect is if they are redeemed which is just 2-5% of the time.
It could hardly be expected that a doctor with a drawer full of discount vouchers for 40 or 50 drugs can remember to offer patients a voucher at the time of prescribing. It is also less likely that the doctor is able to save their patients money by prescribing a medication that is both appropriate and has discount vouchers available. Discount vouchers have been shown to be directly responsible for significant increases in prescription adherence.
SampleMD's integration into several of the largest EHRs (Allscripts (NASDAQ:MDRX), NewCrop, Dr. First) in the industry means that the company has a very strong foothold in this market which they themselves have created. The company faces no apparent competition in the field and it would likely be incredibly tough to leverage into the field now due to the relationships that OPRX has built with both drug companies and EHRs. By being a middleman between EHRs and pharma companies, OPRX has found a niche in between two multi-billion dollar per year industries. The power to scale on very minimal operating expenses makes this company one of the most interesting I've seen in some time.
Revenue generation
OPRX currently earns revenues a few different ways, with more slated to be added in the very near future. The company charges $25,000 per new drug that is put into SampleMD's database. The majority of the company's revenues have come from this avenue.
With the discount coupons/samples the company has two ways that it can recognize revenue, depending on the model the drug company chooses. The first is when a patient actually redeems the coupon at the pharmacy, which leads to a $25 payout to OPRX; only about 20% of current offers are on this model. The other 80% of current offers see OPRX earn $5 in revenue each time a doctor prints and/or electronically distributes a coupon for a patient to redeem. This payment happens whether or not the patient ever actually redeems the coupon.
SampleMD is a software platform that integrates into other software, so there is very little overhead cost. The current OPEX is around $2.5M per year and the company doesn't foresee that amount rising too drastically. The company operates out of a very modest office in Rochester, MI that the company believes will be able to handle all expected growth moving forward.
Users and drugs in the system
The SampleMD platform currently has around 25,000 active prescribers and 40 drug offerings from 18 different manufacturers. The number of physician users should be expanding to approximately 100,000 active users by year end 2012. Dr. First and NewCrop have only recently integrated SampleMD into their systems and AllScripts will be adding SampleMD across their remaining platforms by year end 2012.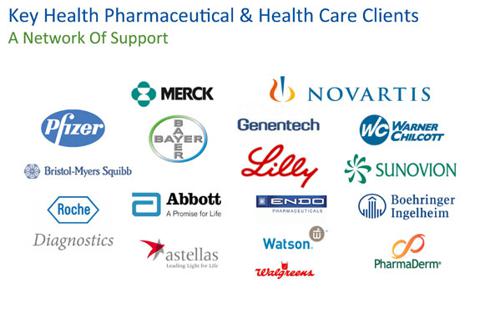 The number of drugs in the system should increase over the rest of the year as pharmaceutical companies become more comfortable with the technology and add more of their drugs into the system. I see this trend accelerating through 2013 even more. The up front costs to the drug companies is very minimal and any new patient using a drug is a good return on investment for the pharmaceutical companies.
As the use of e-prescribing becomes the norm over the next decade, SampleMD will see significantly more users who are increasingly switching to e-prescribing over traditional paper prescriptions. According to SureScripts, the authority on everything related to EHR and e-prescribing, from 2010 to 2011 the number of prescribers using an EHR jumped from 234,000 to 390,000. Much of this increase can be attributed to the Meaningful Use Act, which pays physicians to adopt EHR into their practice. The requirements for Meaningful Use grow gradually over the coming years which means that more physicians who want access to the money allotted must comply with the additional rules, which includes provisions the increased usage of EHRs.
The Workflow
SampleMD originally began as a stand-alone desktop application and that remains an option, but the majority of usage going forward will likely be from within an EHR product as that is directly inline with doctor workflow, thus making the inclusion of discount coupons completely no-effort while also saving their patients money.
EHRs are different from e-prescribing platforms. An e-prescribing platform actually uses an EHR as the way in which it handles records. Therefore, there are hundreds of e-prescribing platforms, but many of them rely on the same EHRs to power their health records. If you look here you will find a list of e-prescibing platforms that SureScripts monitors; you will notice if you scroll down that many of these platforms say "Uses DrFirst" or "Uses NewCrop" which means that all of those platforms have SampleMD integration. This is a big coup and puts SampleMD squarely in front of many doctors no matter which e-prescribing platform they are using. Currently SampleMD is integrated into over 250 EHRs.
When a doctor looks up a drug, or class of drugs, they're presented with a list of products that match their criteria. Next to drugs with discount coupons available is a smiley face denoting the availability of the coupon. The doctor can click on this for more information regarding the specific coupon. If they e-prescribe a drug that has a coupon available, that coupon is automatically included and sent to the pharmacy. In most cases a doctor would literally have to deselect the coupon when prescribing the drug if they didn't want the coupon to go through; it's difficult to imagine a doctor doing this for any reason.
At the pharmacy, the pharmacist simply has to input the savings codes denoted right within the electronic prescription, whereas there is normally only one for the prescribed drug, denoting the discount coupon voucher. The pharmacies themselves are also able to earn $2.50 per discount coupon entered, to be paid out directly by the drug company offering the discount voucher. This immediate coupon alert that SampleMD provides right within the e-prescription avoids the pharmacist completing the electronic prescription prior to the patient entering the pharmacy, only to have the patient walk in with the savings later and forcing the claim to be to cancelled and re-done.
Unfortunately in this case, many times the savings are just ignored and go unredeemed. This is a lose-lose for the pharmacy and the patient. OptimizeRX is working with the pharmacies to increase implementation of these savings codes. The company would obviously like to see the redemption rate higher as it validates their credibility as a model, although the current 20% redemption rate, versus 2-5% for paper coupons, is extremely impressive.
Why Pharma must love SampleMD
It is an often repeated statistic that more than half of medical practices no longer allow drug representative in their offices. Reasons for this include the time it takes to deal with the reps, the need to closely track sample drugs which should technically be logged in and logged out, the concern over moral persuasion in exchange for gifts, and numerous other reasons. This means that pharmaceutical companies are having a much harder time accessing doctors and giving them information that may be valuable to their patients and increase sales. Until now, traditional reps were the main tool the drug companies had. The fact that drug reps cost so much to keep in the field, and the difficulty in tracking samples and vouchers, was less than ideal.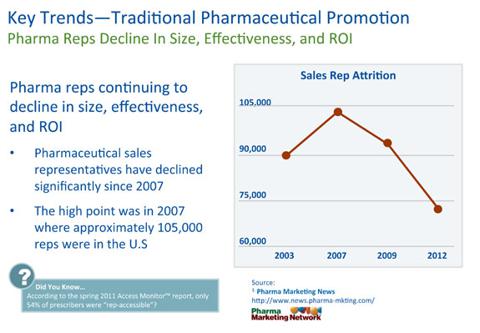 SampleMD solves a lot of those issues because the drug companies know exactly when a voucher gets transmitted or printed. Because SampleMD uses a rules based engine, if a drug manufacturer only wants to offer a particular coupon to males in their 40's that is no problem. This allows pharmaceutical companies to target very specific markets if they choose. At one point Pfizer had 14,000 sales reps in the field; at $200,000 per rep that equated to nearly $3B per year in costs associated with sales reps.
It is not hard to see why Pfizer, or any other major pharmaceutical company, would love the ability to automate much of the process that gets their drugs and offers in front of doctors. Even if traditional sales reps are not going away anytime soon, SampleMD offers another very attractive avenue by which drug companies can promote their product and entice doctors to write prescriptions at very little cost.
Patients
The SampleMD platform is really a big aid for patients. Out of pocket expenses are cited as one of the top reasons why patients do not take prescription medications. For example, if a patient gets a $20 off voucher on a $25 co-pay drug, their out of pocket costs of just $5 make them far more likely to pick up the drug and stay on it than if there were no discount. The average time a typical patient remains on their prescription medication is just over 200 days, but the average time one who has discount vouchers remains on their medication is over 260 days, meaning an extra two months of usage.
There is obviously a lot of value to the pharmaceutical companies in seeing the patients on the medications longer and the value to patients who stay on their medication longer is likely significant. One of the biggest issues that doctors and pharmaceutical companies face is educating patients about the value of staying on their medications.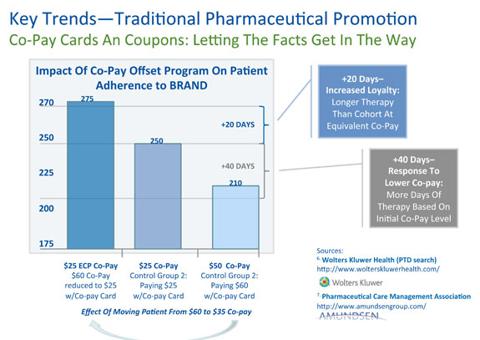 More than just vouchers
OptimizeRX is currently in the process of adding additional tools to the SampleMD software package.
The company is adding the ability for doctors to quickly get in contact with drug manufacturers when they have a question regarding a product. SampleMD would be the communication portal for communication, or they could request that someone from the drug company calls their office right away so they can have their questions answered within a live chat or direct call setting.
There are still many cases where doctors would like to visit with company representatives to become more educated about particular drugs and be able to ask questions of a live agent of the company. SampleMD will soon include the ability for doctors to schedule appointments with drug reps.
SampleMD will also be supplying patient education through the platform . Patient education is a strong basis of Meaningful Use and doctors and drug companies want to keep their patients informed. Well-educated patients stay on their prescription longer, benefitting both the patient as well as the drug companies.
The tools mentioned above help cement SampleMD's value in the chain that stretches from drug manufacturer to doctors' offices. Each of these tools creates additional revenue but at this time it is not known exactly how these offerings will be priced.
Important factors in the model
It is relatively difficult to model revenue generation for a number of reasons. The most important factors in evaluating revenue are: number of users in the system; quantity of drugs and popularity of drugs in the system; coupons printed per active user.
The company does not disclose what drugs are in the system so it is very difficult to model near term growth. But with clients such as Novartis, (NYSE:NVS) Bayer, Merck (NYSE:MRK), and Lilly (NYSE:LLY), it seems likely that over time the company will grow to have a large amount of high volume drugs in the system. I believe it's very likely that drug companies will give OPRX their full portfolios of drugs to market considering how low the cost to the drug companies is. In discussions with the company, it is clear that they are highly focused on achieving a higher number of top 50 drugs than merely targeting a high number of drugs. As the user base expands and the company is able to offer coupons on more popular drugs, the usage per user will increase accordingly.
The numbers can quickly become unbelievable as you can see in the matrix below; but if the company were to indeed have 20 of the top 50 drugs with 100,000 regular users of the system, the numbers seem quite feasible:

Note: amounts above are annualized based on 50/50 split using $5 per coupon revenue
Company History & Management
The company began as a portal where prescription drug users could find already available coupons offered by pharmaceutical companies. Even though the company enjoyed early "success" in amassing a list of over 2 million users and garnering media attention, there was no monetization method at hand. By chance an industry representative happened to mention to the company that they'd pay the company to get copay coupons into the hands of patients. Realizing that the company needed to get the offers in front of a doctor's workflow, SampleMD was born.
Management has a long history in the pharmaceutical industry, much of it in marketing, which is ideal as SampleMD is very much a marketing tool.
David Harrell, founder of the company, holds 24% of the currently outstanding stock.
David Lester, CEO, has thirty years of executive experience working for such prestigious companies as Deloitte LLP and Sun Microsystems.
Terrence Hamilton, Director and VP of Sales, spent the past 19 years working in marketing and sales for biotech companies including MedImmune and GlaxoSmithKline (NYSE:GSK).
Management has achieved a lot in a very short period of time; they have created impressive relationships with pharmaceutical companies, pharmacies, and software vendors in the EHR space. They have done an excellent job of keeping the company lean and moving the product forward.
Additional Points
OPRX is well placed in an industry that has still not seen widespread adoption. In 2011, just 36% of prescriptions were routed electronically, up from 22% at the end of 2010. The actual number of e-prescriptions routed in 2011 was 570,000,000. In the rosiest scenario in the matrix above, the total number of prescriptions used to arrive at the $240,000,000 figure was just 96,000,000. The market is already seeing many multiples of that number.
The industry expects to see 2 billion (2,000,000,000) annual e-prescriptions in 2016, of which approximately 600,000,000 will be name brand drugs. Since OPRX's market is in name brand drugs, at least at this time, assuming the company is able to capture 10% (60 million prescriptions) of that market, their share of the revenue after 50/50 split using a $4 coupon price would be $120M. I believe management is confident that they can achieve more than a 10% rate over the next few years.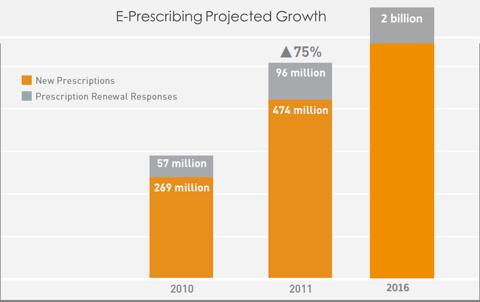 On a fully diluted basis, the company is 51% owned by Vicis Capital. Vicis was once a multi-billion dollar fund out of NY but has since been whittled down to a $300M fund. Management is confident that Vicis are friendly and have no hostile intentions. In my opinion this is still the largest wild card, but in order to achieve their 51% interest in the company Vicis would need to convert a number of shares at prices between $2-3. There is also the clause that Vicis will be forced to convert if the stock trades above $2/share for a period of time with certain volume. At this time, due to the conversion prices, I am not too concerned with this issue but it is something to be aware of.
Conclusion
SampleMD is a win win for everyone involved. The drug companies are gaining new clients, the doctors are saving their patients money, and the patients are saving money on drugs that can help their health. It is uncommon that you see such a dynamic in a public company.
The operating leverage in the business model is very impressive. Over the next six months I expect the SampleMD user base to increase from 25,000 active users to 100,000. I also expect the company to increase the amount of high volume drugs in the system while also integrating other revenue hooks into the platform. I would expect 2013 to be a breakout year for the company
I expect Q3 2012 to be rather unimpressive, with Q4 2012 starting to reflect the growth in the user base and quite possibly be cash flow positive. This is a story that will take at least two quarters to really start to show its power, but the pace with which usage and revenues could ramp up is why I believe it's worth paying attention earlier rather than later. When the company begins to emerge from their shell and promote their story to investors, which they have yet to really do, there is a strong likelihood that the stock will trade higher in anticipation of increasing revenues and further signs of adoption in this rapidly growing industry. The stock is indeed very thinly traded; I have seen it move in excess of 50% on just a few thousand shares.
I would not be at all surprised to see OPRX approached by a potential acquirer. The company's unique and unchallenged position in the field of e-prescription marketing is very rare indeed and it would not be hard to find any number of suitors.
OS/FD Shares: 13M/34M
Disclosure: I am long OTCQB:OPRX. I wrote this article myself, and it expresses my own opinions. I am not receiving compensation for it. I have no business relationship with any company whose stock is mentioned in this article.