Score one for Nokia? Actually, it's two. But more on that in a moment. Let's start with Door #1.
The previously unannounced Lumia 810, a kissing-cousin to the Nokia (NYSE:NOK) 820, will run on T-Mobile's HSPA+ network. According to T-Mobile vice president Andrew Morrison:
We're providing our customers with a unique Windows Phone 8 experience by offering an exclusive device paired with our Unlimited Nationwide 4G Data plan and a comprehensive set of enhanced features. The Nokia Lumia 810 gives customers speedy, 4G access to T-Mobile's nationwide network and the content and features they want, whenever they need it. From navigation tools to an enhanced camera, the Lumia 810 provides a great value and a high-quality experience.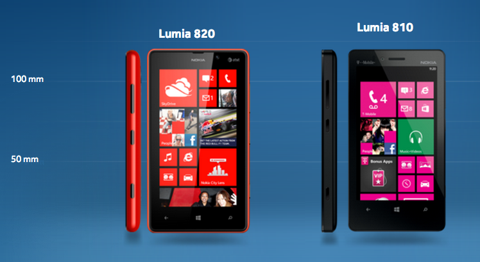 Click to enlarge
ZDNet's Matthew Miller is grumbling about all the "exclusives":
Microsoft and Nokia need to get ALL new Windows Phone devices out on as many carriers as possible and stop messing around with stupid exclusives at this point in the smartphone battle.
However, it's difficult to see this as anything but a win-win for Nokia. AT&T (NYSE:T) has 2,200 stores in the US. T-Mobile has 9,362. To be clear, it's undoubtedly the carriers who are demanding exclusivity at this point, rather than Nokia. With the widespread adoption of "family plans," it's now much more difficult for customers to switch between carriers than it used to be.
So why all the exclusives? Other reasons might include:
Non-AT&T carriers and Nokia might not have reached a deal, with either side potentially turning down the other.
AT&T may have an exclusive but only on the Lumia 920/820.
Exclusive deals often pay more up front to the OEM.
AT&T could have refused to carry the Lumia 920/820 line unless they had it locked in.
"Exclusives" could be a matter of timing. AT&T may have it all to themselves but only for a short 3-6 month window.
At first blush, the Lumia 810 appears to be identical to the Lumia 820. WPCentral posted a tear-down of the device specs highlighting some of the similarities as well as the differences between the two. (Note: Lumia 820 specs are on the left, 810 on the right.)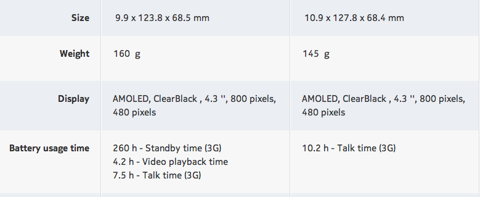 Click to enlarge
The 810 will include the 4.3 inch screen of the 820, as well as Nokia's wireless charging and Maps technology. Not only is the 810 lighter than the 820, it's got 3 hours of additional battery life. In addition, the 810 looks a little more like the iPhone 5 than the 820 does, a design feature that may have been requested by T-Mobile itself.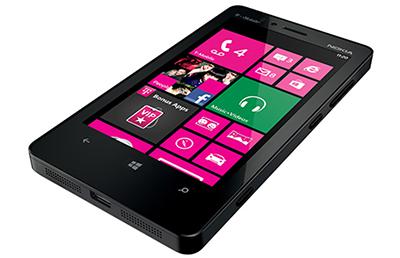 It's not just AT&T and T-Mobile who are rumored to be getting in on the Lumia action. A previously unannounced Nokia Lumia 822 (code named: ATLAS) is likely coming to Verizon's (NYSE:VZ) 2,330, according to an inventory screen-shot of Verizon's Device Management System ("DMD") previously leaked (but widely overlooked) to Endgadget.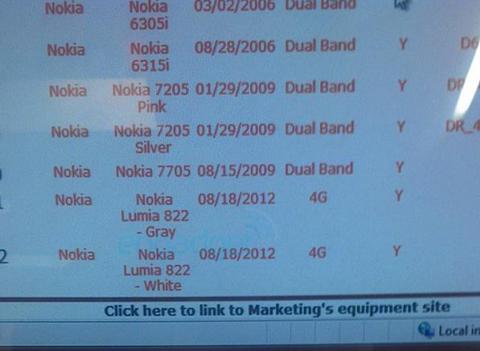 Click to enlarge
According to Endgadget:
While this doesn't guarantee a surefire launch in any way, phones typically pop up in the DMD a few weeks prior to launch -- and it's good news for two groups of people: Windows Phone fans anxiously awaiting something fresh on the LTE carrier, and "phablet" fans looking for a device not called the Intuition.
This caveat had more bite when the media was still running with the AT&T exclusivity story. In light of today's T-Mobile reveal, WPCentral (translation: Microsoft) now gives the Endgadget/Verizon leak an 80% probability of happening. Which means that instead of two Lumia phones being available at AT&T's 2,200 U.S. stores, it looks likely that four Lumia phones will now be available at 13,892 locations within the U.S, a 631% increase in availability.
The fact that Nokia had not one, but two aces hidden up its sleeve amidst all the pressure is a very good sign indeed. Score 2 for Nokia.
Conclusion
Why does a rabbit run faster than a fox? Because while the fox is running for his dinner, the rabbit is running for his life. Corporations work the same way. Their very existence implies a certain level of implied viability often overlooked by investors.
Nokia is running for its life right now. If the company can stay ahead of the traders piling into short positions against its stock, a virtuous cycle will be created. Short sellers will be wary of buying into the "Nokia is dead" narrative again after getting hammered into the ground the first time around.
The negative reaction of analysts to Nokia's new line of smart phones doesn't appear to reflect the intentions and decision-making of consumers. A 631% increase in availability is tremendous news, based upon what is actually known vis-a-vis customer interest in the Lumia line.
I have no doubt that other analysts will continue to find something "unsatisfactory" about the new Lumia line. Nevertheless, less partial observers will surely realize that you can't have it both ways.
If Nokia's stock is a "sell" based on perceived customer reaction to the price of the phone, then data which supports a positive customer reaction despite the price cannot be excluded simply because it doesn't fit the analysts' prior assumptions. Likewise, if the Lumia's exclusivity to AT&T "guarantees the failure" of the product line, then a 631% expansion in availability is a certainly a cause to reassess the conclusion that the Lumia line will fail.
In addition to this, there is the question of Nokia's burn rate. As one reader pointed out in the Comments section of my previous article, Nokia's burn rate is not $300 million a month, an error in calculation made by Bloomberg and subsequently re-circulated until it became "fact." The real burn rate is $290 million a quarter, a much more justifiable figure, given Nokia's cash reserves and the launch of a new product line.
While I would also like to see Nokia's workforce trimmed further to reflect its status as a smart phone entrant rather than an established player in a 3-way race, these facts are enough for me to upgrade my recommendation for Nokia's stock from HOLD to BUY, with a price target of $3.15.
Disclosure: I have no positions in any stocks mentioned, and no plans to initiate any positions within the next 72 hours. I wrote this article myself, and it expresses my own opinions. I am not receiving compensation for it (other than from Seeking Alpha). I have no business relationship with any company whose stock is mentioned in this article.