One sees numerous articles on SA extolling the merits of dividend growth investing, chiefly focused on the goals of this investment strategy and techniques for choosing individual stocks to implement it. By contrast one finds few articles on how to use ETFs as vehicles for dividend growth investing, mainly because almost all ETFs are structured to track some index rather than provide a steadily increasing stream of income. But a few ETFs are suitable to the DGI approach, and this article - part of a larger study of dividend ETFs to appear later - is meant to highlight one of them: Consumer Staples Select Sector SPDR Fund (NYSEARCA:XLP).
Here's the setup: suppose you have a lump sum to invest and are planning to retire in six years. Your calculations show that this will be possible if you can earn four percent or more on your money every year beginning six years from now. So you look for an ETF yielding at least two percent now but with a dividend growth rate sufficient to double that dividend in six years. By the "Rule of 72" you know that the necessary dividend growth rate is 72 / 6 years = (about) 12%. What ETF meets these requirements? Answer: XLP.
At first glance XLP is not an obvious choice. It's a sector fund, rather than a broadly diversified stock fund. It tracks the Consumer Staples Select Sector Index, which "includes companies from the following industries: food & staples retailing; household products; food products; beverages; tobacco; and personal products". Its top ten holdings as of 10/5/12 were Procter and Gamble (NYSE:PG), Philip Morris (NYSE:PM), Coca-Cola (NYSE:CO), Wal-Mart Stores (NYSE:WMT), CVS Caremark (NYSE:CVS), PepsiCo (NYSE:PEP), Altria (NYSE:MO), Colgate Palmolive (NYSE:CL), Mondelez International (NASDAQ:MDLZ), and Costco Wholesale (NASDAQ:COST), which accounted for 67% of its holdings (Morningstar). Veteran dividend growth investors will recognize several of these stocks as charter members of the DGI fraternity. As it turns out, the nature of XLP's index pretty much ensures that it will include a substantial helping of solid DGI stocks.
At this point veteran dividend growth investors may be tempted to comment, "Why not just pick the best stocks out of the index and buy them rather than the ETF?" The answer is that some people don't feel comfortable buying individual stocks due to their volatility and potential for sharp drops due to earnings surprises and other disasters (think BP), are uncertain whether they have the skills to choose the best stocks and know when to buy and sell them (despite all the help available on SA), or just want a one-stop investment that will supply a relatively predictable income stream without a lot of work. For them XLP may be a suitable choice.
Here are the basic stats (Morningstar): 6.31 $B in assets, twelve-month yield of 2.66%, expense ratio of .18%, "consumer defensive" and "large core" category and style characterizations. Over the last one, three, five and ten-year periods its total returns have been 27.1%, 16.1%, 8.4%, and 8.7% respectively. It lost money only twice the last ten years: -20.9% in 2002 and -14.8% in 2008.
But this ETF's real strength lies in its dividend data.
| | | | |
| --- | --- | --- | --- |
| CAL. YEAR | DIV/SHARE | %CHANGE | DIRECTION |
| 1999 | 0.2714 | | |
| 2000 | 0.2961 | 9.1% | UP |
| 2001 | 0.3205 | 8.2% | UP |
| 2002 | 0.3841 | 19.8% | UP |
| 2003 | 0.3585 | -6.7% | DOWN |
| 2004 | 0.3565 | -0.6% | FLAT |
| 2005 | 0.4427 | 24.2% | UP |
| 2006 | 0.5230 | 18.1% | UP |
| 2007 | 0.5992 | 14.6% | UP |
| 2008 | 0.6544 | 9.2% | UP |
| 2009 | 0.7270 | 11.1% | UP |
| 2010 | 0.7634 | 5.0% | UP |
| 2011 | 0.8857 | 16.0% | UP |
| | AVERAGE | 10.7% | |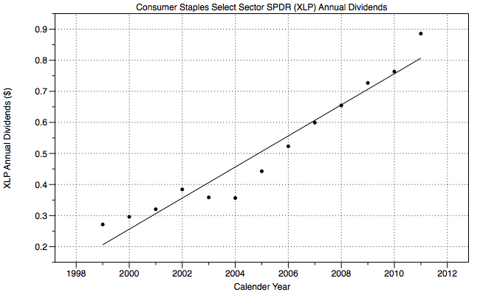 As I understand them, the principles of dividend growth investing can be summarized as follows:
1) Buy stocks that increase their dividends every year;
2) Buy those whose dividends are increasing at a rate greater than inflation;
3) Hold through thick and thin, except
4) Sell when the stock either cuts its dividend or its growth rate slows sufficiently to make another stock more attractive.
In the twelve years since its inception, XLP's dividend has risen ten years, declined once, and been flat once. Moreover, since 2005 its dividend has risen every year, including during the stock market crash of 2007-09. Since 1999 the dividend has grown by 10.7% per year on average, and the compound annual growth rate (OTCPK:CAGR) of its dividend has been 10.36%. At this rate its dividend would double roughly every 72 / 10.36 = 7 years.
Thus, from the point of view of David Fish's categories of dividend Champions, Contenders, and Challengers, XLP qualifies as a Challenger, having raised dividends seven years in a row. Three more consecutive raises will make it a Contender. And its ten-year dividend growth rate of 10.7% (same as the average increase) would make it one of the more attractive Challengers on his list.
Moreover, notice that in the six years since 2005 the dividend has doubled from about 44.3 cents per share to 88.6 cents per share. This corresponds to a compound growth rate of 12.25%, exactly what is needed for a doubling every six years. Thus an investor who bought XLP on January 3, 2005 at an adjusted price of $19.40 earned .4427 / 19.40 = 2.28% in dividends his first year. Holding through thick and thin and reinvesting for the next six years, he ended up with a yield on cost of .8857 / 19.40 = 4.57% by the end of 2011. In essence he doubled his dividends during that period.
Will this pattern hold true for the next six years? Who knows? Uncertainty is the essence of investing. As we all know, "Past performance is no guarantee of future results." But the pattern highlighted here suggests that an investor who bought XLP On October 1, 2012 at 36.06 with a trailing twelve month yield of .954 / 36.06 = 2.65% might hope to have a yield on cost of 5.3% to retire on in six year's time. Even if the dividend's growth rate slows to the twelve year figure of 10.36%, he would still have a yield on cost of 1.7235 / 36.06 = 4.78%, enough to retire on if he only needs 4% to meet his needs. It's an intriguing possibility, but by no means a certain one.
Disclosure: I have no positions in any stocks mentioned, and no plans to initiate any positions within the next 72 hours. I wrote this article myself, and it expresses my own opinions. I am not receiving compensation for it. I have no business relationship with any company whose stock is mentioned in this article.
Additional disclosure: Disclaimer: I am not a registered investment adviser and do not provide specific investment advice. The information contained herein is for informational purposes only. Nothing in this article should be taken as a solicitation to purchase or sell securities. Before buying or selling any stock you should do your own research and reach your own conclusions.