Purpose
When Apple's last quarterly results caused speculators to rush out of the shares momentarily, I wrote that the after-hours plummet into the $560s was an opportunity to buy. The regular-hours chart from July 12 through July 25 looked like this: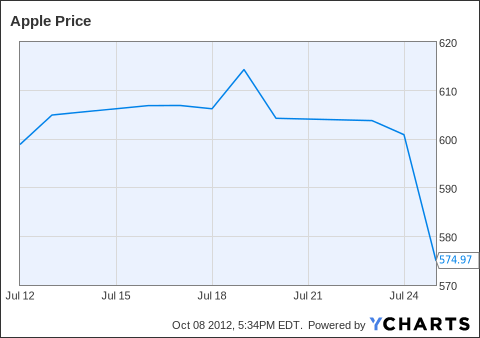 From July 25 to the present, Apple enjoyed quite a run, passing $700 before being pressured back: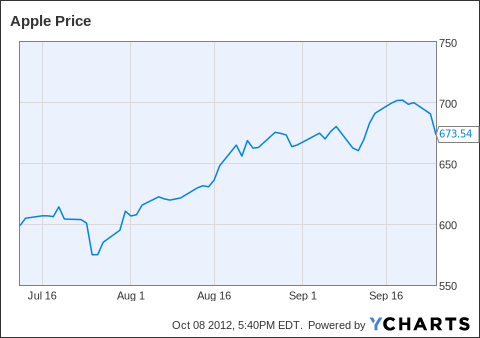 While it's nice to see a double-digit gain within a few months ...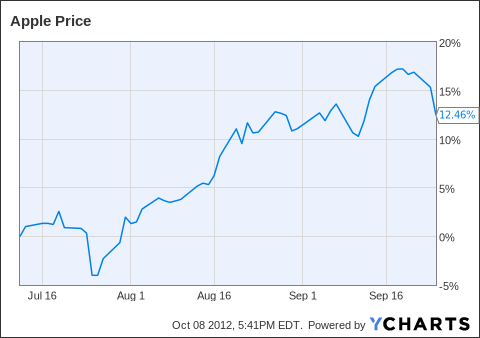 ... it's also worth asking both why Apple suddenly collapsed ...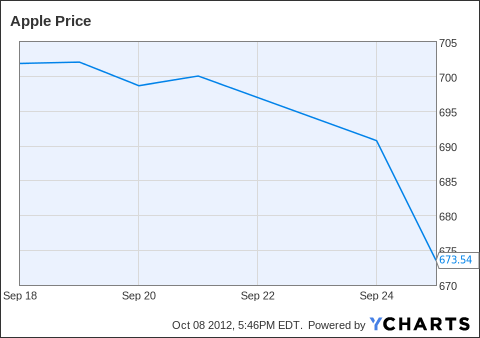 ... and whether that fall is an opportunity, or is a dread portent of worse things to come. The purpose of this article is to examine how Apple has been doing as a business enterprise, to ascertain whether its recent valuation changes reflect the company's business outlook or represents a short-term blip driven by headline fears.
The Recap: Apple's Competitive Environment
As previously described, Apple (NASDAQ:AAPL) enjoys a high-margin and high-growth iOS business vending smartphones and tablets to the high end of the global mobile market. Although fans of Apple and its products like to think of the company as vending a differentiated product that commands high margins - a view borne out by Apple's gross margins and its share of the profit in the market segment - Apple's products have competition from several sources that influence both the range of prices the market will tolerate from Apple and the degree of differentiation Apple offers in a given product cycle.
Samsung (OTC:SSNLF), the most profitable mobile manufacturer after Apple, earns its profits on much higher sales volumes. HTC Corp. (OTC:HTCKF), the only other profitable cellular hardware manufacturer (a distant third after Apple and Samsung), has found its profit under pressure. Research In Motion (RIMM) has posted losses in recent quarters, but recently announced both increased subscribership and a January launch date for its next major operating system upgrade. Once-leader Nokia (NYSE:NOK) adopted Microsoft's (NASDAQ:MSFT) mobile operating system in lieu of its own for future smartphones, and earlier this year launched a Microsoft-subsidized phone intended to raise Windows Phone global market share above the share enjoyed by Samsung's "Bada" operating system, which last year passed Microsoft's mobile platform in sales share and which continues to grow faster than its rival from Redmond.
As things stood at the end of the first quarter of 2012, Apple's business appeared besieged by (1) a well-funded attack by Microsoft's current vendors, followed by a reinforcing wave of Windows Phone 8 device manufacturers including the likes of Dell (NASDAQ:DELL), HTC, and Samsung; (2) a revolution in BlackBerry devices soon to launch globally, including in poor-network areas of the world where Apple's network-heavy devices were unable to perform as they could in better-developed parts of the world; and (3) enormous market share growth by Android vendors, led by Samsung. Betting on the revolution, billionaire Prem Watsa raised his stake in RIMM. Preparing for battle, Microsoft paid developers to make applications for its tiny mobile platform. Betting the company on the next wave of hardware, Nokia - already abandoning its own operating system in favor of whatever Microsoft would license it - sold significant intellectual property (its Qt development framework and hundreds of patents to raise cash) to keep the doors open while it sold hardware at a growing loss. Samsung, sure of itself in its conflict, repeatedly refused to settle its California intellectual property litigation and proceeded to trial against Apple.
The mobile sector doesn't lack drama.
Today: Yesterday's Aftermath
First, Samsung. Having lost a ten-figure intellectual property verdict to Apple, Samsung struck back with a plea for a new trial and an advertisement depicting Apple customers lining up for the new iPhone as a bunch of vacuous lemmings. We won't hear for some time how the patent conflict settles out, but the billion bucks at stake (more, if Apple is successful in obtaining escalated damages provided by statute) is more material to Samsung than to Apple. Apple's stated objective in the litigation is to force would-be users of its technologies to pay royalties rather than just steal. Apple either sued over protectable intellectual property (which would contribute to its competitive advantages) or it did not. We'll have to wait on that.
But Samsung's ad is interesting. When the ad was released, the iPhone had been announced for one week. Anyone wanting to buy one would be standing in a line - if not a physical line, then one contained in the back-end systems of Apple's online store. In fact, phones available from Apple for delivery on the September 14 launch date sold out in one hour. In the first twenty-four hours, two million had been sold. Customers ordering phones prior to the September 14 launch were given dates reaching into October. The fact that Samsung could reach a huge population that was waiting for an iPhone with the message that Samsung had phones for immediate delivery said that demand for a new iPhone was so strong that competitors were willing to spend money - and risk increasing awareness of Apple's products - to try to capitalize on irritation caused by Apple's supply constraint. The record-setting demand for Apple's product - whatever one may think of it - is part of why Apple is having such success in pricing products to earn profit for investors.
Then, there's Samsung's success in its own sales. Apple crushes the mobile industry in profit share. At more than twice Samsung's mobile profit, Apple need not deny Samsung a low-margin sale to earn and grow profits. What other mobile manufacturer enjoys Apple's huge and growing margins?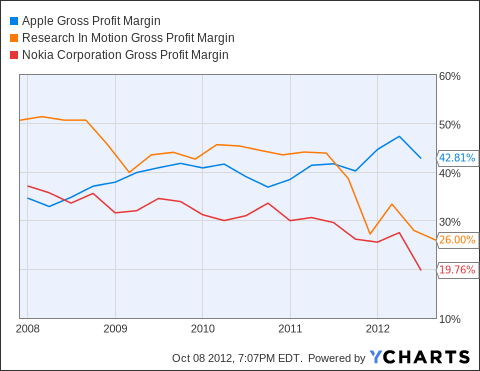 In the public eye, however, a powerful and popular misconception persuades uncritical readers of headlines that profit follows unit sales share. Therefore, with each story that some non-Apple market segment experiences success, some less-savvy investors feel fear Apple's profit is at risk. But Apple's profit isn't in jeopardy.
As discussed elsewhere, Apple enjoys enormous growth in iPads and iPhones - not least in China, which this author predicts will soon eclipse the United States as Apple's largest market by revenue. Apple has also grown Macs, consistently beating growth numbers of the PC market generally. Considering that Apple's growth is all in the highest-margin segments of the market - the company has no loss-leader models - investors get a great deal when they buy Apple unit sales growth. That growth is atop the fraction of sales needed to cover costs, and represents gravy.
Apple's current P/E - which is less than 15 - makes it rather more attractive a buy than it was a few years ago when shares traded at a fraction of current prices: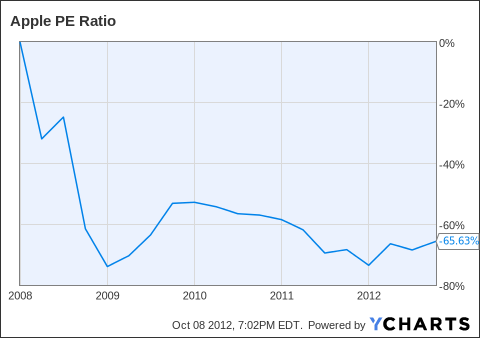 Competition That Isn't Making A Profit
Samsung isn't Apple's only competition. Apple has some competitors who aren't making any money, but are getting a lot of press. Microsoft in particular isn't making money in mobile, but is actively paying Nokia billions in subsidies to make phones on which Nokia is itself losing money, even after the subsidies. Although Microsoft plans to earn net income in its relationship with Nokia, that plan depends on product unit growth that exceeds anything Apple or Samsung ever achieved in mobile device sales growth. This may not sound like a strategy to earn quick profits for investors, but it appears consistent with Microsoft's announced strategy to drive down prices in order to acquire unit sales share in the smartphone market.
Over a month ago, Nokia and Microsoft had a major press event showcasing the new Windows 8 smartphones. The September 5 event didn't disclose carrier relationships, pricing, or even anticipated ship dates. Arguably, the purpose of the event was to get out ahead of Apple's then-upcoming iPhone 5 press event on September 12. A month later, November ship dates came paired with the announcement that at least some of the Windows 8 phones will be an AT&T exclusive. Earlier reports about a driver delay related to Intel processors appear to be erroneous: Microsoft appears to expect Windows 8 and Windows 8 RT tablets to ship in November. Early enough to capture Christmas buyers, and likely early enough to service customers on Black Friday.
Another presently-unprofitable competitor is the earlier-mentioned Research In Motion, whose major new technology launch - BlackBerry 10 - has been most recently scheduled for January. Missing the holiday season might have meant less to the company when its business was more connected to enterprise product upgrade cycles than to the consumer market, where the company has more recently been offsetting losses in the enterprise space. But the future of Research In Motion appears to be staked on BlackBerry 10 and the devices launched to support it.
Unfortunately, the newly-announced January date places BlackBerry 10 on target to hit a market seething with hardware manufacturers committed to selling Windows 8 smartphones and tablets (Intel and ARM) with marketing support from Microsoft. The unit-leading Android platform will surely fight to prevent invading devices from gaining a foothold in their market segments. Apple will, of course, be using its influence to continue to dominate both the smartphone and tablet markets in the measure that counts: overall profit. In this environment, it's easy to see Microsoft tolerating a few quarters of losses to gain profitless share - it's announced as much in discussing its phone pricing - but what will this do to a market entrant like the new spate of BlackBerry 10 devices?
BlackBerry 10 tablets will face competition not only from Microsoft's OEM vendors, but from Microsoft itself. Microsoft's decision to compete with its OEMs in the tablet space has been met with some irritation from partners and observers who recall Microsoft's failed foray into the music business, and its impact on the music-player ecosystem depended on by its OEM partners. Even if Microsoft's competition in the tablet space proves mostly confined to buyers already inclined toward non-Apple products, as apparently was largely the case with the Microsoft Zune, sales volumes could become material to the market participants as the size of the market grows. Whether Microsoft's competition will impact mostly its own OEM vendors, or also Android vendors and RIMM, remains to be seen. And we have yet to see what Google (NASDAQ:GOOG) will do with the Motorola acquisition: will it Zune the Android vendors, or do something to grow the ecosystem? The author expects the competition to be fierce.
Apple's unit sales share of the tablet segment is sure to drift away from virtually all of the market - a position it never held in mobile phones - but so long as the whole market is growing, Apple's unit sales growth can continue to show outstanding numbers even as sales share declines through low-margin competition. Since Apple's profit is based on unit sales and per-unit profit rather than "share", Apple's outlook appears attractive so long as there's a market for well-designed products. From the beginning of the year until the day of the iPhone 5 launch - that is, over the time period in which the market became aware of competitors' plans to assault Apple's most lucrative market segments - the price chart looks like this: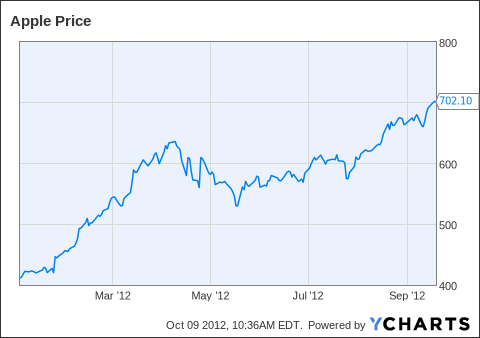 In short: the market liked Apple's outlook just fine. So, what happened following the iPhone 5 launch?
Apple vs. Apple
The news about Apple's impending competition from a veritable universe of new competitors producing smartphones and tablets running a variety of completely revamped operating systems is not new, but was well-known ahead of Apple's launch of the iPhone 5. Looking at the iPhone 5 launch onward, however, we see the following price action: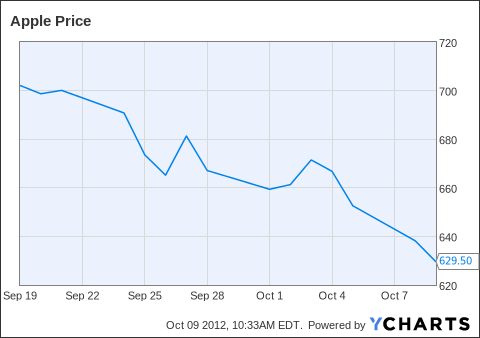 This hasn't been driven by news about Apple's impending competition. This has been driven by news about Apple. Apple received some alarming-looking news following the iPhone 5 launch: a worker riot closed a Foxconn plant, embarrassing flap erupted over its "terrible" new Maps app, and during a time of product supply shortage (iPhone 5 customers are still buying off waiting lists) several assembly plants went on strike. So is Apple's product less impressive than hoped and doomed to remain in short supply to boot?
First, the riot. Foxconn closed the plant for a single day following the riot. Reports suggest that although plant officials blame the riot on a dispute between workers from different parts of China, contemporaneous social media pointed the finger at a dispute with security guards arising over procedures designed to ensure parts aren't stolen at shift-end. (Unreleased Apple products are a hot target for leak hounds.) Apple historically responded to concerns about working conditions with formal agreements on workplace standards, backed up by audits. It may not be perfect, but one might ask what degree of control a foreign customer should be expected to exercise over a contractor operating a for-hire assembly line. Getting caught cheating Apple on workplace standards has consequences. For example, Apple requires suppliers caught employing under-age children to pay affected worker's educational expenses until the age of 16 or longer; Apple follows up on the children's progress afterward, too. So if the news about the riot isn't that Apple suffers a supply problem (one plant down for one day?) and it isn't about a workplace rights scandal (Apple has been demanding performance of suppliers for some time now), what's the import of the headline? The headline grabs eyeballs because Apple is involved, but the potential for material impact on Apple's financial performance appears negligible.
Second, the strike. Foxconn denies there's a strike at one of its factories, saying that "there has been no workplace stoppage in that facility ... and production has continued on schedule." The initial report, ostensibly from an organization called China Labor Watch, appeared to depict as a workplace-halting strike a pair of incidents occurring October 1 and 2 involving an "immediately addressed" dispute between "a small group" of production line workers and Quality Assurance personnel. One can imagine semantic disputes over whether going home in lieu of volunteering for paid overtime constitutes a "strike", but for Apple investors the bottom line of the story appears to be that there is no story of material interest to Apple.
Third, the map app flap. One could start with Tim Cook's apology and its promise to do better, then follow with the news that Apple's maps are already better. But there's a larger picture here. When Google's maps - obtained from Google and not an Apple intermediary - sent me by car to the wrong county, causing me to miss a critical appointment, there was no news. When Google still tells me to make a right to go East at an intersection when the address I need lies to the West (and left), nobody declares Google dead. And despite these awful and continuing gaffes - most of a decade into its map development program, to boot - Google's service is still in heavy use. Well. Maybe you get what you pay for.
When Google refused to provide Apple with access to data from which to create a Google-based turn-by-turn directions solution, Apple faced two choices. Apple could continue to use Google's faulty maps without turn-by-turn directions, or Apple could provide turn-by-turn directions based on faulty maps of its own. Apple chose the path that cost more money, risked its prestige, and delivered the turn-by-turn directions it knew users wanted.
This isn't the first time an Apple-supplied back-end solution has fallen on its face in public. MobileMe not only delivered mail with the slowness of a retreating glacier, but it shut down unexpectedly and occasionally lost mail entirely. MobileMe's backup solution may have worked hard - keeping a CPU extremely busy - but it frequently had little to show for the effort, as it often backed nothing up and was in no position to restore lost data. Lured back to MobileMe to get over-the-air contacts updates, I immediately experienced doubles of calendar events and contacts, wasting a whole morning trying to sort it out. Note: do not use the "combine duplicates" feature in the Address Book -- it cheerfully and without warning found and combined into a single entry the contact information of a Maryland thief and a Georgia law professor. I was very excited to rely on my phone's contact information after that, you can bet. But the fact that MobileMe was replaced with iCloud, while a hopeful sign, isn't everything. iCloud may not be a much better.
Apple fired the imbeciles responsible for MobileMe and is hiring experienced maps engineers, so things are looking up. But think on this a moment. Unlike Research In Motion, whose messaging service has been considered a differentiating feature of the platform, Apple platforms have never come across as really leading with a back-end feature outside of Siri. Apple does want to have customer-supporting cloud services, but it historically hasn't depended on them. If inability to deliver simply e-mail hasn't been enough to kill Apple, the fact that Apple's map app gives different wrong directions than Google has little potential to change the user experience. (On the other hand, you can see proof of UFOs in Texas on Google, or start a war - both feats Apple and Siri haven't matched. Google maps rock, no?) But think: Apple and Google gave away map search results without charge, and both have problems, though both are presumably susceptible to correction. Exactly how much impact does a free service have on Apple, especially when Apple itself helps people acquire maps from anyone they prefer to use for maps? And who says Apple maps were really all that bad? (The article linked lists some advantages of Google, but points out that Apple's app offers usability improvements unmatched on Android devices.) I've found Apple's maps fine, but then I wasn't lost on SCUBA looking for a New Zealand train station at the bottom of a harbor. Your mileage may vary. Of course, you can just use a different map app. Microsoft offers a free Bing app, and web access to Google Maps or Nokia Maps can be added to your iPhone home screen just like a standalone map app. Or you may find Apple's maps do just fine head-to-head with the competition.
But if there is no big production stoppage, and Maps has neither killed immediate sales nor offered a long-term negative differentiator, what has the Apple news meant for Apple?
Tempest In A Teapot?
Apple's share price has plummeted based on concerns Apple would sell fewer than expected units. If true, this would be a problem. Analysts apparently hoped that Apple's 5-million-iPhone opening weekend would be higher. In fact, it is: Apple can't book sales until delivery, so its massive backlog of pre-orders wasn't considered part of the opening-weekend sales. Until we see a quarterly number or obtain intelligence from channels regarding the number of units Apple ships per day, we don't even know how long Apple will be satisfying its backlog. We will certainly not know what Apple's post-backlog "regular" sales will look like.
And there's another thing. The rumored iPad mini - which, if shipped, would allow Apple to reach a broader range of price points with high-margin tablets - has been the subject of a few rumors of its own. Suppliers are reportedly working on a 10-million-unit production run for the Fourth Quarter of 2012. This comports with the reports of analysts touring Asia, who reported Apple had ordered 10 million displays sized for a mini-tablet. Not a fan-site given to spreading rumors, The Wall Street Journal reported the as-yet unnamed mini-iPad was in final production and was being readied for launch later this month - perhaps, for shipment around the time Windows 8 devices ship in November. A smaller, lower-resolution, lower-power, smaller-battery tablet produced in outrageous volume could enjoy significant economies of scale and low per-unit production costs, allowing Apple to target aggressive price points difficult for competitors to profitably match.
At present, Apple sells iPhone 5 as fast as it can make units. Stores checked by this author receive units daily, but their entire volume is spoken for upon arrival due to a previous-evening reservation system that fills and closes every night. Pre-release back-orders are still being filled. Apple will likely sell through the holiday season every iPhone 5 it is able to build. Predictions of lackluster iPhone 5 profits are likely to be disappointed.
And Apple is likely to release a new product capable of expanding the reach of iPad products into price points at which Apple has never competed. Recalling how a lower price point impacted iPhone sales in the year it was released, the broadening of the iPad price range seems set to grow tablet sales significantly.
Conclusion
Apple's prospects for outstanding sales appear to have moved from the speculative to the certain as the iPhone launch has broken records (not just at Apple's store, but that of its longtime carrier partner AT&T) for sales and pre-orders. Apple's post-launch price dip offers an attractive long-term entry to an investment whose price has dropped at the same time its prospects have become more attractive. Over the long run, Apple has become cheap: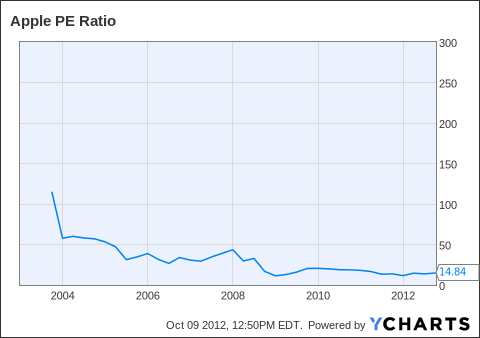 Disclosure: I am long AAPL. I wrote this article myself, and it expresses my own opinions. I am not receiving compensation for it (other than from Seeking Alpha). I have no business relationship with any company whose stock is mentioned in this article.