By Sabina Bhatia
On Aug. 13th, we wrote an article titled "Contrarian Ideas: Hedge Funds Are Buying These Unprofitable REITs." As we get into earnings season, we thought we would tell you more about one of these names, Heath Care REIT (NYSE:HCN). Here we will discuss the fundamentals of the company and if the valuation is attractive for your portfolio.
In terms of valuation, Health Care REIT is trading at $59.88 vs. its 52-week range of $46.50-$62.80, at 15 times the 2013 FFO estimate (a premium to the healthcare group average), and a dividend yield of 5.1%. In comparison, the company's closest competitor HCP Inc. (NYSE:HCP) trades with a dividend yield of 4.4%, and Healthcare Realty Trust (NYSE:HR) trades with a dividend yield of 5.12%. The 5% yield on Health Care REIT is well supported by the fundamentals of the company.
In terms of fundamentals, we see the following positives for the company:
1. The final sale of Sunrise for $130 million has removed the overhang in the stock, as investors sat on the sidelines waiting for the sale to be completed.
2. The 5.1% dividend yield is about 20bps higher than the healthcare industry REIT average. Except for two quarters in 2006, the dividend has consistently increased through the years.
3. The company has taken advantage of the real estate market by ramping up real estate assets in 2011, benefits of which will be seen in the long run.
4. Health Care REIT has a solid balance sheet, with minimal debt maturities in the next three years, minimal lease maturities year over year for the next five years, and financial covenants that are not at any risk of violation.
Risks
One risk of being involved in Health Care REIT is the company's growth plans, which require additional capital. These development plans have also been an overhang on the stock.
The chart below compares share performance over the past year. The letter "E"s mark earnings reports.
Click to enlarge image.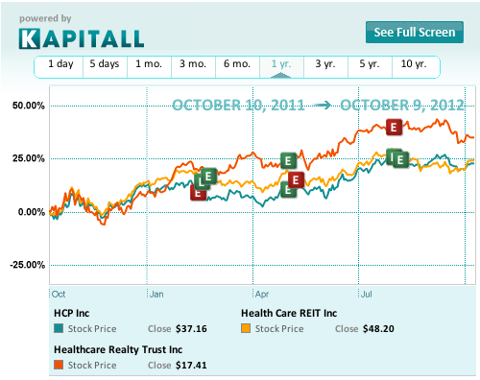 Conclusion
As discussed above, the fundamentals of the company are strong, and several factors that were an overhang on the stock are history. Health Care REIT is a company that deserves an above-average industry valuation going forward.
Disclosure: I have no positions in any stocks mentioned, and no plans to initiate any positions within the next 72 hours. I wrote this article myself, and it expresses my own opinions. I am not receiving compensation for it. I have no business relationship with any company whose stock is mentioned in this article.