Thor Industries (NYSE:THO) grew earnings per share by 27.3% in its fiscal fourth quarter, driven by improved markets for recreational vehicles (RVs) and buses. This manufacturer of RVs, buses, and ambulances achieved a Zacks No. 2 Rank (Buy) on Oct. 4 and offers a dividend yield of 2.0%. The company is expected to deliver double-digit growth in earnings in fiscal 2013 and beyond.
A Promising Fourth Quarter
On Sept. 26, Thor Industries announced fiscal fourth-quarter earnings of 84 cents per share, reflecting a 27.3% increase from 66 cents a year earlier. The result also exceeded the Zacks Consensus Estimate by 7.7%. Revenues of $888.2 million grew 15% from the prior-year quarter, driven by a handsome 18% rise in total RV sales to $769.9 million.
According to the company, results will continue to improve due to strong growth in RV retail sales, right-sized RV dealer inventories, and continued demand for replacement buses. Furthermore, the company's new RV product lines will help it to grow despite strong competition in the market.
Earnings Momentum Rising
Over the last seven days, the Zacks Consensus Estimate for fiscal 2013 has advanced 2.2% to $2.77, driven by upward revisions from two of four estimates. This outlook reflects year-over-year growth of 22.5%.
Escalating Dividends
Thor Industries follows a continuous dividend payment policy with a raise every year. On Sept. 10, the company raised its regular quarterly dividend by 20% to 18 cents per share, up from 15 cents. The new dividend represents a payout ratio of 0.26 and a yield that is higher than its five-year average of 1.4%.
Reasonable Valuation
The valuation for Thor Industries looks reasonable with shares trading at a forward P/E of 13.3 times, a significant 41.2% discount to the peer group average of 22.6 times. However, the price-to-sales ratio of 0.6 is on par with the peer group average. The company also has a one-year ROE of 14.9%, which is much better than its peer group average of 5.2%.
A Glimpse at the Chart
The price and consensus chart shows that the stock is significantly undervalued as the 2011–13 estimate lines are above the price line. This indicates that it has significant opportunities for growth. It reached its 52-week high of $37.85 on Oct. 4.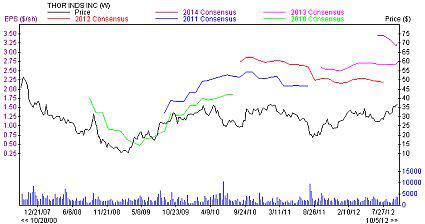 Thor Industries is headquartered in Jackson Center, Ohio. The $1.9 billion company is the world's largest manufacturer of a wide range of recreation vehicles and small and mid-size commercial buses and ambulances in the U.S. and Canada. As of July 31, 2012, the company had 1,600 dealers across the U.S. and Canada.