Since I was a child and we tuned in every week to the Wonderful World of Disney I've had a soft spot in my heart for Walt Disney (NYSE:DIS). But I'm older now and need to leave my fantasy world behind and look at the numbers. After a recent positive earnings report the stock's price has continued its steady upward price climb this chart provided by Barchart shows: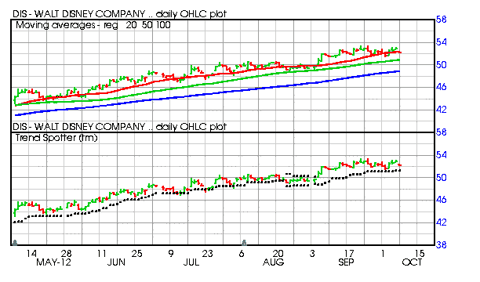 But has the stock held up against the market? During the past year while the market, as measured by the Value Line Index, was up 5%, Disney was up 18%: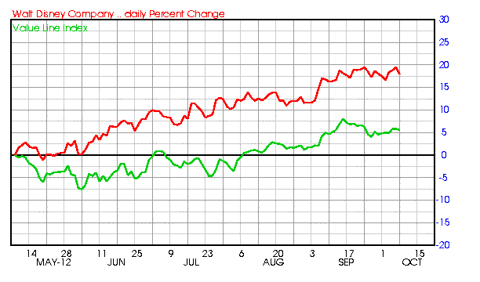 The Walt Disney Company, together with its subsidiaries, operates as an entertainment company worldwide. The company''s Media Networks segment includes broadcast television network, television production and distribution, television stations, broadcast radio networks, radio stations, and publishing and digital operations. The company''s Parks and Resorts segment owns and operates the Walt Disney World Resort in Florida that includes theme parks; resort hotels; a retail, dining, and entertainment complex; a sports complex; conference centers; campgrounds; water parks; and other recreational facilities, as well as the Disneyland Resort in California. This segment also manages and markets the Disney Vacation Club, Disney Cruise Line, the Adventures by Disney, and mixed-use Disney Resort and Spa in Hawaii; manages Disneyland Paris and Hong Kong Disneyland Resort; and licenses the operations of the Tokyo Disneyland Resort in Japan.
Its Studio Entertainment segment produces and acquires live-action and animated motion pictures, direct-to-video content, musical recordings, and live stage plays. The company''s Consumer Products segment licenses Disney characters, and visual and literary properties to manufacturers, retailers, show promoters, and publishers; operates The Disney Store and DisneyStore.com; publishes books and magazines; and operates English language learning centers. Its Disney Interactive Media Group segment creates and delivers Disney-branded entertainment and lifestyle content across interactive media platforms, including online, mobile, and video game consoles. The company was founded in 1923 and is based in Burbank, California.(Yahoo Finance profile)
Factors to consider:
Barchart technical indicators:
56% Barchart technical buy signal
Trend Spotter buy signal
Below its 20 day moving average but above its 50 and 100 day moving average
Up 6 time and 0.93% in the last month
Relative Strength Index 53.73
Barchart computes a technical support level at 52.57 ( note the price is now slightly below its technical support level)
Recently traded at 52.24 with a moving average of 50.90
Fundamental factors:
24 Wall Street brokerage firms have assigned 30 analysts to monitor the numbers
They project revenue will increase 3.90% this year and another 5.60% next year
Earnings are estimated to increase by 21.30% this year, an additional 14.00% next year and continue to increase by an annual rate of 12.43% over the next 5 years
Analysts think if they are correct investors could see a total annual return in the 8% - 10% range over the next 5 years - The stock enjoyed a 59% total return over the last 5 years
P/E ratio is 17.66 compared to the 15.30 P/E of the market
Dividend rate of 1.14% is around 20% of projected earnings and below the 2.30% dividend rate of the market
Financial Strength is A++
Increases in revenue fall faster to the bottom line because of the high fixed cost the company has in studios, parks and cruise lines
The fastest earnings growth was from the studio and product licensing divisions
Disney has doubled the passenger capacity on its cruise lines
Investor interest:
Wall Street analysts issued 5 strong buy, 13 buy and 12 hold recommendations to their clients
TheStreet rates this an A+ stock
The individual readers of Motley Fool are a good gauge of individual investor sentiment and 5,406 reader gave the stock a 94% confidence vote to beat the market
Firms with positive reports are Zacks, Bank of America and Wells Financial Advisors
Columnists with kind articles include Chris Davis, Jim Jubak, Bill Nygren, John Rogers and Jim Cramer
Competition:
The market always has the final say and Disney was up 60% in the past year while NewsCorp (NASDAQ:NWSA) was up 15%, Time Warner (NYSE:TWX) was up 43% and Viacom (NYSE:VIA) was up 12%: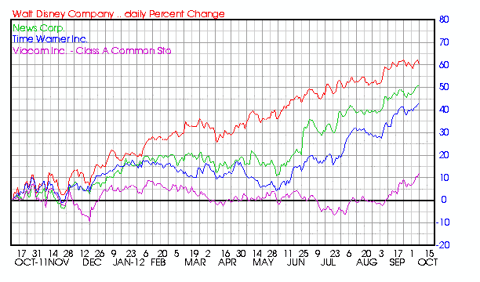 Conclusion: Walt Disney has always been and continues to be a class act. Both the Disney products and the Disney stock is high quality. This would be a fine addition to any self directed IRA that is on a dividend reinvestment program. Do not wait for a dip on this stock to get in. I think if you review both the moving averages and the turtle channels provided below you will agree: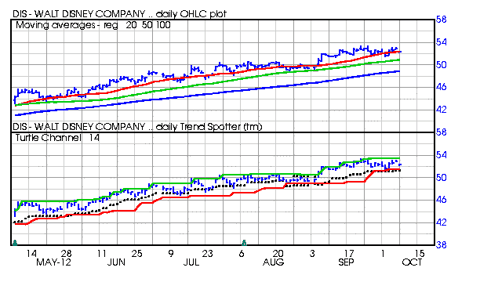 Disclosure: I have no positions in any stocks mentioned, and no plans to initiate any positions within the next 72 hours. I wrote this article myself, and it expresses my own opinions. I am not receiving compensation for it (other than from Seeking Alpha). I have no business relationship with any company whose stock is mentioned in this article.