Wells Fargo (NYSE:WFC) reports earnings on Friday morning October 12th, before the open with analyst consensus expecting $0.87 in earnings pre share on $21.56 billion in revenues for expected year-over-year growth of 20% and 9% respectively.
Wells Fargo's stock is up about 29% year-to-date (YTD) as this is being written, better than JPMorgan's (NYSE:JPM) 25% YTD return. (JPM will also be reporting Friday morning and given JPM's cache' could steal some of WFC's thunder.)
The key to WFC is the mortgage business, and it is hard to imagine a greater tailwind than 3.50%, record low mortgage rates and a recovery occurring in housing. Credit Suisse is expecting a 27% sequential improvement in mortgage banking rev's driven by an 11% increase in mortgage volumes. (Note, that is a 27% sequential increase ... )
9% revenue year-over-year revenue growth for a bank post Dodd-Frank is pretty impressive in our opinion, given that Q3 '12 revenue growth for the S&P 500 as a whole (per ThomsonReuters) is expected to be down 1%, and for financials, to be up 1% - 2%.
Credit quality is expected to continue to improve as non-performing assets are expected to decline 7% sequentially (per one estimate).
Unlike a lot of banks, WFC is trading at 1.5(x) tangible book, versus a number of other banks still below tangible book, but that is still not a pricey valuation.
Current earnings per share estimates for WFC are $3.32 and $3.67 for '12 and '13, with expected earnings growth of 18% and 10% respectively.
Here is the trend in EPS estimates for WFC for 2012 (first column) and 2013:
Oct 8th: $3.32 and $3.67 (current)

Sep30'12: $3.32 and $3.66

Jul31'12: $3.31 AND $3.66

Apr30'12:$3.28 and $3.68

jan31'12: $3.21 and $3.62

Oct31'11: $3.24 and $3.58
Expected revenue growth in 2012 and '13 is 5% and 0% respectively.
At 10(x) earnings and with a 2.5% dividend yield, I'm surprised the stock has not done better in an uncertain, slow growth economy. With the Wachovia acquisition, WFC is now one of the 4 biggest banks in the U.S. in terms of deposit gathering, which is substantial low-cost source of funding for the bank, and a huge competitive advantage. Along with its 1/3rd mortgage origination market share, WFC has significant barriers to entry and market share size in the right products today, without the Dodd-Frank constrained capital markets dominance.
A trade above the '07 - '08 highs of $37 - $38 could be bought as well as a drop below $30. Right now the stock is simply stuck in the middle of a trading zone technically.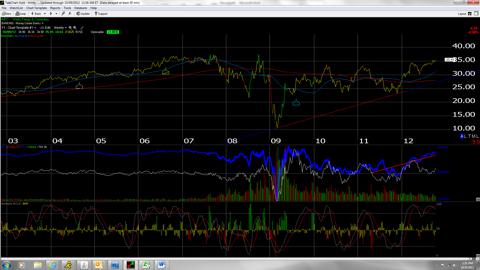 Click to enlarge
(Click to enlarge)
Disclosure: I am long WFC, JPM. I wrote this article myself, and it expresses my own opinions. I am not receiving compensation for it (other than from Seeking Alpha). I have no business relationship with any company whose stock is mentioned in this article.