Friday's positive non-farm payroll (NFP) report showed that the U.S. labor market has remained within the range of the "muddle-through" economy, with a revision of August numbers to +142K, and +114K new jobs created in September. Unemployment dropped to 7.8%, while participation ticked up slightly to 63.6% (still hovering at historical lows).
The chart below shows the 3-month change in NFP (total) and the SP 500. It suggests that equities were somewhat right in rising ahead of the latest improvement of the news flow.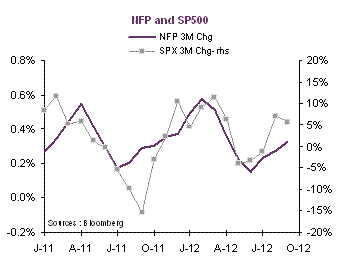 This also shows that the SP500 is highly cyclical and well-correlated with the U.S. economy. The correlation between SP500 and Brent, however, shows that there is something happening in the commodities market. The normally positive correlation has become negative in the last few weeks.
(click images to enlarge)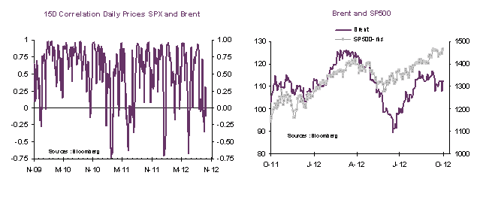 Brent has recently dropped from its August highs, while the SP500 has continued to rise. The post-QE3 correlation convergence has not materialized, or at least did not last. It looks like both markets are driven largely by idiosyncratic factors. The question now is whether those are strong enough to accentuate the divergence.
Even if the economic news flow is becoming better in the U.S., listed companies may face the headwinds of lower EPS forward guidance in the next few weeks. For now, the U.S. stock market seems to have isolated itself from emerging indices, but this may not last if the deceleration in global trade translates into lower earnings.
Oil prices could have benefited from a QE3-implied weaker dollar, but the DXY has proven resilient and the correlation Brent/USD has turned positive.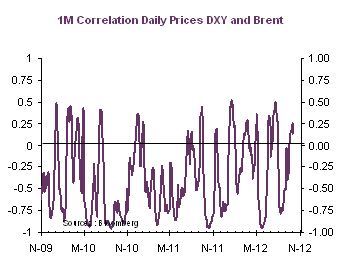 Brent prices are much more about demand and, above all, supply. However, other countries like Saudi Arabia and Iraq have stepped up to boost oil production to continue to keep oil range-bound. In addition, China's slowdown has led to a drop in oil demand in August, meaning at least some of the supply will have to be redistributed among other countries.
Brent may converge on the upside towards equity prices in the short run, mostly driven by geo-political risk.
But the IMF said today that the risks for global growth are on the downside. If it is right, expectations for U.S. forward EPS should follow suit. This is a pretty bad omen for a year-end rally.
(click images to enlarge)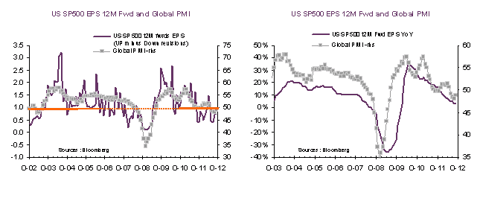 Disclosure: I have no positions in any stocks mentioned, and no plans to initiate any positions within the next 72 hours. I wrote this article myself, and it expresses my own opinions. I am not receiving compensation for it (other than from Seeking Alpha). I have no business relationship with any company whose stock is mentioned in this article.