Everyone knows earnings season can be a very risky time for shareholders, especially in the current environment. So far, Hewlett-Packard's (NYSE:HPQ) October 4 analyst call was very disappointing, and FedEx's (NYSE:FDX) was rather lack luster as well. Since these announcements, shares in both companies have dropped quite a bit: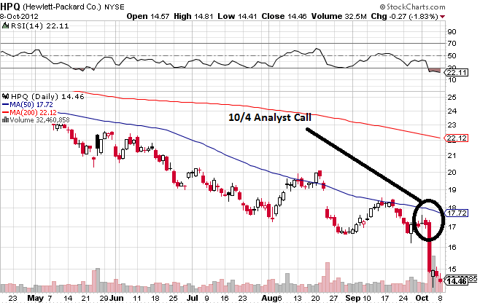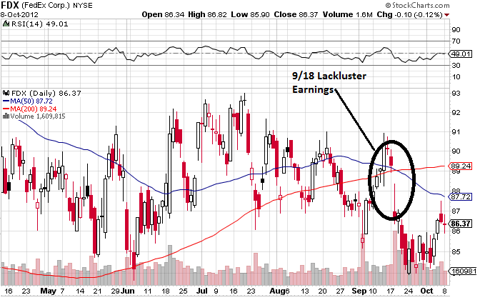 Are these events just a taste of more to come? Some think so. Many experts are forecasting a pullback in stocks as more companies report results and possibly reduce expectations for the 4th quarter, and possibly for 2013. In fact, according to Thomson Reuters, "91 companies in the S&P 500 have issued negative outlooks versus 21 positive pre-announcements, for a ratio of 4.3, the weakest showing since the third quarter of 2001."
On the flip side, a few respected analysts are thinking the bullish trend will continue through 2012, and many companies could report positive earnings results due to reduced expectations. John Manley, an equity strategist for Wells Fargo (NYSE:WFC) in New York, said companies will find it hard to disappoint, and "surprises will have a more positive than negative look." Clearly, there is some conflicting opinions and much uncertainty.
Regardless which outlook is correct, some companies are bound to disappoint- it's nearly a fact of life at this point. As investors, one of the best ways to safeguard our investments against a pullback or correction this earnings season is to use hedges. These hedges will profit if the market goes down, resulting in gains which serve to counteract losses from long positions. My personal preference is to buy put spreads in the SPDR S&P 500 (NYSEARCA:SPY), an ETF which mimics the S&P 500. These put spreads will attempt to harness a pullback this earnings season:
The Trade:
SPY is currently trading @ 145.64/share
Buy to open the SPY Nov 17 2011 146 strike for 2.75
Sell to open the SPY Nov 17 2011 141 strike for 1.21
For a low cost of $154/spread, we can cushion the blow of a pullback in the S&P 500 ranging from about 1% to about 3.2%.
| | |
| --- | --- |
| Net Cost | 1.54 |
| Max Loss | 154$ |
| Break Even | 144.46/share, or a -.81% drop in shares |
| Max Protection | 141/share, or a -3.186% drop in shares |
| Max Gain Potential | $346, or 224% |
A pullback this small could be very likely judging from the disappointments from bellwethers HPQ and FDX, as well as some analysts opinions. Just a few of these put spreads could offset losses for a net long portfolio in the event of a pullback, at a relatively low cost. Also, I feel the value of this spread is advantageous, especially considering its large ROI metric of 224%. Perhaps you should ask yourself, how much is a good night's sleep worth? Rather than selling off some profitable positions YTD, using this simple hedge could warrant a continued hold. If the market continutes to the upside, gains from these long positions should offset the cost of this spread.
I am currently long a similar version of this spread, but I used the December contracts, which protects my portfolio for a bit longer than the November options. If you are worried of a more gradual pullback, these could be a viable choice as well.
Disclosure: I have no positions in any stocks mentioned, and no plans to initiate any positions within the next 72 hours. I wrote this article myself, and it expresses my own opinions. I am not receiving compensation for it (other than from Seeking Alpha). I have no business relationship with any company whose stock is mentioned in this article.
Additional disclosure: I am long December put spreads