By: Brendan Gilmartin
Citigroup (C) is scheduled to report 3Q 2012 earnings before the opening bell on Monday, October 15. The results are expected to come through at approximately 8:00 a.m. EST with a conference call to follow at 11:00 a.m. Citigroup has the potential to impact the broader market indices, including the S&P Index Futures and corresponding ETFs.

Citigroup is expected to post earnings of $0.96 per share (

low

: $0.88 / h

igh

: $1.09). Revenues are forecast to come in at $18.74 bln, a 10% decline from the year-ago period. (Source:

Yahoo

Finance)
Citigroup shares are currently trading at a steep discount to tangible book value of $51.80 per share (as of 2Q 2012).

Recent News
10/02: Keefe Bruyette & Woods upgraded Citigroup from Market Perform to Outperform and raised the price target from $40 to $44, according to a report on StreetInsider.com. The firm cited improving capital ratios and the unwinding of Citi Holdings. The 3Q EPS estimate was raised from $0.84 to $0.89.
10/01: Sterne Agee downgraded Citigroup from Buy to Neutral, according to a report on Benzinga.com. The firm noted that the shares have risen 30% off the July nadir, paving the way for downside risk in the intermediate-term. Volatility in Europe, currency fluctuation, and uncertainty related to regulatory reform were other factors contributing to the downgrade.
09/20: UBS cut Citigroup from Buy to Neutral, citing a less compelling risk/reward scenario with the shares up more than 30% since July, according to a post on StreetInsider.com. Furthermore, recent central bank actions are not expected to boost the upside.
09/11: Morgan Stanley (NYSE:MS) and Citigroup reached an agreement for Morgan Stanley to purchase Citi's 14% stake in Morgan Stanley Smith Barney Holdings LLC (MSSB), for $13.5 bln. Citigroup shares rallied 2.61% on the day the news broke.

Technical Review
Citigroup shares are up more than 35% off the June lows, mirroring the gains of several of its peers, including JP Morgan Chase and Wells Fargo. Earnings from JP Morgan and Wells Fargo that previous Friday could influence the direction in Citigroup shares. Should results surprise to the upside, as the Street seems to be indicating, initial resistance is at $35.00 - a level it struggled to hold in the past several weeks. Beyond that is long-term resistance at $37.50. Conversely, support is at the 20-Day SMA near $34.00, with downside risk to $32.00, and the 50-Day SMA near $31.00. (Chart courtesy of StockCharts.com)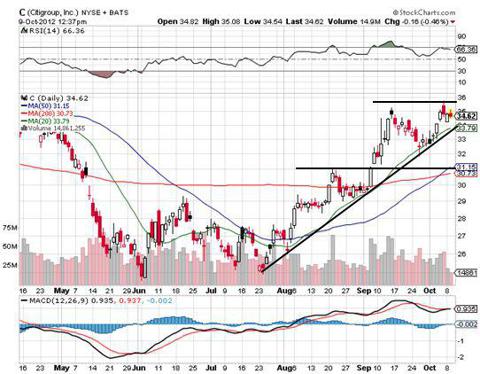 Click to enlarge
Summary
Citigroup shares have been rallying over the past several months, benefiting from the unwinding of Citi Holdings, the sale of its remaining 14% stake in Morgan Stanley Smith Barney Holdings LLC (MSSB) for $13.5 bln, the Federal Reserve's efforts to boost the sagging U.S. economy, and an improvement in the housing market. Citigroup is also trading at a steep discount to tangible book value of $51.80. But with the stock up more than 35% over the past four months, the bar is set pretty high ahead of the 3Q 2012 earnings release. Other risks include European exposure, current headwinds, and the impact of expanded regulations. Against this backdrop, Citigroup needs to deliver earnings toward the higher end of consensus (estimate is $0.96; high forecast is $1.09) with revenue near the top of the range (estimate: $18.47 bln) in order to extend the recent advance.
DISCLAIMER: By using this report, you acknowledge that Selerity, Inc. is in no way liable for losses or gains arising out of commentary, analysis, and or data in this report. Your investment decisions and recommendations are made entirely at your discretion. Selerity does not own securities in companies that they write about, is not an investment adviser, and the content contained herein is not an endorsement to buy or sell any securities. No content published as part of this report constitutes a recommendation that any particular investment, security, portfolio of securities, transaction or investment strategy is suitable for any specific person.
Disclosure: I have no positions in any stocks mentioned, and no plans to initiate any positions within the next 72 hours. I wrote this article myself, and it expresses my own opinions. I am not receiving compensation for it (other than from Seeking Alpha). I have no business relationship with any company whose stock is mentioned in this article.