SILVER
Over the past three decades, gold, oil and baskets of commodities in general have vastly outperformed silver, the market that is catapulted higher or suppressed with little volume. Now, with QE infinity, it is the former scenario in-play now. Hence, the focus on timing and the analysis which follows a review of fundamentals that includes the news out of China today.
Financially, central bankers have been supporting gold this year on the growing awareness of unfolding and relatively soon-to-be-enforced reserve requirements that call for greater holdings in gold. Bankers have had no choice, even as the media and investment community have not focused on this developing regulatory story.
Economically, the global demand for solar panels as we move into an environmentally challenged future, can help overwhelm the world's silver supply. This economic need alone, notwithstanding technological and medical advancements that benefit from the greater efficiency that silver offers, can sustain much higher prices, whether the investment public has fully appreciated these factors or not.
Meanwhile, the output capacity of the metal cannot keep pace with the industrial demands that range from solar panels to batteries, cameras and medical equipment. Therefore, declining silver output and the increasing annual shortfall in meeting global demand suggest sustained higher price levels for which investors are not positioned, as the technical reality of suppressed prices has had the effect of dissuading those who simplistically find the metal's price too volatile.
So, while QE Infinity is the game changing event that makes it safer for non-commodity investors to save and invest in silver, it may be the news out of China this week that will have put in the pre-acceleration low. The Chinese pumped about $50B into the financial system last night, so risk seems to be on, certainly over there. Not surprisingly, then, iron ore prices have risen 14% in two days, bolstering steel prices, as the Chinese build empty cities to support the economy.
So, silver's relationship to its economic sensitivity is being bolstered, while the Basel rules are a major underpinning from the side of financial demand, insofar as its gold cousin is concerned.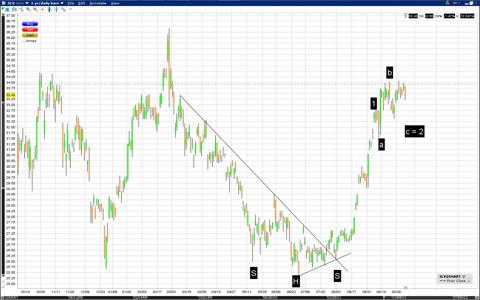 Click to enlarge
The acceleration pattern repeatedly forecast in SKGS is unfolding now, including a quick shakeout within it, as per the implication of the 1-year SLV Elliott Wave chart's annotations, immediately above.
My forecast, then, has been a spike SLV shakeout that will have rid the market of late-coming retailers, within an ongoing streaking pattern that technicians can't easily interpret, since the Waves are obscured by the SLV pattern's speed. Therefore, esoteric tools, which include premium analysis of indices and individual options, have been essential in identifying buy points in the SLV.
The Long Term Silver Technical Analysis report written for Gold-Eagle contains secular and long term technical analyses and, along with the most recent reports, it provides the context for this article. This post-Bernanke-rally's shakeout will also have been consistent with the form of the past decade's corrections and major precious metals turning points.
Option volatility premiums are at lows, just as this streaking pattern prepares to accelerate. So, catching this flush-out can materially help with one's otherwise underperforming year. In my July 1, 2012 monthly report, I wrote, "The market could be stunned to discover how quickly the SLV rallies to $39."
With all of the above fundamentals in place, and Elliott patterns and volatility premiums identifying a low perhaps as early as today, the acceleration in the SLV may get underway and, due to the lows in those call time premiums, the biggest SLV profits may lie directly ahead.
GOLD
One of several charts supporting the forecast for lows in silver call premiums is the 1-year gold volatility chart below. As regards this metal's corresponding flush-out, gold could take a relatively fast $45 hit, from recent highs to a bottom this week, to get the talking heads going, and panic-out from the GLD those late-coming retailers who will have listened to them.
Again, regarding both precious metals, option time premium (i.e. VXSLV, GVZ) analysis has helped identify buy points in the underlying, as the spiking price patterns have obscured where new positions could enter. Apart from helping time purchases of the underlying securities, the option premiums have suggested two things:
Firstly, that the price peaks are nowhere close to completed. Secondly, that those who missed the lows this summer can "get even", without getting mad, by buying leverage at premium lows, just as accelerations in the underlying are getting underway!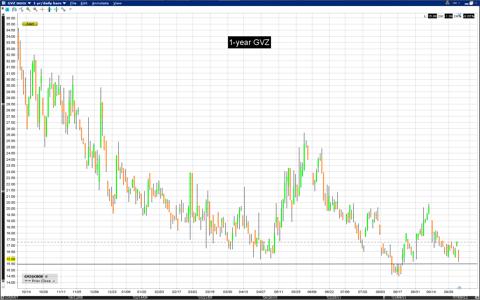 Click to enlarge
Meanwhile, for both gold and silver, the reversal in bonds is freeing up plenty of global fear-capital, since it was such capital that had flown into US paper in the first place.
Remember, it takes a tiny fraction of what is exiting bonds to drive silver and gold to their more lofty targets, so we are watching silver's streaking pattern with an eye on volatility indicators.
Disclosure: I am long SLV, GLD. I wrote this article myself, and it expresses my own opinions. I am not receiving compensation for it. I have no business relationship with any company whose stock is mentioned in this article.