Linn Energy, founded in 2003, is an independent oil and natural-gas company that has been aggressively acquiring oil and gas properties as of late. The company announced roughly $2.8 billion worth of acquisitions and joint-venture agreements this year alone. Its recent acquisitions are expected to add roughly 300MMcfe/d of production and increase total reserves by 1.7 Tcfe to 5.1 Tcfe. Its management has an uncanny ability to spot great deals, and we feel that given its track record, this company makes for a good long-term investment. It does not hurt that the company also sports a splendid yield of 7% and has increased distribution payments over 70% since going public. We favor Linn Energy as a good long-term investment for the following reasons:
It sports a top-notch management, which increased production in 2011 by 30% and has set a target of increasing production by another 40% for 2012. The company has a great commodity hedging program in place. Natural gas production is hedged for six years through 2017, and expected oil production is hedged for five years through 2016. Management wants to double natural-gas production to over 800 million cubic feet of gas equivalent per day.
Management updated its third quarter and full-year guidance. EBITDA guidance was raised from $1.35 billion to $1.36 billion.
Linn Energy's fully owned subsidiary LinnCo LLC plans to issue 30.25 million shares in its initial Public offering, which is expected to raise $1 billion. It will hold no other assets other than Linn Energy units. This will allow many tax exempt institutions that cannot buy into a MLP with the chance to get into Linn Energy. LinnCo plans to use the proceeds from the offering to buy Linn Energy units with the proceeds from the offering. Linn Energy stated that they would use these proceeds to pay down outstanding debt under their credit revolving facility.
Additional reasons to consider Linn Energy (LINE)
Management announced approximately $2.8 billion in acquisitions and joint venture agreements. Some of the acquisitions and joint-ventures announced are listed below.
$400 million joint-venture agreement with Anadarko in the carbon dioxide enhanced recovery development of the salt Creek field in Wyoming.
$1.2 billion acquisition from BP plc (NYSE:BP) for the properties in the Kansas Hugoton field.
It acquired the Jonah Field properties in the Green River Basin of Wyoming from BP for $1.025 billion.
It paid $175 million to acquire the Overton Field properties in Texas.
Management will continue to look aggressively for new deals that add to the bottom line.
Chief Executive Mark Ellis told Reuters that Linn would spend up to $2 billion on acquisitions every year. "Linn has grown by acquiring producing assets," said Eliecer Palacios, an energy sector specialist at investment bank Maxim Group."Their interest is in generating cash flow from these assets and distributing it back to shareholders," he said.
The company sports a handsome yield of 7.00% and has increased its distribution payments by more than 70% since going public. It has a payout ratio of 59%, which still leaves it plenty of room to increase future distributions.
The company increased cash distributions by an additional 5% for the 3rd consecutive year.
It achieved the following milestones in the 2nd quarter
It increased adjusted EBITDA 21% to $319 million from $264 million compared to the same period one year ago.
Daily average production increased by 76% to 630MMcfe/d (million cubic feet of gas equivalent per day) from 358MMcfe/d compared to the same period one year ago.
Lease operating expenses were reduced 29% to $1.33 per Mcfe from $1.73 per Mcfe compared to the same period one year ago.
The company completed three Hogshooter wells with average production rates

o

2, 500 barrels of oil, 500 barrels of natural-gas liquids and 3MMcf/d of natural gas per well.
Technical outlook
The stock has put in a series of new 52-week highs and is currently trading close to those highs. From a technical perspective, the stock is rather overbought at the moment. Consider waiting for a pullback to the $38.50-$39.00 before jumping in. Alternatively, you can consider selling puts at strikes you would not mind owning the stock at. With this strategy, you can at least earn some money in the event the shares are not assigned to your account.
Linn Energy versus the competition
Linn Energy is compared with Anadarko Petroleum Corporation (NYSE:APC), Forest Oil Corporation (NYSE:FST) and Pioneer Natural Resources (NYSE:PXD).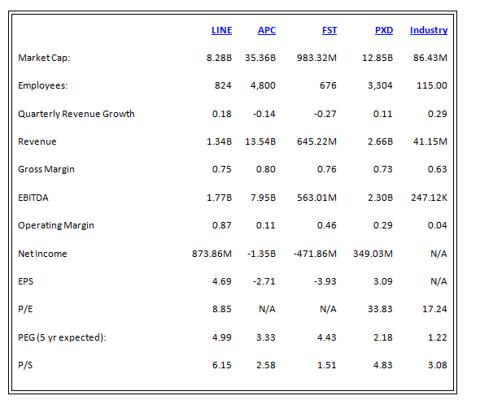 Charts and data of interest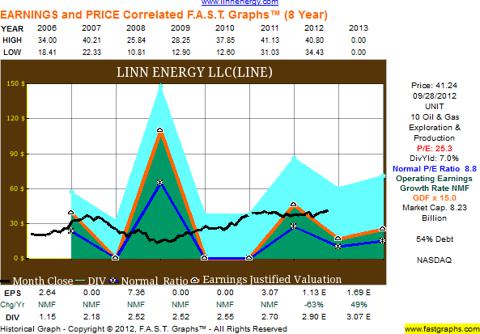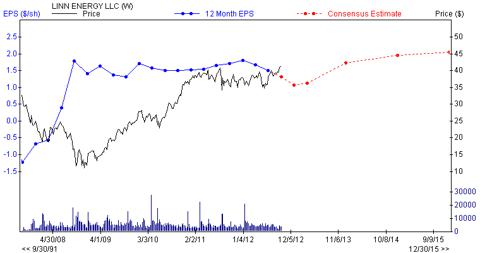 When the price is trading above the EPS consensus line, it tends to trend higher and vice versa. It has just managed to pop above this line, and so it should continue trending higher.
Conclusion
This is a great long term play to own. It has one of the best management teams in the industry. They have a track record of spotting and landing good deals and an excellent hedge book program. As the stock is overbought, consider waiting for a pullback before jumping in.
EPS charts obtained from zacks.com. Research data such as acquisitions, 2nd quarter highlights and joint-ventures obtained from linnenergy.com.
Disclaimer
It is imperative that you do your due diligence and then determine if the above strategy meets with your risk tolerance levels. The Latin maxim caveat emptor applies-let the buyer beware.
Disclosure: I have no positions in any stocks mentioned, and no plans to initiate any positions within the next 72 hours.
Business relationship disclosure: This article was prepared for Tactical Investor by one of our analysts. We have not received any compensation for expressing the recommendations in this article. We have no business relationships with any of the companies mentioned in this article.