Pharmaceutical companies Questcor (QCOR) and Spectrum (NASDAQ:SPPI) have fallen hard in the third quarter of 2012. Spectrum's descent was a bit of a surprise after a sterling Q2 earnings report. Questcor's was a traumatic plummet from lofty heights, but as predictable as winter rain -- the result of bad news pouring over worse news regarding the viability of its only real income producing product, H. P. Acthar.
Both companies have startling similarities -- small caps of relatively the same size; low P/E ratios; attractive percentages in all that matters regarding return on assets, equity and investments; strong analyst recommendations; and one other dubious distinction. Only two biotechnology companies reside in the Top 25 list of most shorted stocks -- Spectrum at No. 2 and Questcor at No.13. And if Spectrum's history over the past several months has taught us anything, it's that shaking the shorts is hard to do.
The critics argue in rattling mania that Spectrum's downfall is as imminent as their next quarterly report. The trap door, or so they argue, is generic leucovorin, which when in plentiful supply, will undermine Spectrum's highest income producing product, Fusilev. This will happen, they tell us, because of the vast difference in price between the two. Fortunately for Spectrum, this myth is beginning to fade away due to two important phenomena -- President Dr. Rajesh Shrotriya's tireless efforts to educate investors and Fusilev's indisputable quarterly growth.
(click images to enlarge)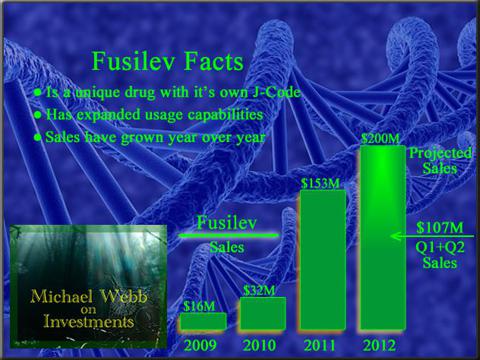 In addition to the yearly sales growth of Fusilev, made clear in the chart above, Dr. Rajesh Shrotriya has made numerous public appearances to defend Fusilev against what he believes are baseless attacks. Some of the points he makes are as follows:
Fusilev is the only branded folate analog approved for the treatment of advanced colorectal cancer. It is a pure isomer.
Fusilev has its own J-Code ascribed to it by the FDA, identifying it as a unique drug and enabling physicians to obtain expedited reimbursement.
Generic leucovorin is not generic Fusilev.
There are less grade three and four toxicities in Fusilev than are found in generic leucovorin.
Colorectal cancer is the third most diagnosed form of cancer, and the second greatest cause of cancer deaths.
Survival rates are extended by nearly two months when using Fusilev as opposed to leucovorin.
Spectrum has the exclusive rights to sell Fusilev in North America.
Generic leucovorin is frequently recalled due to product impurities -- the most recent involving Bedford Laboratories in July of this year. Apparently, there were visible crystalline particles floating in two shipped lots.
Leucovorin recalls are injurious to patients and frustrating to physicians who must, often in mid-therapy, prescribe other medications. Leucovorin recalls, however, will not go away. By its very nature, the product contains impurities, and miniscule profit margins to manufacturers are a disincentive to produce more.
These facts clearly show that Fusilev will not be adversely impacted by leucovorin production. If you were a doctor, what drug would you prescribe to your patient? And heaven forbid, if you were a patient, what drug would you want injected into your body?
Questcor's dilemma is different in that the drug at the center of its controversy is its flagship and only real money maker, H. P. Acthar. The sky dive that began when the stock was at $51 a share made landfall at $19. There was a news report lowering revenue expectations, a government investigation into marketing practices, a major insurer (Aetna) reducing reimbursement to only one approved treatment (Infantile Spasms), and a cascade of law firms seeking out injured stock holders for legal compensation. Such a terrible run of bad news put fear in the heart of shareholders, who then sold their stock in a frantic run from perceived doom. But is fear a good decision making motivator? It can be, if the fear is justified.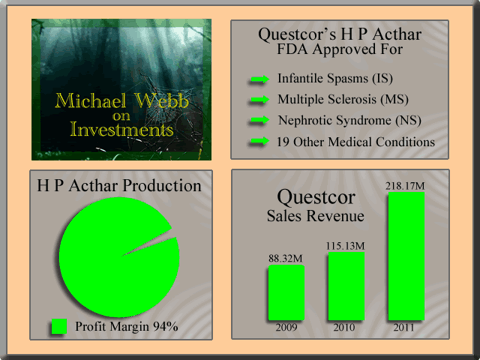 Sales of any product fluctuate, and sometimes, they go down. A company that divulges this information is to be praised, not criticized.
Government investigations into the marketing practices of product manufacturers are not uncommon and rarely lead to significant penalties.
Aetna's decision, which is presently under internal review, is unfortunate for Questcor, Questcor shareholders, patients who use Acthar for anything other than Infantile Spasms, and for physicians who prescribe Acthar for other FDA approved treatments. This is especially true in light of United Healthcare's Oxford Policy update, which recently declared virtually every FDA approved use of Acthar as "medically necessary." That language should ring in the ears of every insurance company that dares contemplate similar action to Aetna. Aetna would do well to carefully review its position in terms of all possible ramifications, including any legal ones that Questcor might pursue.
And finally, there are the injured stock holders. In lieu of our brotherhood, I will pass on that one for now.
Questcor's stock is beginning to bounce back. Spectrum's is not. Why? Well, both Spectrum and Questcor took action to support shareholder value by initiating buybacks of their own shares. While Spectrum bought back one million shares, Questcor is buying back seven million. And although by comparison Questcor looks generous, the real difference is in Questcor's authorizing of a .20 dividend on all shares purchased up until October 31, 2012. Although it is a temporary dividend, which will be reconsidered in the future, this effectively penalizes short sellers because they have to pay the dividend upon consummation of the transaction. Brilliant!
In conclusion, an undervalued stock in the grip of short sellers needs a boost to shake itself free. I'm bullish on both Spectrum and Questcor. However, although Spectrum gets credit for educating the public on the viability of its product and for buying back its own shares, it would do well to initiate a temporary dividend as well. Because it seems the only way to shake the shorts is to make them pay to play.
Disclosure: I am long SPPI, and I plan to initiate a long position in QCOR within 72 hours. I wrote this article myself, and it expresses my own opinions. I am not receiving compensation for it (other than from Seeking Alpha). I have no business relationship with any company whose stock is mentioned in this article.