I hesitated for a while, thinking, if I am going to write this, it will sound like "your daily dose of Amazon (NASDAQ:AMZN) bad news". But here I am. I couldn't hold it any more after another piece of news fell on my doorstep. So here we go.
Google (NASDAQ:GOOG) may be preparing 10" Nexus tablet with Samsung
This is not entirely unexpected. After launching the 7" Nexus 7 tablet, and knowing that Apple (NASDAQ:AAPL) is about to bring competition down to that segment with a mini-iPad, it's only natural that Google would choose to fight in the larger 10" segment as well.
This rumor is brought by Richard Shim, analyst at NPD DisplaySearch. If Google is to launch this device, one can expect that it will price it competitively not only against Apple's iPad, but also against Amazon's Kindle Fire 8.9" HD - which, as we've seen before, isn't selling too well (still lingering down in 16th on Amazon's best seller list).
More importantly, Google might still be thinking of launching a $99 tablet
I had already talked about this, but found it rather unbelievable. Yet, in the same piece of news about Google's 10" device, the $99 tablet is said to be in the works:
"It's going to be a high-end device," Shim said -- in contrast with Google's $199 Nexus 7 and upcoming $99 tablet.

…

Shim also confirmed that Google will start production on a $99 tablet in December.
A $99 tablet would truly be a problem for Amazon. Amazon can't afford to lose $50 per tablet and sell millions of tablets. Google can, but Amazon simply can't.
Here's where Amazon earnings went
In another interesting piece of news, we got quantification for something about which I had already warned: that Amazon's video foray, through its Prime membership, had significant content costs without carrying with it any increased revenues (for existing Prime members). Courtesy of Barclays we get some sense of just how much cost:
Amazon does not disclose how much it pays for content. Barclays analyst Anthony DiClemente estimates that Amazon spends about $1 billion a year on content for its streaming service while Netflix spends close to $2 billion a year.
$1 billion per year. Sure, some of it might have attracted new Prime members, but the existing base got this video without paying a single marginal dollar more. So there you go, $1 billion dollars in costs, for a company which earned a net $377 million in the last 12 months. This video venture was probably the main reason why Amazon's earnings chart looks like this in the last 5 years: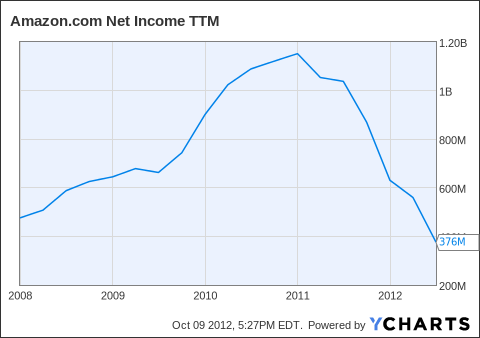 AMZN Net Income TTM data by YCharts
New cheap e-reader hits Europe
In a final burst of Amazon news, Txtr, a company backed by 3M (NYSE:MMM), announced the Txtr Beagle. As we all know, Amazon is the king of the cheap e-reader, with its own $69 ad-supported Kindle. So how much is this Txtr Beagle supposed to cost? €9.90 ($12.88 USD). Txtr is counting on mobile carrier subsidization with this move, but on the other hand is willing to share e-book revenues with the mobile carriers.
If this is to reach U.S. shore, then Amazon might again be presented either with the need to heavily subsidize its own readers, or giving a share of its e-book revenues to mobile carriers as well. This might be significant (not that Amazon needs any more margin worries).
Conclusion
At this point, Amazon:
Is wildly overvalued at 353 times estimated 2012 earnings;
Continues to see plunging earnings and plunging earnings estimates;
Is being forced to collect sales taxes in more jurisdictions (Texas in July, California in September), eliminating one of its main advantages over bricks & mortar stores;
Is being forced to fight established leaders such as Netflix (NASDAQ:NFLX), Google and Apple due to a transition in media sales from physical distribution towards digital distribution, whose main mode of buying will be through OS-integrated stores;
And now is even forced to fight new low-cost, subsidized, entrants in its e-book bastion.
This is not the kind of thing you expect to see in a stock which trades at a huge premium to every other large cap in the market. Sooner or later, Amazon is going to be taken to the woodshed. Amazon is a clear short.
Disclosure: I am short AMZN. I wrote this article myself, and it expresses my own opinions. I am not receiving compensation for it (other than from Seeking Alpha). I have no business relationship with any company whose stock is mentioned in this article.