When Cliff Natural Resources (NYSE:CLF) was last discussed as being close to finding a bottom on September 4, shares were trading at around $39. Shares managed to peak at $45.50 on September 14, after China announced another stimulus package. The U.S. also announced a monetary stimulus policy the day before, which would guarantee unlimited intervention until the economy improved. Companies like Alpha Natural Resources (ANR) also traded sharply higher. It rallied 12%, while Rio Tinto (NYSE:RIO) moved up 8%. Rio Tinto peaked as high as 23% from its bottom at $43 in August. These companies all have since given back much of their gains: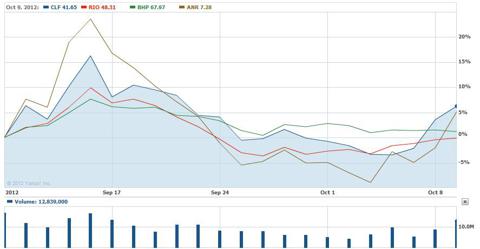 (Chart Source: Yahoo Finance)
Recent stimulus programme announcements by Europe and in Japan helped Cliff rally once again. Longer-term, there are a number of reasons to remain positive on Cliff shares. A number of positive events took place that support further upside for Cliff shares:
Positives
The People's Republic of China stimulated its economy by injecting money markets with 265B yuan on October 9. Using reverse repurchase agreements, the money market rate in China would drop, which would then lower corporate financing costs.
Iron Ore prices for delivery in China rose to $110.40 per ton as at October 6, well above the $99.25 per ton on September 13.
Iron Ore inventory is on the decline, which will be helped by BHP Billiton's (NYSE:BHP) plans to reduce production.
Risks
Despite the recent surge in iron ore prices, risks remain. When Cliff Natural Resources reported its second quarter earnings, the company was forecasting $115 to $120 per ton for iron ore. Seabourne iron ore spot prices were forecast to be $145 per ton delivered to China.
Competitor Rio Tinto was not certain about the positive impact of China's stimulus plans. The company expected growth in China would be lower, and responded by accelerating its cost cut plans. Vale (NYSE:VALE) also announced plans to reduce iron pellet production.
The new stimulus programs from China will not help earnings when Cliff reports on October 24, 2012 after the market closes. Investors are at risk of experiencing another sell-off if Cliff disappoints again. When Alcoa (NYSE:AA) reported quarterly earnings, the company lowered its forecast for global aluminum demand by 1% to 6%. Alcoa cited a slowdown in China as negatively impacting the outlook for the rest of the year.
Earnings Estimates
Analysts estimate Cliff Natural Resources will earn $1.14 per share, on a revenue decline of 18.8% year-over-year to $1.74 billion. The earnings estimate ranges from $0.43 to $2.00 per share. Last quarter, Cliff earned $1.81 per diluted share on revenue of $1.6 billion.
Analysts became increasingly bearish on Cliff over the last two months. The number of "Buy" ratings declined by 3 to total 7, while the number of "hold" ratings increased by 5 to 13.
Conclusion
Cliff may be range-bound from between $40 and $45 until October 24, when the company reports quarterly earnings. Investors could implement an options strategy that would lower the average purchase price. Open interest for October 2012 call options are highest at a call price of $42 and $45, at 5,628 and 7,996 respectively. Investors already holding a long position in Cliff are being rewarded a dividend of 6%. The dividend amount is expected to be unchanged, since management remained committed in returning cash to shareholders.
Disclosure: I have no positions in any stocks mentioned, and no plans to initiate any positions within the next 72 hours. I wrote this article myself, and it expresses my own opinions. I am not receiving compensation for it (other than from Seeking Alpha). I have no business relationship with any company whose stock is mentioned in this article.