Just one week after David Einhorn laid out a short case for Chipotle Mexican Grill (NYSE:CMG) based primarily upon increased competition from Yum Brands' (NYSE:YUM) Taco Bell's Cantina menu, YUM reported results that appear to support his thesis. (Note: I wrote a similar short thesis, published on June 27th, when CMG shares were approximately $380. Mr. Einhorn - get in touch if you have an opening at Greenlight.)
Tuesday, YUM reported that Taco Bell same store sales increased 7%, which is a significant number for a chain as large as Taco Bell. Investor's Business Daily directly attributes this to the Cantina menu, though I did not find any specific mention of Cantina in Taco Bell's press release. It seems likely that further information will be provided during the conference call on the morning of October 10th, as analysts (who have peers covering Chipotle) are surely interested in knowing what drove the excellent performance.
Chipotle shares did not react much in after-market trading; as of 7:30 PM, shares were actually up about 1% on very light volume. Trading will be much more active during the regular session on October 10th, and investors will also know more about Cantina's role in Taco Bell's same-store sales growth by mid-morning. If shares react positively, it may indicate that the market expected a bigger bite from Taco Bell; if shares react negatively, they may continue to slide all the way into Chipotle's own earnings announcement next week.
I am still short Chipotle (via puts) based on my prior analysis published in June (part I; part II linked above). I profited off of Chipotle's fall from nearly $400 to below $300 as the market started to price in the threats to Chipotle's business and its premium valuation.
(click to enlarge; source: StockCharts.com)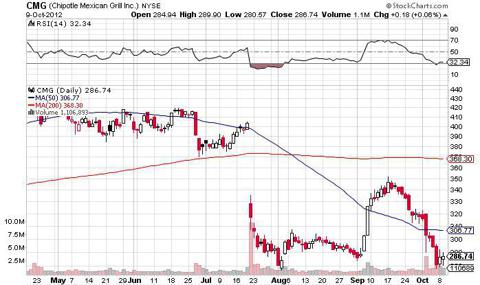 Click to enlarge
As shares jumped back above $300 (without any substantial new positive information) I reentered puts (expiring in November, December, and January), which have now generated paper profits thanks to the market's reaction to Einhorn's call. I plan to hold these puts through Chipotle's earnings on October 18th, as I believe that earnings are likely to miss expectations for the reasons I mentioned in June, as updated below.
One of the threats that I discussed, a promotion by Qdoba, one of Chipotle's main competitors, actually lasted much longer than expected and has a greater potential to jeopardize Chipotle's Q3 results. The promotion was for a $5 or $6 entree (depending on location) and was originally only supposed to run through July 8th, based on the coupon provided to loyalty card holders in June. However, the promotion was extended, first through Memorial Day, and then seemingly indefinitely, until finally ending within the past few weeks, right around the end of Q3 (at least as observed at the Midtown Manhattan location that I frequented). While Chiptole's main competitor offering equivalent food at about 20-30% off for the first week of the quarter may not have been much cause for concern, being undercut for the entire quarter is likelier to have materially affected Chiptole's results.
Though the promotion has now ended, Qdoba continues to incentivize fast-casual Mexican lovers to patronize its stores with its loyalty-card program. The card essentially provides the user with one free entree for every 10 purchased, which may be enough to keep frugal consumers (like me) from drifting back to Chipotle. Chipotle offers no similar benefit at this point. Taco Bell has no loyalty program, but the Cantina items are priced roughly at about a 25% discount to Chipotle items on a daily basis, so consumers without a strong preference for Chipotle's (or Qdoba's) taste don't need much more motivation than that.
Overall, I believe that the Chipotle short thesis is as strong as ever. Its competitors seem to be waging all-out war by slashing prices and improving offerings. The effects of Chipotle's price increase, which had been driving improving same-store comps through Q2, are now over; without an additional increase, Chipotle must depend on traffic growth to drive same-store sales growth.
Shorting shares is as dangerous of a proposition as ever; in September, shares rocketed from $280 to $350 before collapsing and establishing new lows. While options premiums are expensive, Chipotle shares clearly react very strongly to negative news, and an earnings miss on October 18th, or a similar catalyst, should richly reward owners of puts. I plan to hold through earnings, and will update my short thesis after Chipotle's own results are known next week.
Disclosure: I am short CMG. I wrote this article myself, and it expresses my own opinions. I am not receiving compensation for it (other than from Seeking Alpha). I have no business relationship with any company whose stock is mentioned in this article.
Additional disclosure: I am short CMG by owning puts.