By Brad Zigler
We've all seen oil prices tank since the Independence Day holiday, hoping that the salutary effect lower crude prices should have on refiners' profit margins would quickly bring relief at the pump. While some easing in retail gasoline prices has occurred, it's coming out of refiners' pockets.
Margins, as measured through the crack spread (see "Time For Crack Spreads?"), have shrunk more than 2%, despite a 22% drop in crude input prices.
Most of that, true, is due to seasonal factors. At this time of year, refining margins ordinarily aim southward as heating oil inventories are built.
Last year at this time, refining margins were a lot fatter. In mid-May, refining margins were mind-numbingly fat, in fact, at 42.7%. By the start of the heating oil season, however, they'd been pared to only 6.7%. There was a similar story the year before. Margins peaked in June 2006 at 31.5% and reached their nadir at the end of October, still in double digits, at 10.7%.
This year, margins reached their summer peaks on a much lower plateau. With a good two and a half months to go before the cold season's start, the November/December refining margin is already below 7.5%.
It's not just oil refiners getting pinched. On the ag side, soybean processors are feeling squeezed, too. Soybean processing is a lot like oil refining. After taking in soybeans, subjecting them to chemical and physical processing, you produce finished soybean oil and meal. Margins for that business are also in decline (see "Soybean Crush Crushed").
Oil And Soybean Processing Margins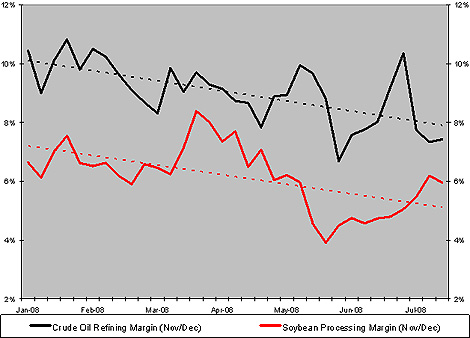 There's a seasonal factor to the soybean crush as well. Normally, bean prices get cheaper at the late fall harvest, while the relative dearth of the products keep their prices high. That should make bean processing margins widen in the months ahead. The arc for bean processing margins, however, looks a lot like that described by oil refining margins.
That brings up some ugly thoughts. Ugly Thought No. 1: If margins become too tight, then small, undiversified producers are much more likely to be forced out of business. Ugly Thought No. 2: When the baseline for seasonal upticks in margins is low, its upside may be constrained by a potential downturn in demand.
Lots of products, we've seen, aren't priced to pass on their true cost (see "PPI: The Numbers Behind The Numbers").
That'll make tomorrow's PPI release even more interesting.