Investors fell back into a wait and see mode as the market tumbled. Analysts are projecting third-quarter earnings to decrease perhaps 2.3% from one-year ago. Fourth quarter earnings are seen as increasing 9.6%. According to the Thomson Reuters pre-announcements, 91 companies have a negative outlook while only 21 companies have positive outlook.
Monday we kicked off with Alcoa Inc. (NYSE:AA) reporting a loss of $143 million or 13 cents a share in comparison to last year's $172 million profit or 15 cents a share. Revenue decreased 9.1% to $5.83 billion while analysts forecast a revenue of $4.54 billion. Weak demand in Europe, higher cost of production and decreased aluminum costs all weighed on the company.
General Motors Co. (NYSE:GM) may also experience poor earnings with a 42% decrease forecast as demand wanes and Euro Zone pressures. The last US Unemployment report came in at +114,000 new jobs created last month, in-line with expectations of around 118,000. Even more optimistic readings on the unemployment rate at 7.8 % seemed hopeful, but then there still is much to be concerned about. The National Federation of Independent Business's small business optimism index decreased 0.1 to 92.8 in September, but the sector is hopeful for profit in the future, they simply regard the present uncertain.
The world economy is forecast to expand 3.3% this year according to the IMF in their evaluation. The IMF projects France's deficit to be 4.7% of their GDP, Spain's deficit to be 5.7 % of their GDP and Italy's deficit to be 1.8% of GDP. The economic situation in Greece still seems to be deteriorating as their total debt is projected to be 171% of GDP. German Chancellor Angela Merkel has not given up on the ailing Greek nation as they pressed on with their talks. Greece has been working on the necessary reforms with the troika made up of the European Council, International Monetary Fund and the European Central Bank to secure aid necessary to keep the government afloat.
A $13.5 billion euro austerity plan has been drafted. Finance ministers met in Luxembourg this week, but will extend to the summit October 18th and 19th some of the issues that plague them. The Euro Zone, as of late has been reporting that perhaps Spain does not need a bailout as the country seems to be putting its finances in order. They still regard the permanent fund "European Stability Mechanism" as able to give bailout loans to governments, buy bonds in both the primary and secondary markets while recapitalizing the fragile banks and keeping interest rates low.
The European Central Bank's Executive Board member Benoit Coeure has spoken about a banking union that should unite and act as a supervisory mechanism within the Euro Zone. It will allow the ECB to monitor the money flow. The European Central Bank (ECB) is ready to make good on its bond-buying program under the title "Outright Monetary Transactions" as ECB President Draghi revealed at a press conference in Ljubljana, Slovenia. The central bank decided to keep the 0.75 % interest rate in effect. Of course, first the indebted countries must seek aid and comply with the conditions of the program. Inflation in the Euro Zone has increased to 2.7% in September up from 2.6 % in August partly due to higher energy costs and increased taxes.
Spain's stress tests revealed a capital shortfall of $59.3 billion euros within the banking system. The losses in Spain's bank's may be attributed to deteriorating real estate assets. The problem is when four ratings agencies consider a downgrade of a country, it may go to a non-investment status. It would be no longer able to be used by banks as collateral for the European Central Bank loans. If declined, they may have to pursue funding through the Emergency Liquidity Assistance funds which is more costly. Russia has been touting a "Eurasian Union" which could virtually overpower the US dollar as the prime global currency.
This may be a slight backlash as Russia has been opposed to sanctions imposed on Iran by both the US and the EU. The Iran sanctions and potential conflict looms over the markets and maintains an underlying tension that may keep any higher trends confined to very short-term moves.
On the stock side: JP Morgan Chase and Co. (NYSE:JPM) was down 0.62 % to $41.40. Citigroup Inc. (NYSE:C) was down 0.35 % to $34.66. Bank of America (NYSE:BAC) was down 0.43 % to $9.24. Alcoa Inc. was up 0.11 % to $9.13. Boeing Co. (NYSE:BA) was up 0.18 % to $70.70. Caterpillar Inc. (NYSE:CAT) was down 2.65 % to $83.18. General Electric Co. (NYSE:GE) was down 0.94 % to $22.70. Halliburton Co. (NYSE:HAL) was up 0.36 % to $33.75. Hewlett Packard Co. (NYSE:HPQ) was down 0.84 % to $14.34. SPDR Select Sector Fund - Financial (NYSEARCA:XLF) was down 0.62 % to $15.95.
E-Mini S&P 500 Chart.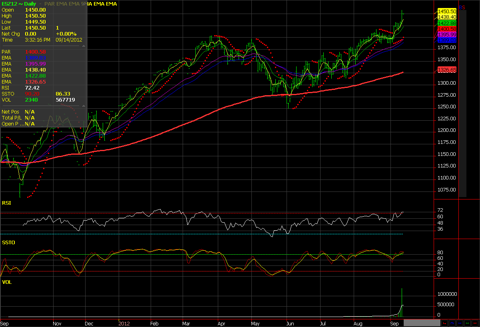 Click to enlarge
Wednesday, what to expect: We maintain a bullish bias unless the (December) E-Mini S&P 500 penetrates $1425.50. Wednesday, we anticipate an inside to lower day. Tuesday's range was $1454.50 - $1435.25. The market settled at $1436.25. Our comfort zone or point of control for this market appears to be $1444.75. Our anticipated potential range for Wednesday's trading could be $1449.50 -432.50.
Disclosure: I have no positions in any stocks mentioned, and no plans to initiate any positions within the next 72 hours. I wrote this article myself, and it expresses my own opinions. I am not receiving compensation for it. I have no business relationship with any company whose stock is mentioned in this article.