Saks (NYSE:SKS) is expected to report Q2 earnings Tuesday before the open with a conference call scheduled for 10:00 am ET.
Guidance
Analysts are looking for a loss of (19c) on revenue of $686.28M. The consensus range is (23c) to (16c) for EPS, and revenue of $652.86M to $717M, according to First Call. Saks recently reported its July same-store sales fell 5.3% vs. consensus of a drop of 0.1%. July sales totaled $192.1M compared to $201.4M in the same period last year. In June, Saks forecast Q2 SSS growth in the low single digits, as well as modestly reduced year-over-year promotional activity and modest year-over-year improvement in the gross margin rate.
Between the faltering economy, soaring food and gas prices, limited credit, slumping home prices and worries about jobs, shoppers remain unnerved and have cut back spending on discretionary items.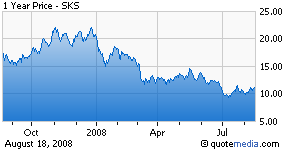 Instead of spending at department stores, consumers are flocking to wholesale clubs and discount apparel chains. Additionally, with the benefits of their stimulus checks "dried up," consumers are focusing less on spending on higher-profit goods like cashmere sweaters, consumers are flocking to wholesale clubs and discount apparel chains for basics like laundry detergent. At the same time, Saks CEO Stephen Sadove says that sales of branded jewelry and high-end brands with popular items continue to sell well, as consumers view jewelry "as an investment for the longer term."
Analyst Views
Morgan Stanley, which views the stock's valuation as "less compelling," does not see a change in fundamentals to account for the recently rally in shares.