Despite posting strong revenue growth and higher gross profit margins, 3D Systems (NYSE:DDD) has been beaten up lately along with its largest competitor Stratasys (NASDAQ:SSYS). Insider sales and increasing competition have trimmed this skyrocketing maker of 3D printers from its highs of $44.80 in late August, to lows of near $32 in late September. I still think 3D is a buy at its last closing price of $34.27, provided it addresses some issues regarding its competition when it reports again on October 25th.
| | | | | | |
| --- | --- | --- | --- | --- | --- |
| Revenue in thousands | Q2 2011 | Q3 2011 | Q4 2011 | Q1 2012 | Q2 2012 |
| 3D Systems | 55,128 | 57,538 | 69,860 | 77,920 | 83,610 |
| Stratasys | 37,555 | 39,696 | 44,324 | 44,964 | 49,405 |
Revenue growth at 3D Systems is outpacing its nearest publicly traded competitor.
What I find most interesting about the fledgling personal 3D printer industry is the early presence of opposing business models similar to Google's (NASDAQ:GOOG) Android mobile platform versus Apple's (NASDAQ:AAPL) iOS. MakerBot industries have a Thingiverse that is similar to the Google Play store. There is a community of individuals sharing their "things" for free. MakerBot also has free software that can be used in conjunction with its printers. The 3D Systems website Cubify charges $49 for its software. The Cubify website features arguably better quality designs, all for a price. I think there is room for both business models, but enduring arguments over which is better are inevitable.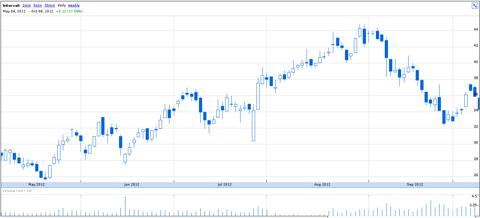 Despite strong revenue growth, 3D Systems is well off its 52-week high.
Formlabs received a lot of attention when it used Kick-start to sell about $100,000 worth of its printers and received a great deal more money than anyone imagined possible. Formlabs is still too small to be a threat, but the industry and its analysts took notice. It appears that there is demand for professional grade printers in the $2,500 range.
Formlabs' stereo-lithography technology boasting 3D printer called the Form 1 is a game changer within this already game changing industry. It delivers quality that previously cost tens of thousands, for $2,500. The latest 3D printer from 3D Systems, the Cube, is priced at $1,299, and while it is a fun toy, it doesn't deliver professional grade quality like the Form 1.
When 3D Systems presents 3rd quarter earnings, I will be looking for a strategy to deal with the impending threat of professional quality stereo-lithography printers priced to compete with its popular fused deposition modeling toys.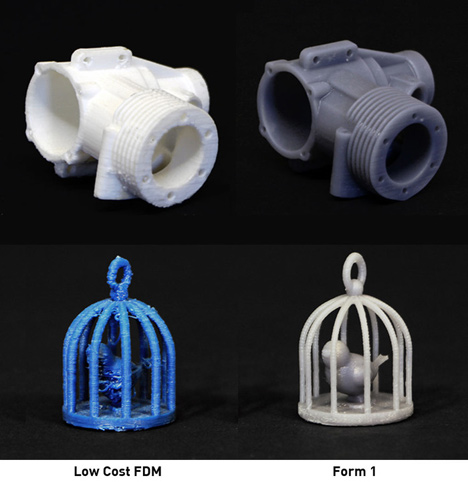 The Form 1 delivers much higher quality than most FDM printers at a very affordable price
What I want to see in the Q3 2012 report is some indication that 3D Systems' pay for everything model is gaining traction. Cube printers were just hitting the market when 3D last reported and early indications were very positive. The launch of Cubify.com was also very positive with orders exceeding the top range of its expectations. I want to see some positive numbers that confirm my suspicions that competition from cheaper personal 3D printers aren't seriously affecting growth of 3D's consumer division.
Although I expect the consumer division to drive growth for the 3D Systems, it is not the company's only revenue stream. 3D Systems produces an array of professional printers and materials that are merging with its soon to be discontinued production grade line. Its health care materials division produces medical devices and other implements to be used in and around the human body. Although the production and healthcare divisions are less promising than 3D's consumer products and services, their revenues have been steadily increasing. I am going to be on the watch for continued growth in these divisions as well.
The last quarterly report from 3D Systems showed strong revenue growth coupled with an encouraging expansion of profit margins. A 111% increase in printers sold is the sort of figure that warrants a forward P/E of 27.2. So the first thing that I will be looking for when 3D Systems posts third quarter results on Friday, October 26th will be a continuation of this growth. Specifically, I will be looking for revenue and profit margin figures that meet or beat those reported during the second quarter. Revenue and gross profit margin targets based on Q2 2012 results are as follows.
Printers and other products revenue of $26.1 million
Print materials sales of $26.2 million
Healthcare solutions revenue of $12.2 million
Service revenue from on-demand parts of $20.5 million
Combined quarterly revenue $83.6 million
Gross profit margin of 51.4%
These are not the only metrics that should be taken into account, but the 3D Systems earnings call is scheduled for 11:00 AM EDT on Friday the 26th. I expect share prices will be churning right up to the bell. Analyst earnings per share estimates range between $0.17 and $0.26, which is some relatively wide variance. Even if they hit the mean EPS estimate of $0.21, this stock is going to move.
I will be submitting a deeper analysis of Q3 results after the call. Until then, I suggest staying focused on revenue growth, expanding profit margins, and the Cubify Store results. Should they manage to hit or exceed the above targets I think a long position is warranted.
Disclosure: I have no positions in any stocks mentioned, and no plans to initiate any positions within the next 72 hours. I wrote this article myself, and it expresses my own opinions. I am not receiving compensation for it (other than from Seeking Alpha). I have no business relationship with any company whose stock is mentioned in this article.