On Tuesday, shares of Facebook (NASDAQ:FB) struggled to hold the $20 level, after spending nearly a month above that crucial price mark. Facebook analysts continue to be extremely negative regarding the name, and it didn't help that Zynga (NASDAQ:ZNGA) warned again. Today, I'll look at Facebook again and see what chance the name has of staying above $20, or if we are heading back towards the below $18 lows.
Last week ended badly for Facebook when Zynga warned again, lowering its 2012 bookings forecast. Zynga had already lowered its forecast when it reported Q2 results. The new guidance was for bookings of $1.085 billion to $1.1 billion, compared to previous guidance for $1.15 billion to $1.225 billion. Despite forecasting Q3 revenues above $300 million, bookings are expected to be just over $250 million. The company also is taking an $85-$95 million charge in regards to its OMGPOP acquisition.
Prior to the warning, analysts were expecting 3.5% revenue growth this year and 8.5% next year for Zynga. Now, estimates call for a 1.7% decline this year and a 2.8% decline next year. Zynga shares fell more than 12% on Friday, and Facebook shares fell 4.7% in sympathy.
As all of the negativity regarding Zynga piles up, it leads to more negativity regarding Facebook, and the social media sector in general. On Monday, BTIG cut its Facebook rating to sell, with a $16 price target. They believe Facebook shares could drop more than 20% from here.
The key takeaways from analyst Richard Greenfield's report were:
Greenfield sees a "growing tension between the Facebook user experience and monetization, particularly as the collapse of payment revenues has left Facebook with only one major lever to pull - advertising."

Greenfield cut his 2012 revenue forecast to $4.9 billion from $5 billion; for 2013 he goes to $5.6 billion, from $5.9 billion.

Greenfield thinks Q3 2012 ad revenue will beat the consensus view, reflecting "an aggressive ramp in monetization efforts, particularly on mobile devices." But he adds that this ramp in advertising "is negatively impacting the user experience on mobile devices by adding to an increasingly cluttered (less-useful) news feed."

Greenfield: "In the face of drastically slowing payments revenues and falling investor sentiment and employee morale, it feels like Facebook is pushing advertising monetization harder than they should be, which we believe will harm user engagement in 2013 and beyond."
Oh look, another analyst taking down his revenue estimates for Facebook. Where have we seen that before? Well, it's been a common theme in all of my Facebook articles. In my latest Facebook article discussing the company's new move to gifts, I stated that 2013 revenue estimates were at the lowest point I've seen them at. At that point, they were at $6.31 billion. Now they are at $6.29 billion. Now, you might say that $0.02 billion doesn't seem like much. Well, that's $20 million dollars, and it isn't much of a one-time decrease. The problem is that the 2013 estimates are coming down by that much every couple of weeks. The following table shows how Facebook's 2013 estimates have come down a bit over the past few months.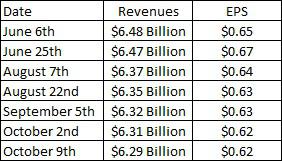 In four months, Facebook's 2013 revenue estimates have been cut by nearly $200 million. Now when it comes to the social media names, everyone loves to compare Facebook to LinkedIn (NYSE:LNKD). Well, I've done just that. The following table shows Facebook compared to LinkedIn, in terms of revenue and earnings growth (as currently projected by analysts) for 2012 and 2013. Given those numbers, the table also provides valuation data for each year, in terms of price to earnings and price to sales. The first half of the table shows data as of September 25th, the second part is as of Tuesday.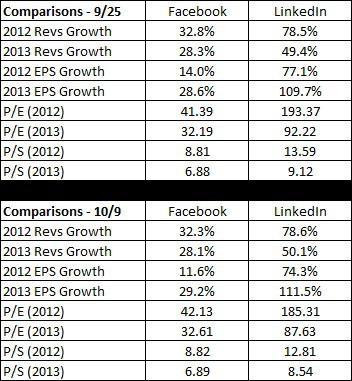 Despite the fact that Facebook's revenue and earnings growth forecast has been cut over the past weeks (yes, 2013 earnings growth is higher, but only because the 2012 number was lowered which makes 2013 look better), the price to earnings valuation has risen. The price to sales ratio has basically stayed the same. As for LinkedIn, the revenue numbers have been increased for both years. LinkedIn's earnings forecast for 2012 has been reduced slightly, but the 2013 numbers have gone up. Over that time, LinkedIn's valuation has become slightly more reasonable. LinkedIn trades at a premium to Facebook, but there's a lot more growth coming for LinkedIn. I'd rather pay a higher multiple for LinkedIn, knowing I'm getting a lot more growth. So are investors, as LinkedIn trades well above its first-day and IPO prices, whereas Facebook trades well below those values.
As for the average price target on Facebook, we are now down to $30.27. That's down another dime since my latest article, and down about 10% over the past month. The average price target on Facebook is likely to fall below $30 in the coming weeks. Unless, of course, Facebook has a great earnings report and all the analysts suddenly get bullish on the name. I don't see that happening at this point, however.
We keep getting more and more bearish notes from analysts. They seem to make large news and send Facebook down heavily. Just look at the Barron's call. Facebook closed about a percent higher than $20 yesterday, but it was close to breaking that level earlier in the day. With revenue and earnings expectations continuing to come down, I don't think that this stock will hold $20 for much longer, before earnings that is. Once this stock breaks through $20, I think we will go a bit lower.
Disclosure: I have no positions in any stocks mentioned, and no plans to initiate any positions within the next 72 hours. I wrote this article myself, and it expresses my own opinions. I am not receiving compensation for it (other than from Seeking Alpha). I have no business relationship with any company whose stock is mentioned in this article.