Shares of Schlumberger (NYSE:SLB) have recovered 21% from its 52-week low of $59.12 touched in June 2012. At $71.73 per share, the stock is trading at the mid-point of the 52-week range between $59.12 and $80.78. Compared to a peer group consisting of SLB's primary competitors such as Halliburton (NYSE:HAL) and Baker Hughes (NYSE:BHI) in the O&G services sector, SLB has a mediocre 1-year price performance (see chart below).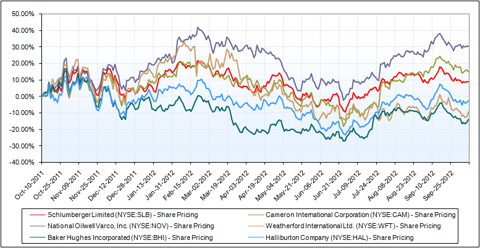 With a decent 1.5% dividend yield, which is the highest in the peer group, and a solid market share, SLB has been a popular choice by many income-oriented investors who need exposure to the O&G services sector. According to Capital IQ, sell-side analysts are also very bullish on this stock. Of the 35 performance ratings, there are 20 buys, 12 outperforms, and only 3 holds. Their average target price of $88.74 is 24% above the current market price. However, I have a neutral opinion on this stock based on the following reasons.
SLB's valuations appear to have fully reflected the company's financial strengths (see table below). Growth potential seems to be the company's relatively weak spot compared to the peer group. Analysts in average predict SLB's revenue, EBITDA, and EPS to rise by 2-year CAGRs of 9.5%, 13.7%, and 16.8% over the current and next fiscal years. The estimates are lower than the peer averages of 13.9%, 15.5%, and 21.8%, respectively. However, SLB's EBITDA margin is forecasted to expand by 2% over the same period, significantly better than the peer average decline of 0.2%. On the profit side, SLB has demonstrated a superior profitability as suggested by the company's robust margins and capital returns which are mostly higher than the peer averages. SLB also assumes a relatively low leverage as reflected by the company's lower debt to capitalization and debt to EBITDA ratios. In terms of liquidity, SLB is the only firm in the group that has a positive and solid LTM free cash flow margin at 3.2%. Due to the robust profitability, the company has been able to maintain a healthy interest coverage ratio. Although the current ratio is below the par, SLB's quick ratio is in line with the peer average.

Factoring in SLB's strengths in profitability and liquidity, the current stock valuations at 9.3x LTM EV/EBITDA and 17.9x LTM P/E represent an average valuation premium of 23.3% over the peer-average EV/EBITDA and P/E multiples (see table above), suggesting that the stock is likely fully valued. Moreover, despite the slower growth prospects, SLB trades at 0.81x PEG, which is 23% higher than the peer average of 0.66x. The premium valuation should be attributable to the firm's healthy financial condition and solid market share in the O&G services business, and thus implying no undervaluation.
Although SLB's dividend per share has been raised by a 10-year CAGR of 10.3% over the past decade (see chart below), the rate of dividend growth has slowed in the past few years partially due to the decline in the free cash flow. SLB's free cash flow had decreased from $3.4B in FY2007 to $1.1B as of June 2012 on a LTM basis (see chart below). The free cash flows in the past used to be more than sufficient to cover the funds spent on dividends and share repurchase. However, as dividend payments and the scale of the share repurchase program grew, the deteriorated free cash flow has become less than the level of funds returned to shareholders.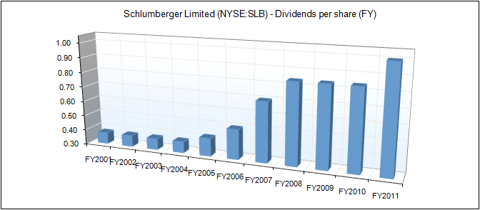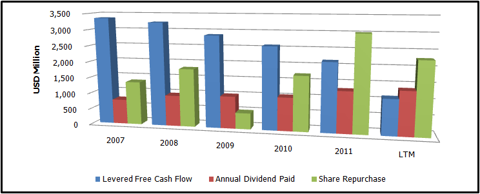 Part of the funds spent on dividends and share repurchase in recent years were likely sourced from debt issuance. According to the chart shown below, net issuance of debt has increased substantially since FY2010 in order to maintain the liquidity level as the internally-generated free cash flow has been declining.

As SLB's debt to capitalization and debt to EBITDA ratios are slightly below the peer averages, and the company has an above-average interest coverage ratio, I believe that SLB is likely able to maintain the current dividend level in the near term given that it still has the capacity to increase leverage even if the free cash flow continues to deteriorate.
Bottom line, given the rich valuations and declining free cash flow, the stock does not provide sufficient margin of safety that warrants my buy decision. Since SLB is still very profitable, I will remain neutral on the stock until there is a visibility of cash flow improvement.
Comparable analysis table is created by author, all other charts are sourced from Capital IQ, and all financial data is sourced from Morningstar and Capital IQ.
Disclosure: I am long HAL. I wrote this article myself, and it expresses my own opinions. I am not receiving compensation for it (other than from Seeking Alpha). I have no business relationship with any company whose stock is mentioned in this article.